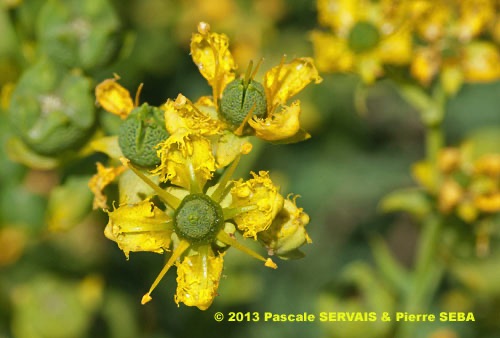 © Pascale SERVAIS & Pierre SEBA, 2018. Tilo Botanica: Flore de Tilos et du Dodécanèse / Flora of Tilos and of the Dodecanese
English translation by Brenda Bradbury, Howard Bradbury and Stéphane Léonard
Plante herbacée, hermaphrodite, glabre, dressée, à forte odeur quand on froisse les feuilles, à souche ligneuse, à tiges ramifiées, lisses, ligneuses à la base et vertes au sommet.
Feuilles alternes, composées bipennées, vert clair, de 12 à 20 cm de long, à folioles lancéolées, oblongues à elliptiques, aiguës à la base et obtuses au sommet, de 1,5 à 6 mm de large.
Fleurs à symétrie radiaire, vert jaunâtre vif, de 8 à 15 mm de diamètre, portées par un long pédicelle, réunies en bouquets terminaux. Corolle à 4 ou 5 pétales libres, à franges étroites et fines. Calice à 4 ou 5 sépales presque libres entre eux, larges, ovales à lancéolés, pointus. Ovaire supère.
Fruits, capsules glabres, un peu plus courtes que le pédoncule, à lobes pointus.
___________________________
Plant herbaceous, hermaphrodite, glabrous, erect, with a strong smell when the leaves are creased, with a woody stock. Stems branched, smooth, woody at the base and green at the top.
Leaves alternate, compound bipinnately, pale green, from 12 to 20 cm long, with lanceolate, oblong to elliptic leaflets, acute at the base and blunt at the top, from 1.5 to 6 mm across.
Flowers radially symmetrical, bright yellowish green, from 8 to 15 mm in diameter, carried by a long pedicel, joined together in terminal clusters. Corolla with 4 or 5 free petals, with narrow and thin fringes. Calyx with 4 or 5 sepals almost free between them, wide, ovate to lanceolate, pointed. Ovary superior.
Fruits, glabrous capsules, a little shorter than the peduncle, with pointed lobes.
Descripteurs / Identifying features: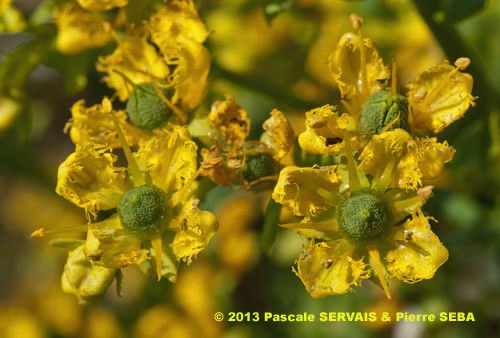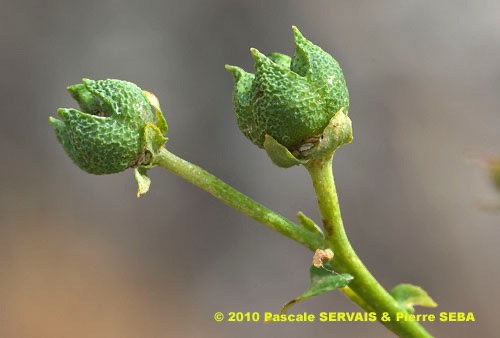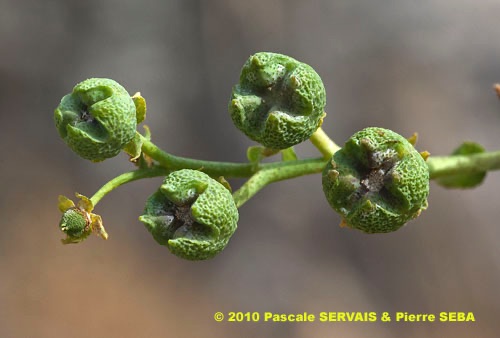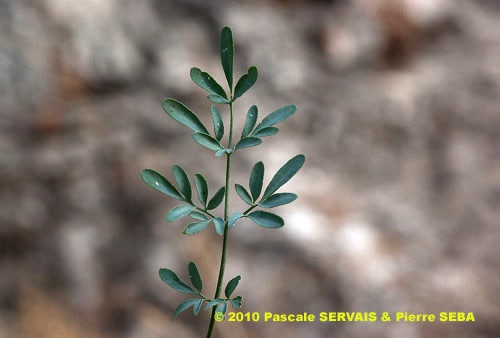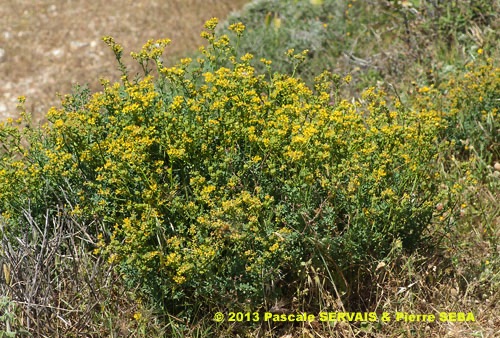 Étymologie / Etymology :
Ruta : emprunt du latin ruta, -ae (nom) = la rue (plante), nom donné à
la plante par Pline, naturaliste latin mort en 79 apr. J.-C., forme
latinisée du grec ancien ῥυτή, -ῆς (nom) [ < ῥύομαι (verbe) = sauver,
protéger ] = la rue (plante), nom donné à la plante par Théophraste,
philosophe péripatéticien, disciple d'Aristote, botaniste et naturaliste,
mort vers 288 av. J.-C., en référence à ses propriétés médicinales.
Chalepensis : emprunt du latin chalepensis, -is, -e (adj.) = d'Alep
(ville de Syrie), qui vient d'Alep.
Ruta : borrowed from Latin ruta, -ae (noun) = bitter herb, rue, name given
to the plant by Plinius, Latin naturalist died in 79 AD, Latinized form of
the Classical Greek ῥυτή, -ῆς (noun) [ < ῥύομαι (verb) = to save,
to protect ] = bitter herb, rue, name given to the plant by Theophrastus,
peripatetic philosopher, disciple of Aristotle, botanist and naturalist,
died towards 288 BC, referring to its medicinal properties.
Chalepensis : borrowed from Latin chalepensis, -is, -e (adj)
= of or from Aleppo, which comes from Aleppo.
Synonymes / Synonyms :
Ruta angustifolia subsp. bracteosa (DC.) Bonnier & Layens
Ruta bracteosa DC.
Ruta chalepensis Mill.
Ruta chalepensis subsp. bracteosa (DC.) Batt.
Ruta chalepensis var. bracteosa (DC.) Boiss.
Ruta latifolia Salisb.
Ruta macrophylla Sol.
Ruta tenuifolia Bubani
Noms vernaculaires / Common names :
Noms français / French names :
Rue d'Alep — Rue de Chalep.
Noms grecs / Greek names :
Απήγανος — Ρούτα η χαλέπια.
Nom anglais / English name :
Fringed rue.
Nom allemand / German name :
Gefranste Raute.
Noms espagnols / Spanish names :
Ruda — Ruta.
Nom italien / Italian name :
Ruta d'Aleppo.
Habitat :
Lieux pierreux - Lieux incultes - Chemins - Murs, rochers.
Stony places - Waste ground - Waysides - Walls, rocks.
Île / Island :
Tilos.
Hauteur / Height range :
De 20 cm à 1 m.
From 20 cm to 1 m.
Floraison / Flowering time :
De mars à juillet.
From March to July.
Groupe / Classification :
Dicotylédones.
Dicotyledons.
Pérennité / Lifespan :
Vivace.
Perennial.
Description :
Photo 1 :
Localisation / Location : Tilos, Aghios Andonis
Date : 24/04/2013
GPS : Lat. 36,45829° N / Long. 27,33547° E / Alt. 18 m
Type : Photographie numérique / Digital Photograph (10 mégapixels)
Photo 2 :
Localisation / Location : Tilos, Aghios Andonis
Date : 24/04/2013
GPS : Lat. 36,45829° N / Long. 27,33547° E / Alt. 18 m
Type : Photographie numérique / Digital Photograph (10 mégapixels)
Photo 3 :
Localisation / Location : Tilos, Megalochorio (environs / surroundings)
Date : 16/05/2010
GPS : Lat. 36,45678° N / Long. 27,34654° E / Alt. 114 m
Type : Photographie numérique / Digital Photograph (10 mégapixels)
Photo 4 :
Localisation / Location : Tilos, Megalochorio (environs / surroundings)
Date : 16/05/2010
GPS : Lat. 36,45678° N / Long. 27,34654° E / Alt. 114 m
Type : Photographie numérique / Digital Photograph (10 mégapixels)
Photo 5 :
Localisation / Location : Tilos, Megalochorio (environs / surroundings)
Date : 16/05/2010
GPS : Lat. 36,45678° N / Long. 27,34654° E / Alt. 114 m
Type : Photographie numérique / Digital Photograph (10 mégapixels)
Photo 6 :
Localisation / Location : Tilos, Aghios Andonis
Date : 24/04/2013
GPS : Lat. 36,45829° N / Long. 27,33547° E / Alt. 18 m
Type : Photographie numérique / Digital Photograph (10 mégapixels)