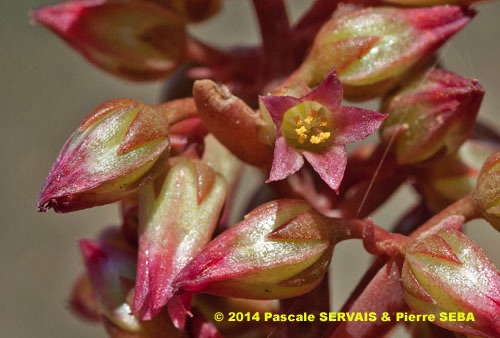 Rosularia serrata (L.) A.Berger
© Pascale SERVAIS & Pierre SEBA, 2018. Tilo Botanica: Flore de Tilos et du Dodécanèse / Flora of Tilos and of the Dodecanese
English translation by Brenda Bradbury, Howard Bradbury and Stéphane Léonard
Plante herbacée, hermaphrodite, à tiges simples, glabres.
Feuilles à la base, simples, obovales à spatulées, de 2 à 4 cm de long, entières, charnues, glabres, à sommet aigu. Bractées brun rouge, foliacées, glabres.
Fleurs à symétrie radiaire, blanc rosâtre, veinées de rouge, de 5 mm de diamètre, réunies en grappes de 6 à 10 cm de long, portées par une hampe florale plus de 2 fois plus longue que les feuilles. 5 pétales entiers, soudés en cloche. 10 étamines soudées à la corolle. 5 styles. Ovaire supère.
Fruits, follicules.
___________________________
Plant herbaceous, hermaphrodite. Stems simple, glabrous.
Leaves at the base, simple, obovate to spatulate, from 2 to 4 cm long, entire, fleshy, glabrous, with an acute top. Bracts red brown, foliaceous, glabrous.
Flowers radially symmetrical, pinkish white, veined of red, 5 mm in diameter, joined together in racemes from 6 to 10 cm long carried by a floral pole more than 2 times longer than the leaves. 5 entire, fused, bell-shaped petals. 10 stamens fused with the corolla. 5 styles. Ovary superior.
Fruits, follicles.
Descripteurs / Identifying features: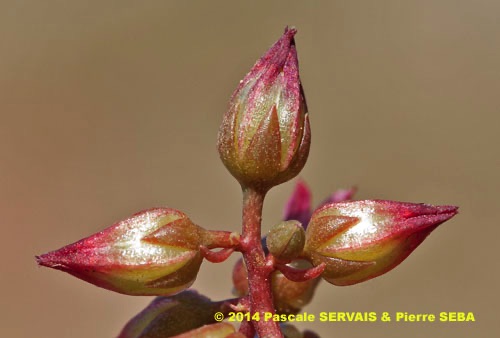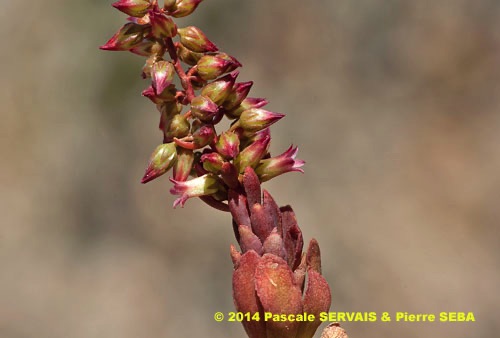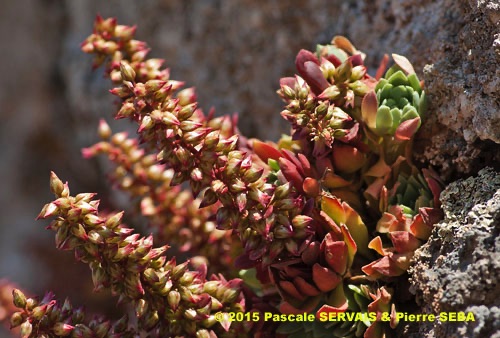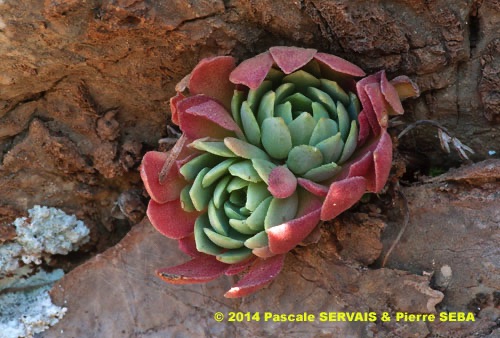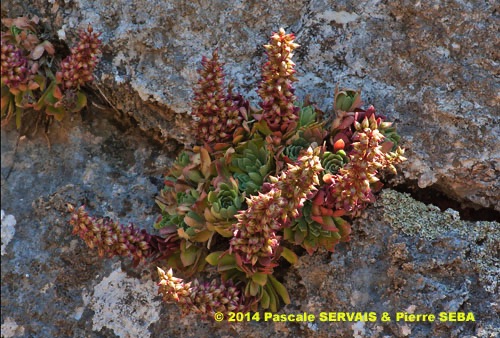 Étymologie / Etymology :
Rosularia : emprunt du latin rosularia, -ae (adj.) [ < rosa, -ae (nom)
= la rose + -ulus (suffixe) = petit, un peu ] = la petite rose,
en référence aux feuilles disposées en une rosette semblable à
une petite rose.
Serrata : emprunt du latin serratus, -a, -um (adj.) [ < serra, -ae (nom)
= la scie ] = en forme de scie, denté.
Rosularia : borrowed from Latin rosularia, -ae (adj) [ < rosa, -ae (noun)
= rose + -ulus (suffix) = small, a little ] = little rose, referring to the
leaves laid out in a rosette resembling a little rose.
Serrata : borrowed from Latin serratus, -a, -um (adj) [ < serra, -ae (noun)
= saw ] = saw-shaped, toothed like a saw.
Synonymes / Synonyms :
Cotyledon serrata L.
Umbilicus serratus (L.) DC.
Noms vernaculaires / Common names :
Nom français / French name :
Rosulaire dentelée.
Nom grec / Greek name :
Ροζουλάρια η πριονωτή.
Nom allemand / German name :
Gesägte Rosularia.
Habitat :
Lieux pierreux - Murs, rochers.
Stony places - Walls, rocks.
Île / Island :
Tilos.
Hauteur / Height range :
De 10 cm à 30 cm.
From 10 cm to 30 cm.
Floraison / Flowering time :
D'avril à juin.
From April to June.
Groupe / Classification :
Dicotylédones.
Dicotyledons.
Pérennité / Lifespan :
Vivace.
Perennial.
Description :
Photo 1 :
Localisation / Location : Tilos, Pano Meri
Date : 30/05/2014
GPS : Lat. 36,39736° N / Long. 27,40026° E / Alt. 269 m
Type : Photographie numérique / Digital Photograph (10 mégapixels)
Photo 2 :
Localisation / Location : Tilos, Pano Meri
Date : 30/05/2014
GPS : Lat. 36,39736° N / Long. 27,40026° E / Alt. 269 m
Type : Photographie numérique / Digital Photograph (10 mégapixels)
Photo 3 :
Localisation / Location : Tilos, Pano Meri
Date : 30/05/2014
GPS : Lat. 36,39736° N / Long. 27,40026° E / Alt. 269 m
Type : Photographie numérique / Digital Photograph (10 mégapixels)
Photo 4 :
Localisation / Location : Tilos, Pano Meri
Date : 30/05/2014
GPS : Lat. 36,39736° N / Long. 27,40026° E / Alt. 269 m
Type : Photographie numérique / Digital Photograph (10 mégapixels)
Photo 5 :
Localisation / Location : Tilos, Pano Meri
Date : 30/05/2014
GPS : Lat. 36,39721° N / Long. 27,40019° E / Alt. 267 m
Type : Photographie numérique / Digital Photograph (10 mégapixels)
Photo 6 :
Localisation / Location : Tilos, Pano Meri
Date : 30/05/2014
GPS : Lat. 36,39736° N / Long. 27,40026° E / Alt. 269 m
Type : Photographie numérique / Digital Photograph (10 mégapixels)