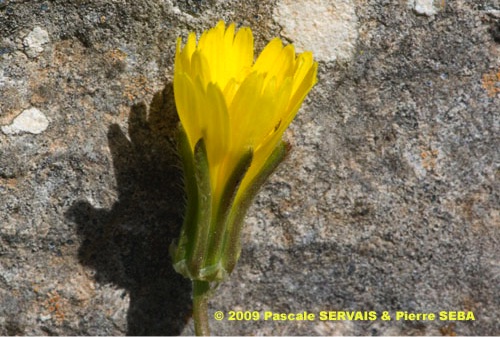 Rhagadiolus stellatus (L.) Gaertner
© Pascale SERVAIS & Pierre SEBA, 2018. Tilo Botanica: Flore de Tilos et du Dodécanèse / Flora of Tilos and of the Dodecanese
English translation by Brenda Bradbury, Howard Bradbury and Stéphane Léonard
Plante herbacée, hermaphrodite, en touffe, à tiges poilues, dressées à étalées, généralement ramifiées.
Feuilles à la base et alternes, soit simples, ovales ou lancéolées à oblongues, soit divisées pennatipartites, de 3 à 14 cm de long, dentées, échancrées, glabres sur les 2 faces mais ciliées.
Fleurs jaunes, à fleurons tous ligulés, réunies en capitules, de 7 à 10 mm de diamètre, avec parfois peu de fleurs, portés par un long pédoncule. Involucre à 2 rangs de bractées, un rang externe de petites écailles et un rang interne de 5 à 9 bractées linéaires à lancéolées, égalant les fleurs. Ovaire infère.
Fruits, akènes linéaires pointus, de 10 à 16 mm de long; fruits intérieurs du capitule enroulés, fruits extérieurs un peu arqués, s'écartant en étoile étalée.
___________________________
Plant herbaceous, hermaphrodite, tufted. Stems hairy, erect to spread out, generally branched.
Leaves at the base and alternate, either simple, ovate or lanceolate to oblong, or dissected pinnatipartite, from 3 to 14 cm long, toothed, indented, glabrous on the 2 faces but ciliate.
Flowers yellow, with only ray-florets, joined together in capitula, from 7 to 10 mm in diameter, with sometimes few flowers, carried by a long peduncle. Involucre with 2 rows of bracts, an external row of small scales and an internal row of 5 to 9 linear to lanceolate bracts, equalling the flowers. Ovary inferior.
Fruits, pointed linear achenes, from 10 to 16 mm long; interior fruits of the capitulum coiled, external fruits a little curved, spreading from the centre in the shape of a spread out star.
Descripteurs / Identifying features: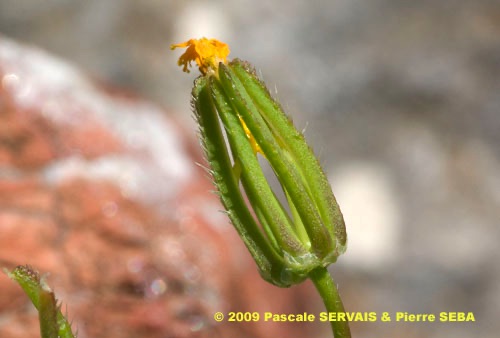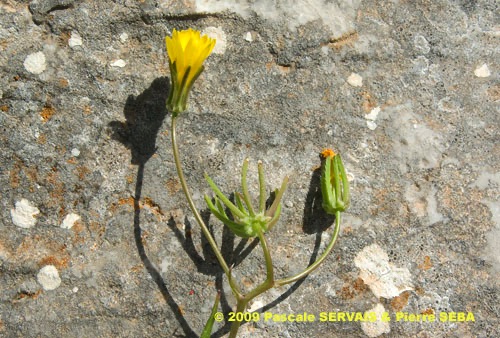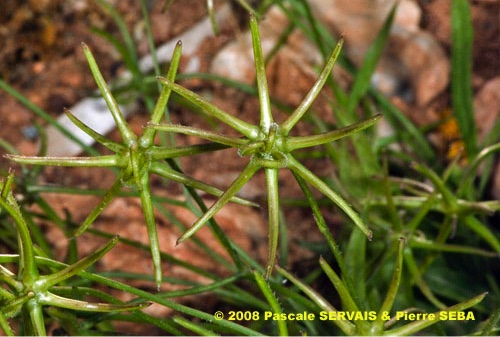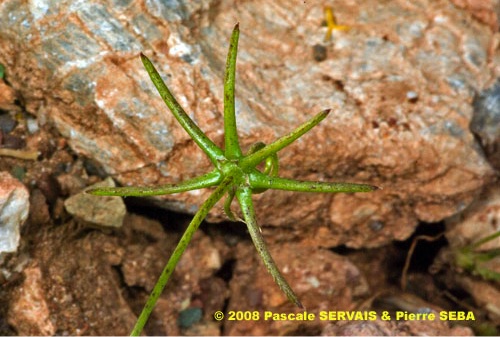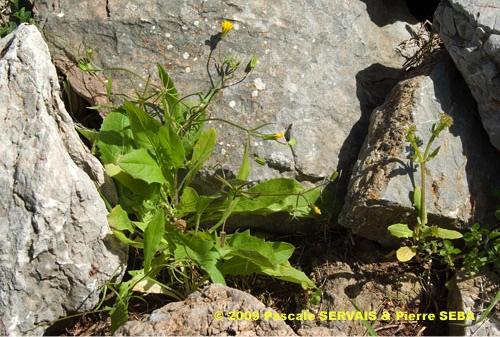 Étymologie / Etymology :
Rhagadiolus : nom créé par les botanistes [ < rhagas, -adis (nom)
= la crevasse, la gerçure + -olus (suffixe) = petit, un peu ] = la petite
crevasse, forme latinisée du grec ancien ῥαγάς, -άδος (nom)
= la fente, la crevasse, en référence aux rayons du calice des fruits
qui sont creusés en une gouttière ressemblant à une fente.
Stellatus : emprunt du latin stellatus, -a, -um (adj.) [ < stella, -ae (nom)
= l'étoile ] = étoilé, en forme d'étoile, en référence à la forme du fruit.
Rhagadiolus : name created by botanists [ < rhagas, -adis (noun)
= crack, cracking + -olus (suffix) = small, a little ] = small crack,
Latinized form of the Classical Greek ῥαγάς, -άδος (noun) = slit, crack,
referring to the rays of the calyx of the fruits which are dug in a gutter
resembling a slit.
Stellatus : borrowed from Latin stellatus, -a, -um (adj)
[ < stella, -ae (noun) = star ] = starry, star-shaped, referring to the
shape of fruit.
Synonymes / Synonyms :
Lapsana stellata L.
Rhagadiolus leiocarpus (DC.) Bonnier
Rhagadiolus stellatus var. hebeloenus DC.
Rhagadiolus stellatus var. leiocarpus DC.
Noms vernaculaires / Common names :
Noms français / French names :
Rhagadiole en étoile — Rhagadiole étoilé.
Noms anglais / English names :
Endive daisy — Star hawkbit.
Nom allemand / German name :
Sternlattich.
Noms italiens / Italian names :
Erba cornetta — Lattugaccio — Radicchio stellato — Ragaggiolo.
Habitat :
Cultures - Lieux pierreux - Lieux incultes - Chemins.
Cultivated places - Stony places - Waste ground - Waysides.
Île / Island :
Tilos.
Hauteur / Height range :
De 10 cm à 50 cm.
From 10 cm to 50 cm.
Floraison / Flowering time :
De mars à juin.
From March to June.
Groupe / Classification :
Dicotylédones.
Dicotyledons.
Pérennité / Lifespan :
Annuelle.
Annual.
Description :
Photo 1 :
Localisation / Location : Tilos, Lethra
Date : 31/03/2009
GPS : Lat. 36,43745° N / Long. 27,38780° E / Alt. 2 m
Type : Photographie numérique / Digital Photograph (10 mégapixels)
Photo 2 :
Localisation / Location : Tilos, Lethra
Date : 31/03/2009
GPS : Lat. 36,43745° N / Long. 27,38780° E / Alt. 2 m
Type : Photographie numérique / Digital Photograph (10 mégapixels)
Photo 3 :
Localisation / Location : Tilos, Lethra
Date : 31/03/2009
GPS : Lat. 36,43745° N / Long. 27,38780° E / Alt. 2 m
Type : Photographie numérique / Digital Photograph (10 mégapixels)
Photo 4 :
Localisation / Location : Tilos, Aghios Stephanos
Date : 29/04/2008
GPS : Lat. 36,40960° N / Long. 27,39895° E / Alt. 2 m
Type : Photographie numérique / Digital Photograph (10 mégapixels)
Photo 5 :
Localisation / Location : Tilos, Aghios Stephanos
Date : 29/04/2008
GPS : Lat. 36,40960° N / Long. 27,39895° E / Alt. 2 m
Type : Photographie numérique / Digital Photograph (10 mégapixels)
Photo 6 :
Localisation / Location : Tilos, Lethra
Date : 31/03/2009
GPS : Lat. 36,43745° N / Long. 27,38780° E / Alt. 2 m
Type : Photographie numérique / Digital Photograph (10 mégapixels)