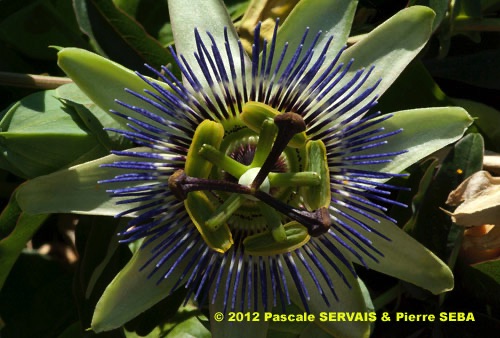 © Pascale SERVAIS & Pierre SEBA, 2018. Tilo Botanica: Flore de Tilos et du Dodécanèse / Flora of Tilos and of the Dodecanese
English translation by Brenda Bradbury, Howard Bradbury and Stéphane Léonard
Plante à souche ligneuse, hermaphrodite, grimpante, à tiges minces, s'élevant jusqu'à 5 m de haut à l'aide de vrilles spiralées.
Feuilles alternes, divisées palmatipartites à palmatiséquées, plus ou moins persistantes, à 5 à 7 lobes émoussés, oblongs, entiers, vert foncé dessus et vert bleuâtre dessous.
Fleurs à symétrie radiaire, solitaires, de 7 à 10 cm de diamètre. Périanthe à 5 sépales et 5 pétales blanc verdâtre et à filets internes rayés de pourpre, de blanc et de bleu, formant une pseudocorolle. Colonne centrale portant les 5 étamines saillantes, l'ovaire et les 3 stigmates. Ovaire supère.
Fruits, baies ovoïdes à peau coriace, de 4 à 8 cm de long, orange à maturité.
___________________________
Plant with a woody stock, hermaphrodite, climbing. Stems thin, rising up to 5 m in height using coiled tendrils.
Leaves alternate, dissected palmatipartite to palmatisect, more or less persistent, with 5 to 7 blunted, oblong, entire lobes, dark green above and bluish green below.
Flowers radially symmetrical, solitary, from 7 to 10 cm in diameter. Perianth with 5 sepals and 5 petals greenish white and with internal filaments with purple, white and blue veins, forming a false corolla. Central column carrying the 5 protruding stamens, the ovary and the 3 stigmas. Ovary superior.
Fruits, ovoid berries with a tough skin, from 4 to 8 cm long, orange at maturity.
Descripteurs / Identifying features: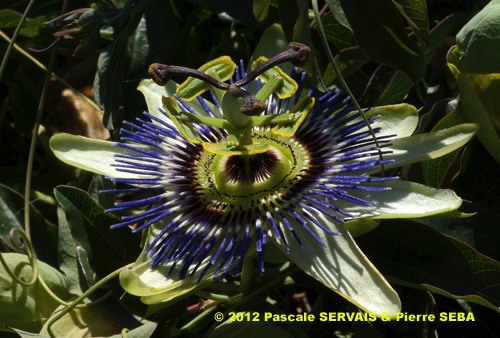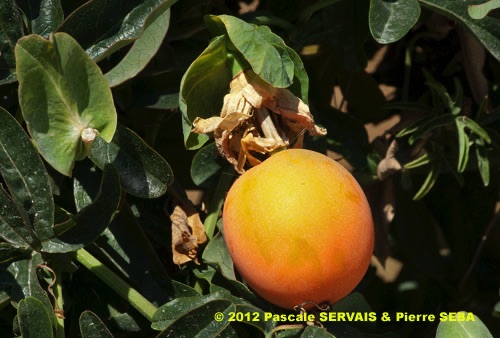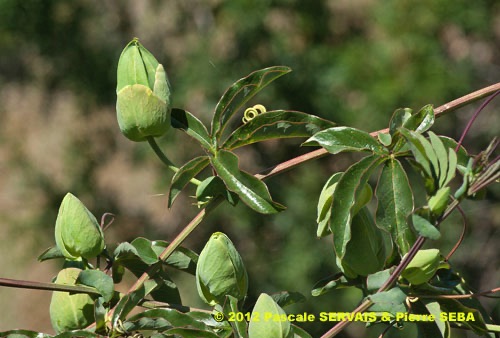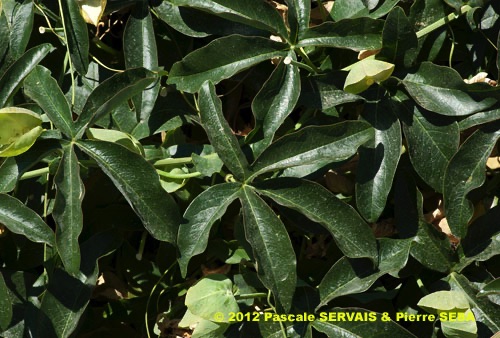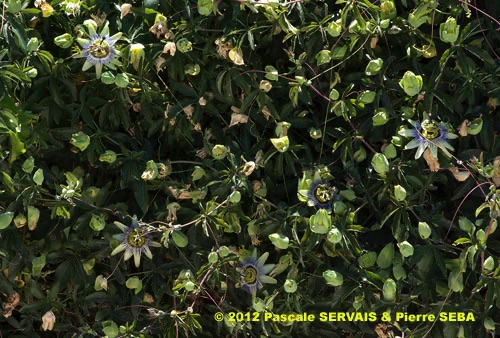 Étymologie / Etymology :
Passiflora : emprunt du latin médiéval passiflora, -ae (nom)
[ < passio, -ionis (nom) = la passion, l'action de souffrir
+ flos, -oris (nom) = la fleur ] = la fleur de la passion, en référence aux
organes floraux de cette plante qui rappellent les instruments de la
Passion de Jésus-Christ (couronne d'épines, clous).
Caerulea : emprunt du latin caeruleus, -a, -um (adj.) = bleu, bleu sombre,
foncé.
Passiflora : borrowed from medieval Latin passiflora, -ae (noun)
[ < passio, -ionis (noun) = Passion, action to suffer + flos, -oris (noun)
= flower ] = Passion-flower, referring to the floral parts of this plant that
recall the instruments of the Passion of Jesus Christ (crown of thorns,
nails).
Caerulea : borrowed from Latin caeruleus, -a, -um (adj) = blue,
dark blue, dark.
Synonyme / Synonym :
—
Noms vernaculaires / Common names :
Noms français / French names :
Fleur de la Passion — Grenadille — Passiflore bleue.
Noms grecs / Greek names :
Πασσιφλόρα — Ρολογιά — Ρολόϊ.
Noms anglais / English names :
Blue Passion-flower — Bluecrown Passionflower —
Common Passion flower — Hardy Passionflower.
Nom allemand / German name :
Blaue Passionsblume.
Noms espagnols / Spanish names :
Flor de la Pasión — Pasiflora — Pasionaria — Pasionaria azul.
Noms italiens / Italian names :
Fior di Passion — Fiore della Passione — Passiflora —
Passiflora azzurra.
Habitat :
Jardins.
Gardens.
Îles / Islands :
Patmos - Tilos.
Hauteur / Height range :
De 2 m à 5 m.
From 2 m to 5 m.
Floraison / Flowering time :
De mai à septembre.
From May to September.
Groupe / Classification :
Dicotylédones.
Dicotyledons.
Pérennité / Lifespan :
Vivace.
Perennial.
Description :
Photo 1 :
Localisation / Location : Tilos, Megalochorio
Date : 05/06/2012
GPS : Lat. 36,45504° N / Long. 27,34629° E / Alt. 83 m
Type : Photographie numérique / Digital Photograph (10 mégapixels)
Photo 2 :
Localisation / Location : Tilos, Megalochorio
Date : 05/06/2012
GPS : Lat. 36,45504° N / Long. 27,34629° E / Alt. 83 m
Type : Photographie numérique / Digital Photograph (10 mégapixels)
Photo 3 :
Localisation / Location : Tilos, Megalochorio
Date : 05/06/2012
GPS : Lat. 36,45504° N / Long. 27,34629° E / Alt. 83 m
Type : Photographie numérique / Digital Photograph (10 mégapixels)
Photo 4 :
Localisation / Location : Tilos, Megalochorio
Date : 05/06/2012
GPS : Lat. 36,45504° N / Long. 27,34629° E / Alt. 83 m
Type : Photographie numérique / Digital Photograph (10 mégapixels)
Photo 5 :
Localisation / Location : Tilos, Megalochorio
Date : 05/06/2012
GPS : Lat. 36,45504° N / Long. 27,34629° E / Alt. 83 m
Type : Photographie numérique / Digital Photograph (10 mégapixels)
Photo 6 :
Localisation / Location : Tilos, Megalochorio
Date : 05/06/2012
GPS : Lat. 36,45504° N / Long. 27,34629° E / Alt. 83 m
Type : Photographie numérique / Digital Photograph (10 mégapixels)