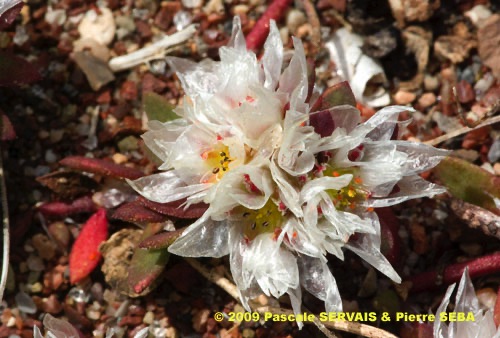 © Pascale SERVAIS & Pierre SEBA, 2018. Tilo Botanica: Flore de Tilos et du Dodécanèse / Flora of Tilos and of the Dodecanese
English translation by Brenda Bradbury, Howard Bradbury and Stéphane Léonard
Plante herbacée, hermaphrodite, tapissante, très ramifiée, à tiges couvertes de petits poils.
Feuilles opposées, simples, ovales, lancéolées, entières, de 4 à 10 mm de long, bordées de cils, presque glabres sur les 2 faces, sessiles, pointues au sommet, souvent plus courtes que les entre-nœuds. Stipules ovales à aiguës, membraneuses et argentées.
Fleurs à symétrie radiaire, blanchâtres ou verdâtres, réunies en bouquets de 10 mm de large environ, à l'aisselle des feuilles, entourées de bractées distinctes, argentées, translucides. Périanthe à 5 tépales égaux en forme de capuchon à leur sommet, terminés en pointe épineuse marron rougeâtre. 5 étamines. 2 styles soudés entre eux par leur base et portant chacun un stigmate. Ovaire supère.
Fruits, coques monospermes, entourées par le calice persistant.
___________________________
Plant herbaceous, hermaphrodite, covering, very branched. Stems covered in small hairs.
Leaves opposite, simple, ovate, lanceolate, entire, from 4 to 10 mm long, bordered by fine hairs, almost glabrous on the 2 faces, sessile, pointed at the top, often shorter than the internodes. Stipules ovate to acute, membranous and silver-coloured.
Flowers radially symmetrical, whitish or greenish, joined together in clusters approximately 10 mm across, at the axil of the leaves, surrounded by distinct, silver-coloured, translucent bracts. Perianth with 5 equal tepals in the shape of a hood at their top, finished in a spiny reddish brown point. 5 stamens. 2 styles fused with each other by their base and carrying each one a stigma. Ovary superior.
Fruits, nuts, surrounded by the persistent calyx.
Descripteurs / Identifying features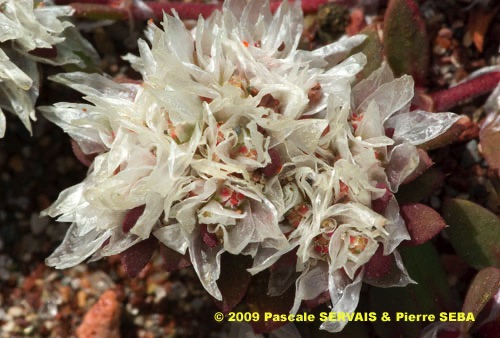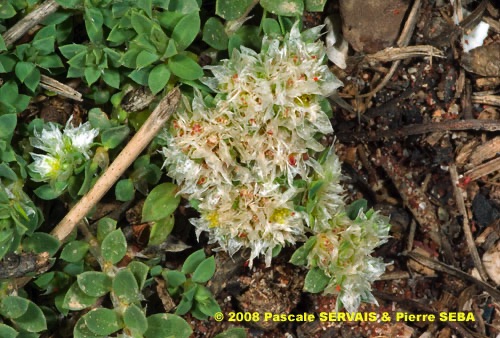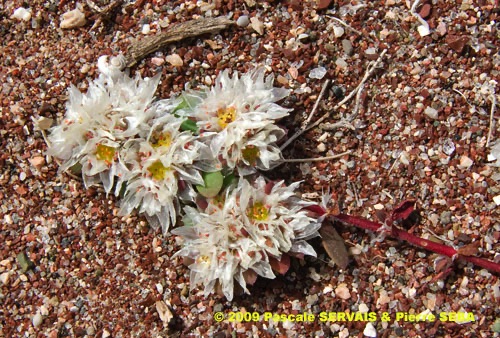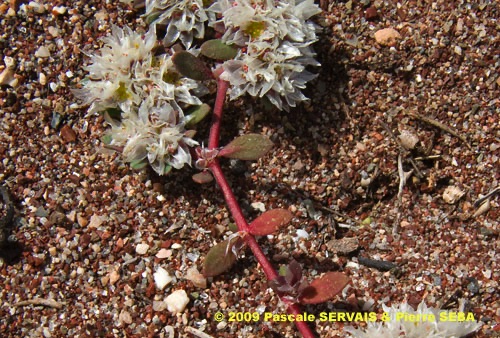 Étymologie / Etymology :
Paronychia : emprunt du grec ancien παρωνυχία, -ας (nom)
[ < παρά (adv.) = auprès, voisin + ὄνυξ, -υχος (nom) = l'ongle ]
= le panaris (abcès proche de l'ongle), semblable à un ongle,
en référence à la forme du calice qui rappelle la plaque de l'ongle.
Argentea : emprunt du latin argenteus, -a, -um (adj.) = d'argent,
couleur argent, argenté.
Paronychia : borrowed from Classical Greek παρωνυχία, -ας (noun)
[ < παρά (adv) = nearby, neighbor + ὄνυξ, -υχος (noun) = nail ]
= whitlow (abscess near the nail), like a nail, referring to the shape of
the calyx reminding the plate of the nail.
Argentea : borrowed from Latin argenteus, -a, -um (adj)
= silver, silver-coloured, silvery.
Synonymes / Synonyms :
Chaetonychia paronychia (L.) Samp.
Illecebrum argenteum (Lam.) Pourr.
Illecebrum italicum Vill.
Illecebrum maritimum Vill.
Illecebrum mauritanicum Schult.
Illecebrum paronychia L.
Paronychia carpetana Pau
Paronychia cuatrecasii Sennen
Paronychia glomerata Moench
Paronychia italica (Vill.) Schult.
Paronychia mauritanica (Schult.) Rothm. & Q.J.P.Silva
Paronychia nitida Gaertn.
Paronychia pubescens DC.
Plottzia paronychia (L.) Samp.
Noms vernaculaires / Common names :
Noms français / French names :
Herbe-au-panaris — Paronyque argentée — Thé arabe.
Noms anglais / English names :
Algerian tea — Mountain-knot-grass — Silver nailwort —
Silvery paronychia — Whitloewort.
Noms allemands / German names :
Nagelkraut — Silber-Mauermiere — Silbermauermiere —
Silbernes Nagelkraut — Silbrige Nagelheil.
Noms espagnols / Spanish names :
Asperilla — Nevadilla — Sanguinaria menor.
Nom italien / Italian name :
Paronichia argentea.
Habitat :
Lieux incultes - Sols sableux - Chemins.
Waste ground - Sandy soils - Waysides.
Île / Island :
Tilos.
Hauteur / Height range :
De 5 cm à 30 cm.
From 5 cm to 30 cm.
Floraison / Flowering time :
De mars à juin.
From March to June.
Groupe / Classification :
Dicotylédones.
Dicotyledons.
Pérennité / Lifespan :
Vivace.
Perennial.
Description :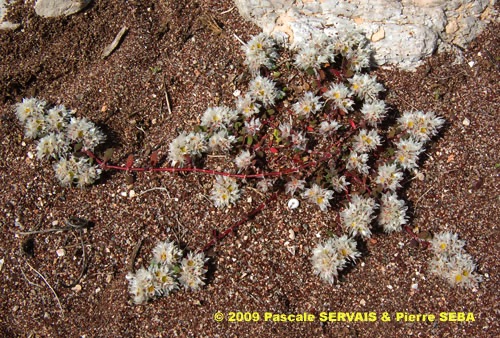 Photo 1 :
Localisation / Location : Tilos, Skafi
Date : 29/03/2009
GPS : Lat. 36,47697° N / Long. 27,35192° E / Alt. 5 m
Type : Photographie numérique / Digital Photograph (10 mégapixels)
Photo 2 :
Localisation / Location : Tilos, Skafi
Date : 29/03/2009
GPS : Lat. 36,47697° N / Long. 27,35192° E / Alt. 5 m
Type : Photographie numérique / Digital Photograph (10 mégapixels)
Photo 3 :
Localisation / Location : Tilos, Skafi
Date : 17/04/2008
GPS : Lat. 36,47697° N / Long. 27,35192° E / Alt. 5 m
Type : Photographie numérique / Digital Photograph (10 mégapixels)
Photo 4 :
Localisation / Location : Tilos, Skafi
Date : 17/04/2008
GPS : Lat. 36,47697° N / Long. 27,35192° E / Alt. 5 m
Type : Photographie numérique / Digital Photograph (10 mégapixels)
Photo 5 :
Localisation / Location : Tilos, Skafi
Date : 29/03/2009
GPS : Lat. 36,47697° N / Long. 27,35192° E / Alt. 5 m
Type : Photographie numérique / Digital Photograph (10 mégapixels)
Photo 6 :
Localisation / Location : Tilos, Skafi
Date : 29/03/2009
GPS : Lat. 36,47697° N / Long. 27,35192° E / Alt. 5 m
Type : Photographie numérique / Digital Photograph (10 mégapixels)
Photo 7 :
Localisation / Location : Tilos, Skafi
Date : 29/03/2009
GPS : Lat. 36,47697° N / Long. 27,35192° E / Alt. 5 m
Type : Photographie numérique / Digital Photograph (10 mégapixels)