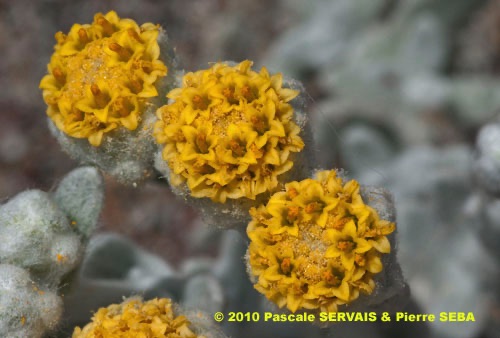 Otanthus maritimus (L.) Hoffmanns. & Link
© Pascale SERVAIS & Pierre SEBA, 2018. Tilo Botanica: Flore de Tilos et du Dodécanèse / Flora of Tilos and of the Dodecanese
English translation by Brenda Bradbury, Howard Bradbury and Stéphane Léonard
Plante herbacée, à souche ligneuse, hermaphrodite, poussant dans les dunes et sur les plages de sable, blanchâtre, cotonneuse, à tiges étalées puis ascendantes, ramifiées au sommet.
Feuilles alternes, simples, oblongues à lancéolées ou spatulées, charnues et sessiles, entières ou à dents émoussées.
Fleurs jaunes, réunies en capitules sphériques, de 7 à 10 mm, globuleux, groupés en bouquets compacts, aplatis au sommet. Fleurs uniquement tubulées. Les deux renflements à la base du tube de la corolle rappellent deux oreilles. Ils enveloppent l'ovaire soudé au calice. Involucre blanc cotonneux. Ovaire infère.
Fruits, akènes courbés, sans aigrette, assez grands, environ 4 mm de long, portant longitudinalement 5 côtes plus ou moins arrondies.
___________________________
Plant herbaceous, with a woody stock, hermaphrodite, growing in dunes and in sandy beaches, whitish, downy. Stems ascending then spread out, branched at the top.
Leaves alternate, simple, oblong to lanceolate or spatulate, fleshy and sessile, entire or with blunted teeth.
Flowers yellow, joined together in spherical capitula, from 7 to 10 mm, globose, grouped in compact clusters, flattened at the top. Flowers with only disk-florets. The two swellings at the base of the tube of the corolla remind two ears. They wrap the ovary fused with the calyx. Involucre downy white. Ovary inferior.
Fruits, curved, not feathery achenes, rather large, approximately 4 mm long, with 5 more or less rounded longitudinal ribs.
Descripteurs / Identifying features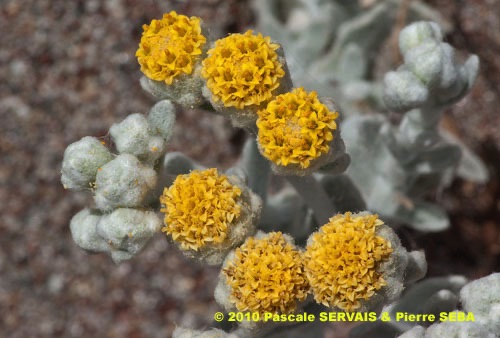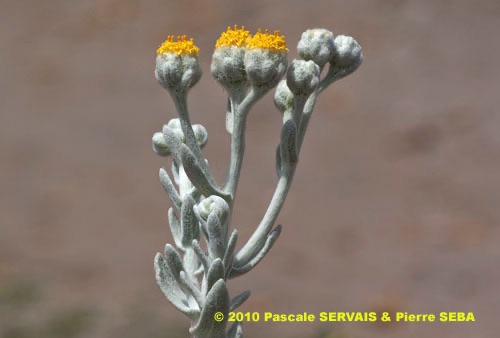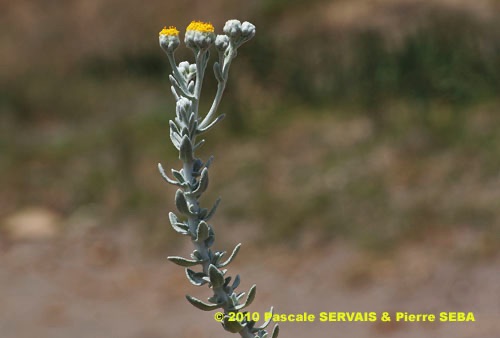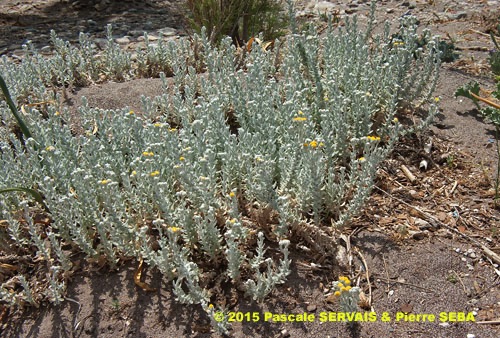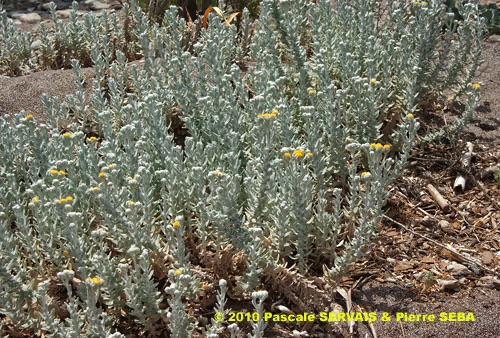 Étymologie / Etymology :
Otanthus : nom créé par les botanistes [ < οὖς, ὠτός (nom) = l'oreille
+ ἄνθος, -ους (nom) = la fleur ] = la fleur en forme d'oreille,
en référence à la corolle qui ressemble à une petite oreille.
Maritimus : emprunt du latin maritimus, -a, -um (adj.)
[ < mare, -is (nom) = la mer ] = maritime, qui provient de la mer
ou des régions en bord de mer.
Otanthus : name created by botanists [ < οὖς, ὠτός (noun) = ear
+ ἄνθος, -ους (noun) = flower ] = ear-shaped flower, referring to its
corolla similar to a small ear.
Maritimus : borrowed from Latin maritimus, -a, -um (adj)
[ < mare, -is (noun) = sea ] = maritime, which comes from the sea
or from the sea-coasts.
Synonymes / Synonyms :
Achillea maritima (L.) Ehrend. & Y.P.Guo
Diotis maritima (L.) Coss.
Athanasia maritima (L.) L.
Diotis candidissima Desf.
Diotis maritima (L.) Sm.
Diotis maritima (L.) Desf.
Filago maritima L.
Gnaphalium legitimum Bubani
Gnaphalium legitimum Gaertn.
Neesia maritima Spreng. ex Steud.
Santolina maritima (L.) Crantz
Santolina tomentosa Lam.
Noms vernaculaires / Common names :
Noms français / French names :
Diotis blanc — Diotis maritime — Othanthe maritime —
Santoline-cyprès.
Nom grec / Greek name :
Ώτανθος ο παράλιος.
Noms anglais / English names :
Coastal lavender cotton — Cottonweed.
Nom allemand / German name :
Schneeweisse Strandfilzblume.
Noms espagnols / Spanish names :
Algodonosa — Carrasca de San Juan.
Nom italien / Italian name :
Santolina delle spiagge.
Habitat :
Sols sableux.
Sandy soils.
Île / Island :
Tilos.
Hauteur / Height range :
De 20 cm à 50 cm.
From 20 cm to 50 cm.
Floraison / Flowering time :
De mai à septembre.
From May to September.
Groupe / Classification :
Dicotylédones.
Dicotyledons.
Pérennité / Lifespan :
Vivace.
Perennial.
Description :
Photo 1 :
Localisation / Location : Tilos, Erystos
Date : 09/05/2010
GPS : Lat. 36,43322° N / Long. 27,34976° E / Alt. 3 m
Type : Photographie numérique / Digital Photograph (10 mégapixels)
Photo 2 :
Localisation / Location : Tilos, Erystos
Date : 09/05/2010
GPS : Lat. 36,43322° N / Long. 27,34976° E / Alt. 3 m
Type : Photographie numérique / Digital Photograph (10 mégapixels)
Photo 3 :
Localisation / Location : Tilos, Erystos
Date : 09/05/2010
GPS : Lat. 36,43322° N / Long. 27,34976° E / Alt. 3 m
Type : Photographie numérique / Digital Photograph (10 mégapixels)
Photo 4 :
Localisation / Location : Tilos, Erystos
Date : 09/05/2010
GPS : Lat. 36,43322° N / Long. 27,34976° E / Alt. 3 m
Type : Photographie numérique / Digital Photograph (10 mégapixels)
Photo 5 :
Localisation / Location : Tilos, Erystos
Date : 09/05/2010
GPS : Lat. 36,43322° N / Long. 27,34976° E / Alt. 3 m
Type : Photographie numérique / Digital Photograph (10 mégapixels)
Photo 6 :
Localisation / Location : Tilos, Erystos
Date : 09/05/2010
GPS : Lat. 36,43322° N / Long. 27,34976° E / Alt. 3 m
Type : Photographie numérique / Digital Photograph (10 mégapixels)