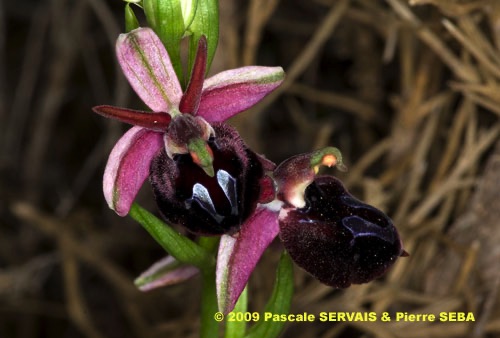 Ophrys ferrum-equinum Desf.
© Pascale SERVAIS & Pierre SEBA, 2018. Tilo Botanica: Flore de Tilos et du Dodécanèse / Flora of Tilos and of the Dodecanese
English translation by Brenda Bradbury, Howard Bradbury and Stéphane Léonard
Plante herbacée, hermaphrodite, à tige érigée, glabre.
Feuilles à la base et alternes, simples, lancéolées, glabres, pointues, vert bleuâtre, souvent de plus de 12 cm de long, les caulinaires plus petites et engainantes.
Fleurs à symétrie bilatérale, longues de 20 à 25 mm, réunies par 3 à 8 en épi lâche de 4 à 8 cm de long. Sépales roses ou pourpres, veinés de vert, ovales, étalés, de 12 à 17 mm de long et de 5 à 9 mm de large, le supérieur arqué vers l'avant. Pétales roses à brunâtres, linéaires à lancéolés, de 6 à 11 mm de long, de 2,5 à 4 mm de large, égalant environ la moitié des sépales. Labelle brun noirâtre à rougeâtre, de 9 à 10 mm de long et de 9 à 10 mm de large, rond, entier ou à peine trilobé, à sommet pointant vers l'avant, brun rougeâtre, velouté. Macule bleu foncé, luisante, formée de deux lignes parallèles verticales, parfois contiguës, dessinant alors un fer à cheval. Appendice petit à presque nul, triangulaire, verdâtre. Ovaire infère.
Fruits, capsules coriaces et membraneuses.
___________________________
Plant herbaceous, hermaphrodite. Stem erect, glabrous.
Leaves at the base and alternate, simple, lanceolate, glabrous, pointed, bluish green, often more than 12 cm long, the stem-leaves smaller and sheathing.
Flowers bilaterally symmetrical, from 20 to 25 mm long, joined together by 3 to 8 in a loose spike from 4 to 8 cm long. Sepals pink or purple, with green veins, ovate, spread out, from 12 to 17 mm long and from 5 to 9 mm across, the superior one curved forwards. Petals pink to brownish, linear to lanceolate, from 6 to 11 mm long and from 2.5 to 4 mm across, equalling approximately half of the sepals. Labellum blackish brown to reddish, from 9 to 10 mm long and from 9 to 10 mm across, round, entire or scarcely three-lobed, with the top pointing forwards, reddish brown, velvety. Macula dark blue, shiny, formed by two vertical parallel lines, sometimes contiguous, then in the shape of a horseshoe. Appendix small to almost null, triangular, greenish. Ovary inferior.
Fruits, tough and membranous capsules.
Descripteurs / Identifying features: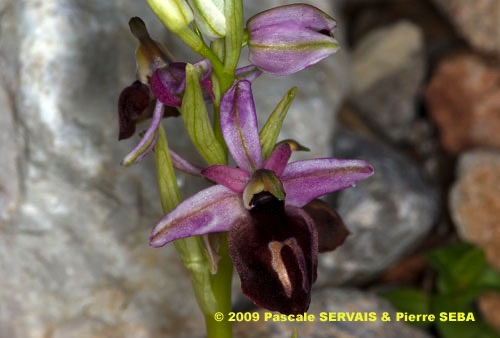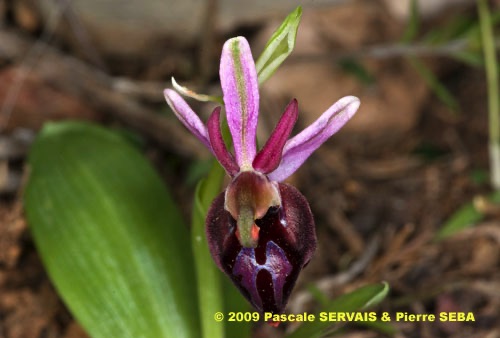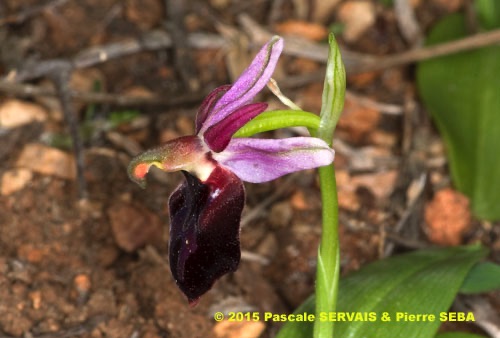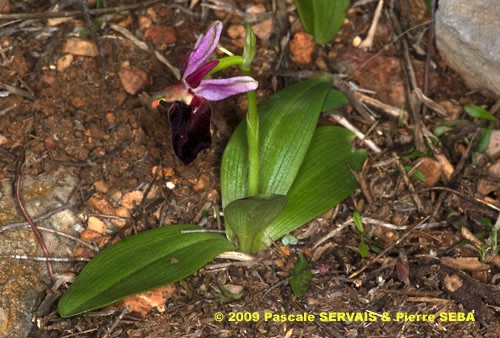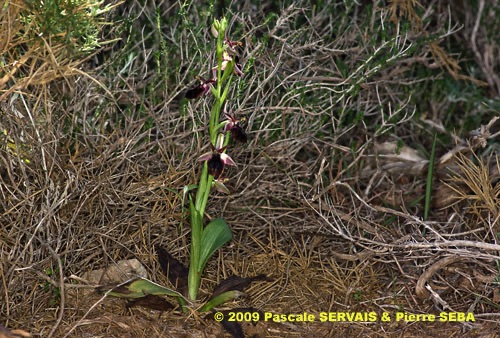 Étymologie / Etymology :
Ophrys : emprunt du latin ophrys, -yos (nom) = ophrys, nom donné à
plusieurs plantes par Pline, naturaliste latin mort en 79 apr. J.-C.,
forme latinisée du grec ancien ὀφρύς, -ύος (nom) = le sourcil,
en référence à la pilosité du labelle, en particulier autour des bords.
Ferrum-Equinum : nom composé créé par les botanistes
[ < ferrum, -i (nom) = le fer + equinus, -a, -um (adj.) = de cheval ]
= le fer à cheval, en référence à la forme de la macule sur le labelle.
Ophrys : borrowed from Latin ophrys, -yos (noun) = bee orchid, name
given to several plants by Plinius, Latin naturalist died in 79 AD,
Latinized form of the Classical Greek ὀφρύς, -ύος (noun) = eyebrow,
referring to the hairiness of the labellum, particularly around margins.
Ferrum-Equinum : compound name created by botanists
[ < ferrum, -i (noun) = iron + equinus, -a, -um (adj) = of horse ]
= horseshoe, referring to the shape of the macula on the labellum.
Synonyme / Synonym :
—
Noms vernaculaires / Common names :
Nom français / French name :
Ophrys fer à cheval.
Noms grecs / Greek names :
Οφρύς — Οφρύς η πεταλοειδής — Το πέταλο του αλόγου.
Nom allemand / German name :
Hufeisen-Ragwurz.
Habitat :
Forêts - Prairies - Lieux pierreux - Lieux incultes.
Forests - Meadows - Stony places - Waste ground.
Île / Island :
Tilos.
Hauteur / Height range :
De 10 cm à 30 cm.
From 10 cm to 30 cm.
Floraison / Flowering time :
De février à mai.
From February to May.
Groupe / Classification :
Monocotylédones.
Monocotyledons.
Pérennité / Lifespan :
Vivace.
Perennial.
Description :
Descripteurs distinctifs des 12 espèces / Distinctive identifying features of the 12 species
Photo 1 :
Localisation / Location : Tilos, Chemin de Skafi / Path to Skafi
Date : 29/03/2009
GPS : Lat. 36,47043° N / Long. 27,34952° E / Alt. 64 m
Type : Photographie numérique / Digital Photograph (10 mégapixels)
Photo 2 :
Localisation / Location : Tilos, Panaghia Kamariani
Date : 18/03/2009
GPS : Lat. 36,45665° N / Long. 27,32595° E / Alt. 21 m
Type : Photographie numérique / Digital Photograph (10 mégapixels)
Photo 3 :
Localisation / Location : Tilos, Chemin de Skafi / Path to Skafi
Date : 29/03/2009
GPS : Lat. 36,47043° N / Long. 27,34952° E / Alt. 64 m
Type : Photographie numérique / Digital Photograph (10 mégapixels)
Photo 4 :
Localisation / Location : Tilos, Chemin de Skafi / Path to Skafi
Date : 29/03/2009
GPS : Lat. 36,47043° N / Long. 27,34952° E / Alt. 64 m
Type : Photographie numérique / Digital Photograph (10 mégapixels)
Photo 5 :
Localisation / Location : Tilos, Chemin de Skafi / Path to Skafi
Date : 29/03/2009
GPS : Lat. 36,47043° N / Long. 27,34952° E / Alt. 64 m
Type : Photographie numérique / Digital Photograph (10 mégapixels)
Photo 6 :
Localisation / Location : Tilos, Chemin de Skafi / Path to Skafi
Date : 29/03/2009
GPS : Lat. 36,47043° N / Long. 27,34952° E / Alt. 64 m
Type : Photographie numérique / Digital Photograph (10 mégapixels)