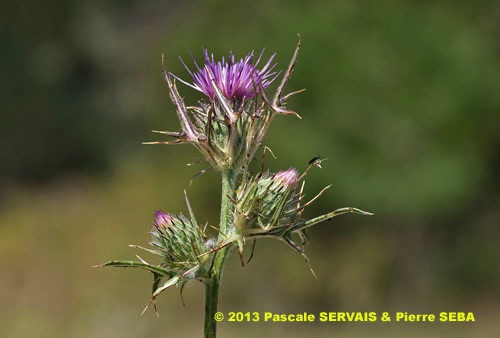 Notobasis syriaca (L.) Cass.
© Pascale SERVAIS & Pierre SEBA, 2018. Tilo Botanica: Flore de Tilos et du Dodécanèse / Flora of Tilos and of the Dodecanese
English translation by Brenda Bradbury, Howard Bradbury and Stéphane Léonard
Plante herbacée, à souche ligneuse, hermaphrodite, rappelant le chardon, à tiges raides, sans ailes épineuses, souvent teintées de bleu métallique au sommet.
Feuilles alternes, divisées pennatifides à pennatipartites ou simples elliptiques, vert foncé, veinées de vert pâle ou de blanc, à segments triangulaires épineux. Feuilles supérieures regroupées sous les capitules sessiles et réduites à de vigoureuses épines.
Fleurs pourpres, réunies en capitules de 15 à 25 mm de diamètre, solitaires ou en petits bouquets. Bractées de l'involucre jaunâtres, terminées par un crochet. Ovaire infère.
Fruits, akènes glabres, brun foncé, à touffe de poils plumeux.
___________________________
Plant herbaceous, with a woody stock, hermaphrodite, reminding the thistle. Stems stiff, without spiny wings, often tinted of metal blue at the top.
Leaves alternate, dissected pinnatifid to pinnatipartite or simple elliptic, dark green, veined of pale green or white, with spiny triangular segments. Upper leaves gathered under the capitula, sessile and reduced to vigorous thorns.
Flowers purple, joined together in capitula from 15 to 25 mm in diameter, solitary or in small clusters. Bracts of the involucre yellowish, finished by a hook. Ovary inferior.
Fruits, glabrous, dark brown achenes, with a tuft of feathery hairs.
Descripteurs / Identifying features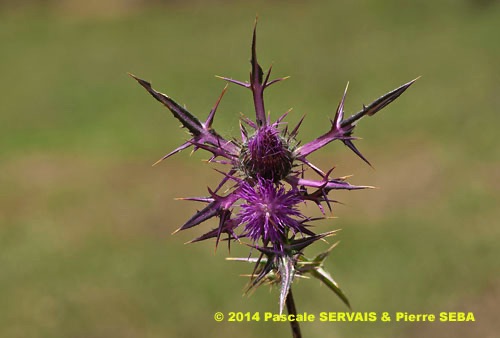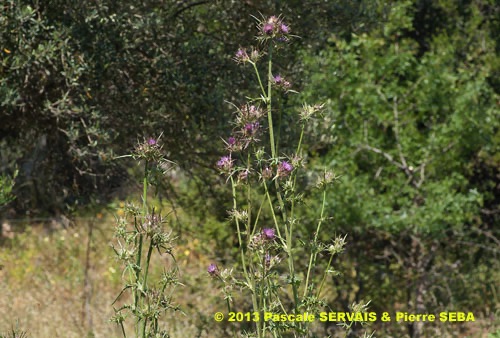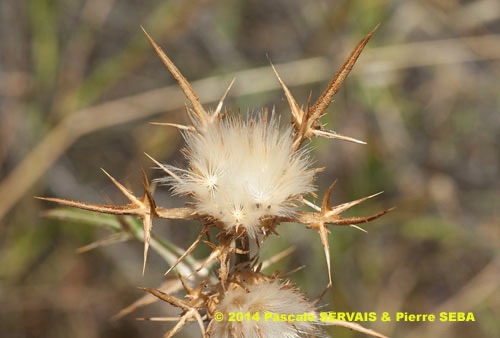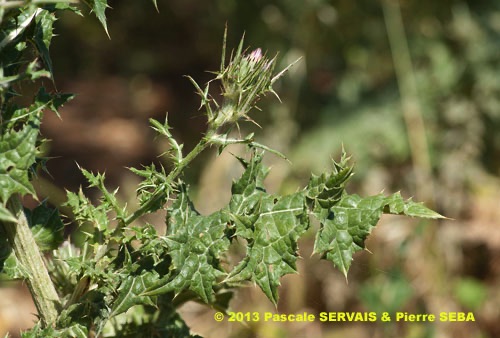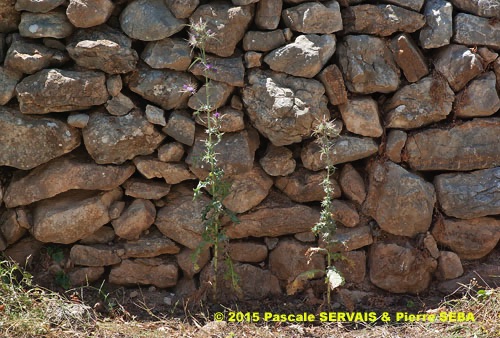 Étymologie / Etymology :
Notobasis : nom créé par les botanistes [ < νῶτος, -ου (nom)
= le dos + βάσις, -εως (nom) = la base, le centre ], en référence aux
akènes comprimés fixés par la base de leur face dorsale.
Syriaca : emprunt du latin syriacus, -a, -um (adj.)
[ < Syria, -ae (nom propre) = la Syrie ] = de Syrie, qui provient de
Syrie.
Notobasis : name created by botanists [ < νῶτος, -ου (noun)
= back + βάσις, -εως (noun) = base, centre ], referring to the
compressed achenes attached by the base of their dorsal side.
Syriaca : borrowed from Latin syriacus, -a, -um (adj)
[ < Syria, -ae (proper noun) = Syria ] = of or from Syria, which comes
from Syria.
Synonymes / Synonyms :
Carduus obvallatus Salzm.
Carduus syriacus L.
Cirsium bracteatum Link
Cirsium cynaroides Lam.
Cirsium maculatum Moench
Cirsium syriacum (L.) Gaertn.
Cirsium syriacum var. bracteatum (Link) Rouy
Cnicus syriacus (L.) Roth
Noms vernaculaires / Common names :
Noms français / French names :
Chardon de Syrie — Cirse de Syrie — Notobasis de Syrie.
Noms grecs / Greek names :
Γαϊδουράγκαθο — Κουφάγκαθο — Κουφολάχανο — Νωτόβασις —
Νωτόβασις η συριακή.
Nom anglais / English name :
Syrian thistle.
Nom allemand / German name :
Syrische Kratzdistel.
Nom italien / Italian name :
Cardo siriano.
Habitat :
Cultures - Lieux pierreux - Lieux incultes - Chemins.
Cultivated places - Stony places - Waste ground - Waysides.
Île / Island :
Tilos.
Hauteur / Height range :
De 20 cm à 1 m.
From 20 cm to 1 m.
Floraison / Flowering time :
De mars à juin.
From March to June.
Groupe / Classification :
Dicotylédones.
Dicotyledons.
Pérennité / Lifespan :
Annuelle.
Annual.
Description :
Photo 1 :
Localisation / Location : Tilos, Aghios Stephanos
Date : 27/04/2013
GPS : Lat. 36,40805° N / Long. 27,39163° E / Alt. 30 m
Type : Photographie numérique / Digital Photograph (10 mégapixels)
Photo 2 :
Localisation / Location : Tilos, Livadia
Date : 17/05/2014
GPS : Lat. 36,41204° N / Long. 27,38779° E / Alt. 5 m
Type : Photographie numérique / Digital Photograph (10 mégapixels)
Photo 3 :
Localisation / Location : Tilos, Aghios Stephanos
Date : 27/04/2013
GPS : Lat. 36,40805° N / Long. 27,39163° E / Alt. 30 m
Type : Photographie numérique / Digital Photograph (10 mégapixels)
Photo 4 :
Localisation / Location : Tilos, Livadia
Date : 17/05/2014
GPS : Lat. 36,41220° N / Long. 27,38677° E / Alt. 8 m
Type : Photographie numérique / Digital Photograph (10 mégapixels)
Photo 5 :
Localisation / Location : Tilos, Aghios Stephanos
Date : 27/04/2013
GPS : Lat. 36,40805° N / Long. 27,39163° E / Alt. 30 m
Type : Photographie numérique / Digital Photograph (10 mégapixels)
Photo 6 :
Localisation / Location : Tilos, Livadia
Date : 19/05/2015
GPS : Lat. 36,41097° N / Long. 27,38678° E / Alt. 12 m
Type : Photographie numérique / Digital Photograph (10 mégapixels)