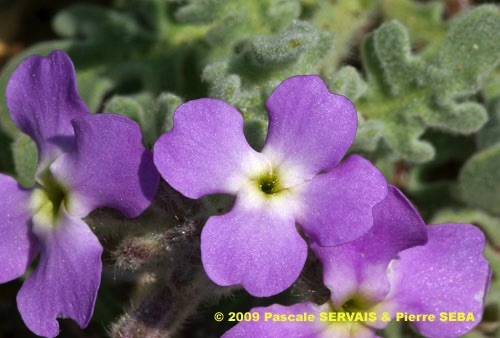 Matthiola tricuspidata (L.) R.Br.
© Pascale SERVAIS & Pierre SEBA, 2018. Tilo Botanica: Flore de Tilos et du Dodécanèse / Flora of Tilos and of the Dodecanese
English translation by Brenda Bradbury, Howard Bradbury and Stéphane Léonard
Plante herbacée, hermaphrodite, à poils assez laineux, à tiges ramifiées.
Feuilles alternes, simples, linéaires, oblongues, légèrement lobées ou divisées pennatifides, veloutées, à bords ondulés, à lobes et sommet arrondis.
Fleurs à symétrie radiaire, mauves ou pourpres, de 18 à 25 mm de diamètre. Corolle à 4 pétales libres, rayonnants. Calice à 4 sépales inégaux dont 2 sont bossus à la base. Ovaire supère.
Fruits, siliques allongées, de 25 à 100 mm de long, étalées à incurvées, avec une seule nervure principale et 3 cornes bien nettes au sommet.
___________________________
Plant herbaceous, hermaphrodite, with rather woolly hairs, with branched stems.
Leaves alternate, simple, linear, oblong, slightly lobed or dissected pinnatifid, velvety, with wavy edges, with rounded lobes and top.
Flowers radially symmetrical, mauve or purple, from 18 to 25 mm in diameter. Corolla with 4 free petals, spreading from the centre. Calyx with 4 unequal sepals including 2 uneven at the base. Ovary superior.
Fruits, lengthened siliquas, from 25 to 100 mm long, spread out to curved, with only one main vein and 3 quite conspicuous horns at the top.
Descripteurs / Identifying features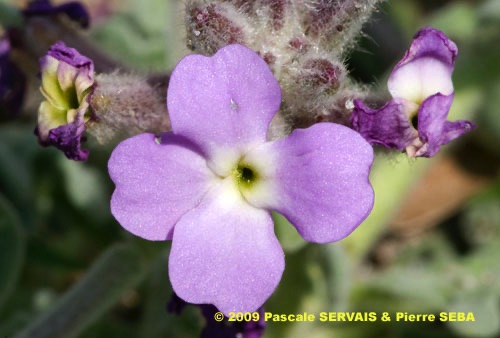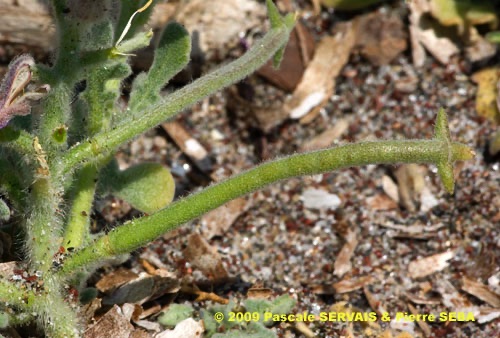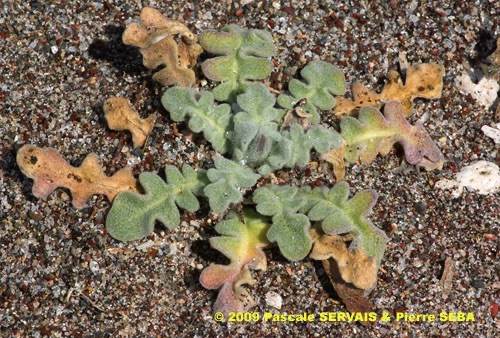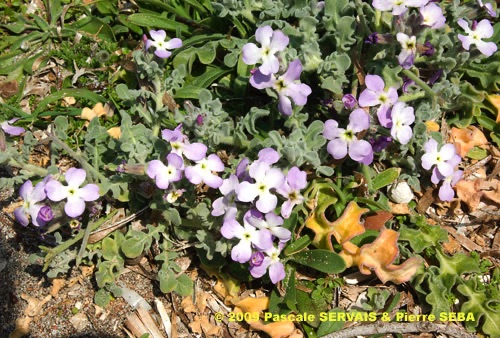 Étymologie / Etymology :
Matthiola : nom donné en l'honneur de Pietro Andrea Matthioli,
médecin et botaniste italien (1501-1577) qui fut le médecin de
Maximilien II, empereur du Saint Empire romain germanique.
Tricuspidata : emprunt du latin tricuspidatus, -a, -um (adj.)
[ < tri- (tres) (adj.) = trois + cuspis, -idis (nom) = la pointe ]
= qui a trois pointes, en référence à son fruit terminé par trois pointes.
Matthiola : name given in honour of Pietro Andrea Matthioli,
Italian doctor and botanist (1501-1577) who was the doctor of
Maximilien II, emperor of the Holy Roman Empire of the German
Nation.
Tricuspidata : borrowed from Latin tricuspidatus, -a, -um (adj)
[ < tri- (tres) (adj) = three + cuspis, -idis (noun) = point ]
= which has three points, referring to its 3 pointed fruit.
Synonymes / Synonyms :
Cheiranthus tricuspidatus L.
Cheiranthus villosus Forssk.
Hesperis tricuspidata (L.) Lam.
Matthiola tricuspidata var. arcuata Lojac. ex Rouy & Foucaud
Noms vernaculaires / Common names :
Noms français / French names :
Matthiole à fruits à trois cornes — Matthiole à trois pointes.
Noms grecs / Greek names :
Βιόλλα της θάλασσας — Ματθιόλα η τρικέρατη.
Nom anglais / English name :
Mediterranean stock.
Nom allemand / German name :
Dreihörnige Levkoje.
Nom italien / Italian name :
Violaciocca marina.
Habitat :
Lieux pierreux - Sols sableux.
Stony places - Sandy soils.
Île / Island :
Tilos.
Hauteur / Height range :
De 5 cm à 50 cm.
From 5 cm to 50 cm.
Floraison / Flowering time :
De février à juin.
From February to June.
Groupe / Classification :
Dicotylédones.
Dicotyledons.
Pérennité / Lifespan :
Annuelle.
Annual.
Description :
Descripteurs distinctifs des 2 espèces / Distinctive identifying features of the 2 species
Photo 1 :
Localisation / Location : Tilos, Erystos
Date : 24/03/2009
GPS : Lat. 36,43341° N / Long. 27,34903° E / Alt. 2 m
Type : Photographie numérique / Digital Photograph (10 mégapixels)
Photo 2 :
Localisation / Location : Tilos, Erystos
Date : 24/03/2009
GPS : Lat. 36,43341° N / Long. 27,34903° E / Alt. 2 m
Type : Photographie numérique / Digital Photograph (10 mégapixels)
Photo 3 :
Localisation / Location : Tilos, Erystos
Date : 24/03/2009
GPS : Lat. 36,43341° N / Long. 27,34903° E / Alt. 2 m
Type : Photographie numérique / Digital Photograph (10 mégapixels)
Photo 4 :
Localisation / Location : Tilos, Erystos
Date : 24/03/2009
GPS : Lat. 36,43341° N / Long. 27,34903° E / Alt. 2 m
Type : Photographie numérique / Digital Photograph (10 mégapixels)
Photo 5 :
Localisation / Location : Tilos, Erystos
Date : 24/03/2009
GPS : Lat. 36,43341° N / Long. 27,34903° E / Alt. 2 m
Type : Photographie numérique / Digital Photograph (10 mégapixels)