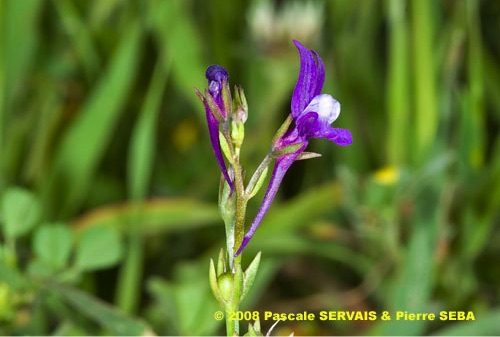 Linaria pelisseriana (L.) Mill.
© Pascale SERVAIS & Pierre SEBA, 2018. Tilo Botanica: Flore de Tilos et du Dodécanèse / Flora of Tilos and of the Dodecanese
English translation by Brenda Bradbury, Howard Bradbury and Stéphane Léonard
Plante herbacée, hermaphrodite, à tiges délicates, dressées, non ramifiées, glabres ou rarement poilues, feuillées sur toute la longueur.
Feuilles de la base verticillées ou opposées, les supérieures alternes, simples, linéaires, pointues, de 40 mm de long au plus, dressées contre la tige.
Fleurs à symétrie bilatérale, violet pourpre, de 15 à 20 mm de long, à 2 lèvres, la supérieure plus longue et bilobée, l'inférieure trilobée, aux renflements de la gorge striés de blanc, réunies en grappes de 30 à 40 mm de long. Chaque fleur portée par un pédicelle un peu plus long que le calice. Éperon droit de 5 à 9 mm de long, dirigé vers le bas, plus long que l'ovaire. Calice à 5 sépales linéaires, glabres et terminés en pointe. Ovaire supère.
Fruits, petites capsules vertes, glabres ou presque glabres, échancrées au sommet, beaucoup plus courtes que les calices persistants qui les entourent. Graines lisses, à contours arrondis avec une aile plate bordée de cils aussi longs que la largeur de l'aile.
___________________________
Plant herbaceous, hermaphrodite. Stems delicate, erect, unbranched, glabrous or seldom hairy, leafy over the entire length.
Leaves of the base whorled or opposite, the higher ones alternate, simple, linear, pointed, 40 mm long at most, erect against the stem.
Flowers bilaterally symmetrical, violet purple, from 15 to 20 mm long, with 2 lips, the higher one longer and two-lobed, the lower one three-lobed, with swellings of the throat covered in white ridges, joined together in racemes from 30 to 40 mm long. Each flower carried by a pedicel a little longer than the calyx. Spur straight, from 5 to 9 mm long, directed downwards, longer than the ovary. Calyx with 5 linear, glabrous sepals finished in point. Ovary superior.
Fruits, small green, glabrous or almost glabrous capsules indented at the top, much shorter than the persistent calyxes which surround them. Seeds smooth, with rounded contours with a flat wing bordered by fine hairs as long as the width of the wing.
Descripteurs / Identifying features: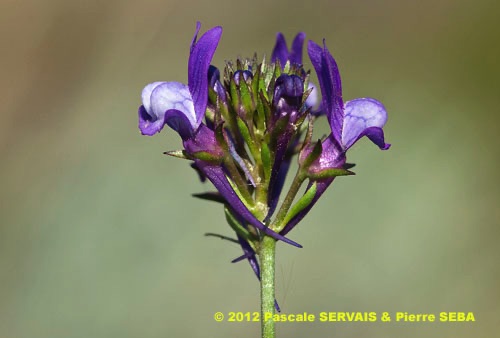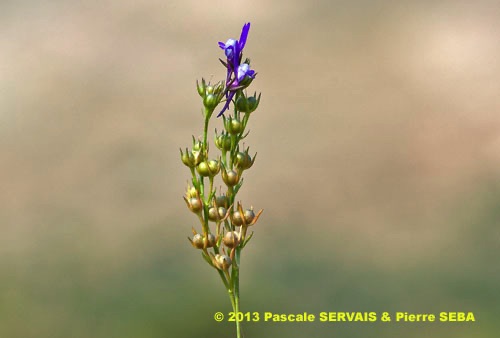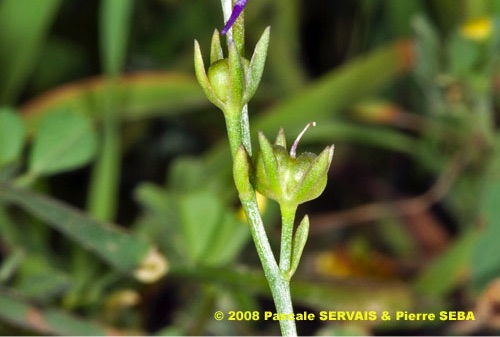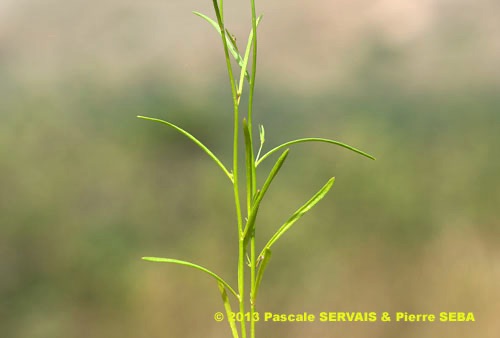 Étymologie / Etymology :
Linaria : emprunt du latin linum, -i (nom) = le lin (plante et tissu),
forme latinisée du grec ancien λίνον, -ου (nom) = le lin (plante et
tissu), en référence aux feuilles semblables à celles du lin.
Pelisseriana : nom donné en l'honneur de Guillaume Pellicier
(1490-1568), brillant humaniste français, diplomate, évêque de
Montpellier et amateur de botanique.
Linaria : borrowed from Latin linum, -i (noun) = flax (plant and cloth),
Latinized form of the Classical Greek λίνον, -ου (noun) = flax (plant
and cloth), referring to the leaves similar to those of the flax.
Pelisseriana : name given in honour of Guillaume Pellicier (1490-1568),
brilliant French humanist, diplomat, bishop of Montpellier and
amateur of botany.
Synonymes / Synonyms :
Antirrhinum gracile Pers.
Antirrhinum pellicerianum L.
Antirrhinum violaceum Salisb.
Linaria ciliata Dulac
Linaria pelisseriana var. gracilis (Pers.) Rouy
Noms vernaculaires / Common names :
Nom français / French name :
Linaire de Pélissier.
Nom anglais / English name :
Jersey toadflax.
Nom allemand / German name :
Langsporniges Leinkraut.
Nom italien / Italian name :
Linajola di Pellicier.
Habitat :
Cultures - Lieux incultes.
Cultivated places - Waste ground.
Île / Island :
Tilos.
Hauteur / Height range :
De 10 cm à 30 cm.
From 10 cm to 30 cm.
Floraison / Flowering time :
De mars à juillet.
From March to July.
Groupe / Classification :
Dicotylédones.
Dicotyledons.
Pérennité / Lifespan :
Annuelle.
Annual.
Description :
Descripteurs distinctifs des 4 espèces / Distinctive identifying features of the 4 species
Photo 1 :
Localisation / Location : Tilos, Aghios Andonis
Date : 13/04/2008
GPS : —
Type : Photographie numérique / Digital Photograph (10 mégapixels)
Photo 2 :
Localisation / Location : Tilos, Erystos
Date : 20/03/2012
GPS : Lat. 36,43373° N / Long. 27,34924° E / Alt. 4 m
Type : Photographie numérique / Digital Photograph (10 mégapixels)
Photo 3 :
Localisation / Location : Tilos, Plaine d'Erystos / Plain of Erystos
Date : 23/04/2013
GPS : Lat. 36,44463° N / Long. 27,34598° E / Alt. 37 m
Type : Photographie numérique / Digital Photograph (10 mégapixels)
Photo 4 :
Localisation / Location : Tilos, Aghios Andonis
Date : 13/04/2008
GPS : —
Type : Photographie numérique / Digital Photograph (10 mégapixels)
Photo 5 :
Localisation / Location : Tilos, Plaine d'Erystos / Plain of Erystos
Date : 23/04/2013
GPS : Lat. 36,44463° N / Long. 27,34598° E / Alt. 37 m
Type : Photographie numérique / Digital Photograph (10 mégapixels)
Photo 6 :
Localisation / Location : Tilos, Aghios Andonis
Date : 13/04/2008
GPS : —
Type : Photographie numérique / Digital Photograph (10 mégapixels)