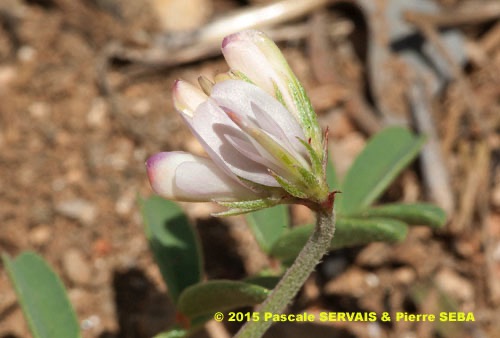 Hedysarum spinosissimum L.
© Pascale SERVAIS & Pierre SEBA, 2018. Tilo Botanica: Flore de Tilos et du Dodécanèse / Flora of Tilos and of the Dodecanese
English translation by Brenda Bradbury, Howard Bradbury and Stéphane Léonard
Plante herbacée, hermaphrodite, délicate, à tiges rougeâtres, sillonnées, étalées à presque dressées, légèrement poilues.
Feuilles alternes, composées imparipennées, de 15 cm de long au plus, à 9 à 17 folioles étroites, de 5 à 12 mm de long, elliptiques à oblongues, échancrées au sommet, glabres dessus, velues blanchâtres dessous. Stipules libres entre elles.
Fleurs à symétrie bilatérale, blanches, pourpres ou roses, de 8 à 11 mm de long, réunies par 2 à 10 en grappes terminales portées par un pédoncule plus long que la feuille sous-jacente. Corolle papilionacée. Calice à sépales de 4 à 8 mm de long, soudés entre eux jusqu'à la moitié, avec des poils noirs sur la pointe. 9 étamines soudées entre elles et 1 libre. Ovaire supère.
Fruits, gousses courbées, aplaties, velues, de 30 mm de long, divisées en 2 à 4 articles arrondis, à épines pourprées crochues.
___________________________
Plant herbaceous, hermaphrodite, delicate. Stems reddish, furrowed, spread out to almost erect, slightly hairy.
Leaves alternate, compound imparipinnate, 15 cm long at most, with 9 to 17 narrow leaflets, from 5 to 12 mm long, elliptic to oblong, indented at the top, glabrous above, very hairy and whitish below. Stipules free between them.
Flowers bilaterally symmetrical, white, purple or pink, from 8 to 11 mm long, joined together by 2 to 10 in terminal racemes carried by a peduncle longer than the underlying leaf. Corolla papilionaceous. Calyx with sepals from 4 to 8 mm long, fused with each other as far as half, with black hairs on the point. 9 stamens fused with each other and 1 free. Ovary superior.
Fruits, curved, flattened, very hairy pods, 30 mm long, divided into 2 to 4 rounded articles, with hooked purplish thorns.
Descripteurs / Identifying features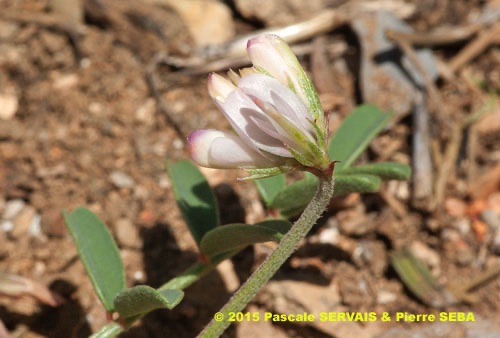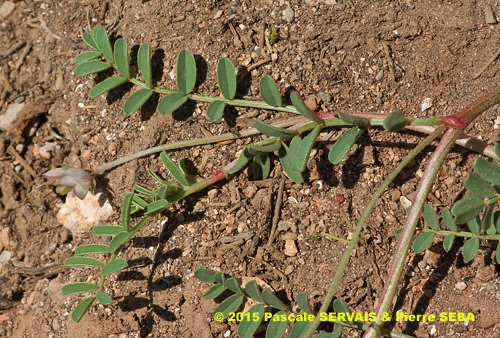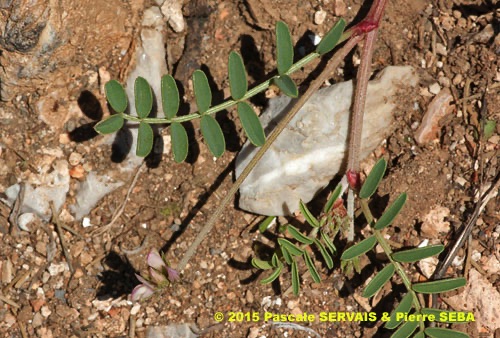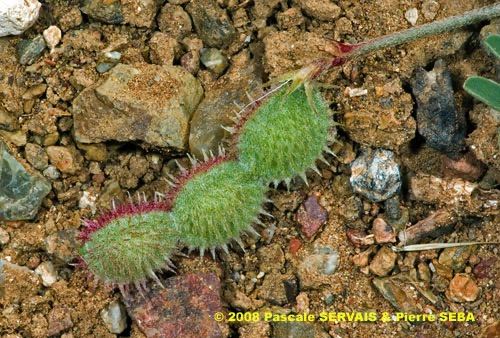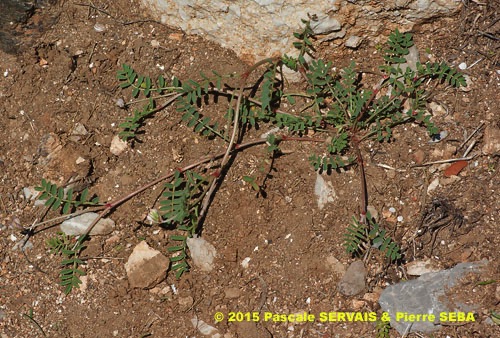 Étymologie / Etymology :
Hedysarum : emprunt du grec ancien ἡδύσαρον, -ου (nom)
[ < ἡδύς, -εῖα, -ύ (adj.) = agréable + ἄρον,-ου (nom) = l'arum ]
= l'arum agréable, l'arum parfumé, nom donné à une plante par
Théophraste, philosophe péripatéticien, disciple d'Aristote, botaniste
et naturaliste, mort vers 288 av. J.-C.
Spinosissimum : emprunt du latin spinosissimus, -a, -um (superl.)
[ < spina, -ae (nom) = l'épine ] = très pointu, très épineux, couvert
d'épines, en référence aux parties épineuses de la plante.
Hedysarum : borrowed from Classical Greek ἡδύσαρον, -ου (noun)
[ < ἡδύς, -εῖα, -ύ (adj) = pleasant, nice + ἄρον,-ου (noun) = arum ]
= pleasant arum, scented arum, name given to a plant by
Theophrastus, peripatetic philosopher, disciple of Aristotle, botanist
and naturalist, died towards 288 BC.
Spinosissimum : borrowed from Latin spinosissimus, -a, -um (superl)
[ < spina, -ae (noun) = spine ] = very sharp, very spiny, covered in
thorns, referring to the spiny parts of the plant.
Synonymes / Synonyms :
Sulla spinosissima (L.) B.H.Choi & H.Ohashi
Hedysarum capitatum subsp. pallens (Moris) Arcang.
Hedysarum capitatum var. pallens Moris
Hedysarum pallens (Moris) Halácsy
Hedysarum sibthorpii Nyman
Hedysarum spinosissimum subsp. pallens (Moris) Holmboe
Hedysarum spinosissimum subsp. spinosissimum
Hedysarum spinosissimum var. pallens (Moris) Rouy
Noms vernaculaires / Common names :
Noms français / French names :
Hédysarum épineux — Hédysarum très épineux —
Sainfoin épineux — Sainfoin très épineux.
Nom anglais / English name :
Spiny sulla.
Nom allemand / German name :
Dorniger Süßklee.
Nom espagnol / Spanish name :
Zulla enana.
Noms italiens / Italian names :
Sulla pallida — Sulla spinosa.
Habitat :
Forêts - Lieux pierreux - Lieux incultes - Sols sableux - Chemins.
Forests - Stony places - Waste ground - Sandy soils - Waysides.
Île / Island :
Tilos.
Hauteur / Height range :
De 5 cm à 30 cm.
From 5 cm to 30 cm.
Floraison / Flowering time :
De février à mai.
From February to May.
Groupe / Classification :
Dicotylédones.
Dicotyledons.
Pérennité / Lifespan :
Annuelle.
Annual.
Description :
Photo 1 :
Localisation / Location : Tilos, Erystos
Date : 19/03/2015
GPS : Lat. 36,43336° N / Long. 27,34485° E / Alt. 6 m
Type : Photographie numérique / Digital Photograph (10 mégapixels)
Photo 2 :
Localisation / Location : Tilos, Erystos
Date : 19/03/2015
GPS : Lat. 36,43336° N / Long. 27,34485° E / Alt. 6 m
Type : Photographie numérique / Digital Photograph (10 mégapixels)
Photo 3 :
Localisation / Location : Tilos, Erystos
Date : 19/03/2015
GPS : Lat. 36,43336° N / Long. 27,34485° E / Alt. 6 m
Type : Photographie numérique / Digital Photograph (10 mégapixels)
Photo 4 :
Localisation / Location : Tilos, Erystos
Date : 19/03/2015
GPS : Lat. 36,43336° N / Long. 27,34485° E / Alt. 6 m
Type : Photographie numérique / Digital Photograph (10 mégapixels)
Photo 5 :
Localisation / Location : Tilos, Plaka
Date : 16/04/2008
GPS : Lat. 36,46376° N / Long. 27,30512° E / Alt. 35 m
Type : Photographie numérique / Digital Photograph (10 mégapixels)
Photo 6 :
Localisation / Location : Tilos, Erystos
Date : 19/03/2015
GPS : Lat. 36,43336° N / Long. 27,34485° E / Alt. 6 m
Type : Photographie numérique / Digital Photograph (10 mégapixels)