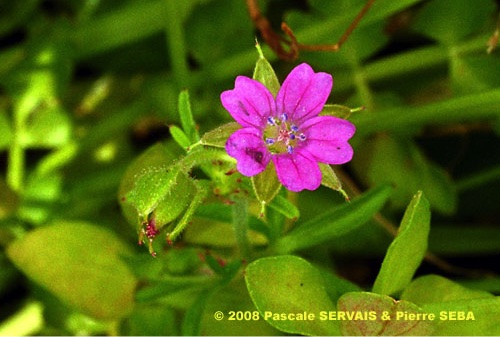 © Pascale SERVAIS & Pierre SEBA, 2018. Tilo Botanica: Flore de Tilos et du Dodécanèse / Flora of Tilos and of the Dodecanese
English translation by Brenda Bradbury, Howard Bradbury and Stéphane Léonard
Plante herbacée, hermaphrodite, assez étalée, velue, à poils étalés, à tiges florales ascendantes.
Feuilles alternes ou opposées, divisées palmatiséquées, pétiolées, découpées en 5 à 7 lanières étroites, lobées.
Fleurs à symétrie radiaire, rose pourpré vif, de 8 à 10 mm de diamètre, portées par un pédoncule plus court que la feuille sous-jacente. Corolle à 5 pétales libres, étalés, ciliés à leur base, peu échancrés. Ovaire supère.
Fruits, capsules velues et cannelées.
___________________________
Plant herbaceous, hermaphrodite, rather spread out, very hairy, with spread out hairs, with ascending floral stems.
Leaves alternate or opposite, dissected palmatisect, petiolate, indented into 5 to 7 narrow, lobed straps.
Flowers radially symmetrical, bright pink purple, from 8 to 10 mm in diameter, carried by a peduncle shorter than the underlying leaf. Corolla with 5 free, spread out petals, ciliate at their base, little indented. Ovary superior.
Fruits, very hairy and grooved capsules.
Descripteurs / Identifying features:
Étymologie / Etymology :
Geranium : emprunt du latin geranion, -ii (nom) = le géranium,
nom donné à la plante par Pline, naturaliste latin mort en 79 apr. J.-C.,
forme latinisée du grec ancien γεράνιον, -ου (nom)
[ < γέρανος, -ου (nom) = la grue ] = le géranium, nom donné à la
plante par Dioscoride, médecin et botaniste grec mort en 90 apr. J.-C.,
en référence à la forme des fruits semblables à un bec de grue.
Dissectum : emprunt du latin dissectus, -a, -um (part. passé)
[ < disseco, -as, -are (verbe) = couper, trancher ] = coupé, découpé,
en référence aux feuilles découpées en lanières.
Geranium : borrowed from Latin geranion, -ii (noun) = geranium,
name given to the plant by Plinius, Latin naturalist died in 79 AD,
Latinized form of the Classical Greek γεράνιον, -ου (noun)
[ < γέρανος, -ου (noun) = crane ] = geranium, name given to the plant
by Dioscorides, Greek doctor and botanist died in 90 AD, referring to
the shape of the fruits similar to a crane's beak.
Dissectum : borrowed from Latin dissectus, -a, -um (past participle)
[ < disseco, -as, -are (verb) = to cut, to slice ] = dissected, indented,
referring to the leaves indented into straps.
Synonymes / Synonyms :
Geranium baumgartenianum Schur
Geranium laxum Hanks
Geranium palmatum Picard
Geranium potentilloides L'Hér. ex DC.
Noms vernaculaires / Common names :
Noms français / French names :
Géranium à feuilles découpées — Géranium découpé —
Géranium disséqué.
Nom grec / Greek name :
Γεράνια.
Noms anglais / English names :
Cut leaved crane's bill — Cut leaved cranesbill —
Cutleaf geranium.
Nom allemand / German name :
Schlitzblättriger Storchschnabel .
Nom espagnol / Spanish name :
Agujas.
Nom italien / Italian name :
Geranio sbrandellato.
Habitat :
Cultures - Lieux incultes - Chemins.
Cultivated places - Waste ground - Waysides.
Île / Island :
Patmos.
Hauteur / Height range :
De 20 cm à 50 cm.
From 20 cm to 50 cm.
Floraison / Flowering time :
De février à mai.
From February to May.
Groupe / Classification :
Dicotylédones.
Dicotyledons.
Pérennité / Lifespan :
Annuelle.
Annual.
Description :
Descripteurs distinctifs des 5 espèces / Distinctive identifying features of the 5 species
Photo 1 :
Localisation / Location : Patmos, Livadi Pothitou
Date : 24/04/2005
GPS : —
Type : Kodak Gold 200 ASA
Photo 2 :
Localisation / Location : Patmos, Livadi Pothitou
Date : 24/04/2005
GPS : —
Type : Kodak Gold 200 ASA