© Pascale SERVAIS & Pierre SEBA, 2018. Tilo Botanica: Flore de Tilos et du Dodécanèse / Flora of Tilos and of the Dodecanese
English translation by Brenda Bradbury, Howard Bradbury and Stéphane Léonard
Plante herbacée, à souche ligneuse, hermaphrodite, prostrée, rampante, en tapis dense, à tiges ramifiées, velues, surtout à leur extrémité.
Feuilles opposées pouvant paraître verticillées, simples, linéaires à lancéolées, de 2 à 8 mm de long, à bords enroulés, avec parfois un léger dépôt poudreux.
Fleurs à symétrie radiaire, blanches ou rose pâle, de 5 à 10 mm de diamètre, solitaires ou réunies en denses bouquets terminaux. 5 pétales libres. 5 sépales velus, soudés à la base. Ovaire supère.
Fruits, capsules.
___________________________
Plant herbaceous, with a woody stock, hermaphrodite, prostrate, trailing, forming a dense carpet. Stems branched, very hairy, mainly at their tip.
Leaves opposite, sometimes seeming whorled, simple, linear to lanceolate, from 2 to 8 mm long, with coiled edges, with sometimes a light powdery deposit.
Flowers radially symmetrical, white or pale pink, from 5 to 10 mm in diameter, solitary or joined together in dense terminal clusters. 5 free petals. 5 partly fused, very hairy sepals. Ovary superior.
Fruits, capsules.
Descripteurs / Identifying features: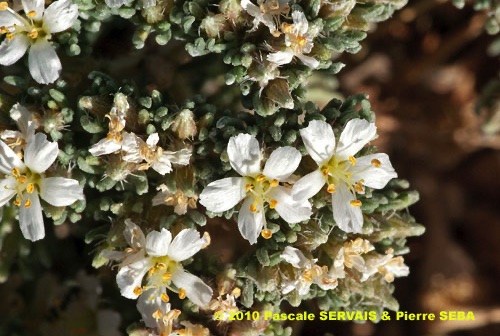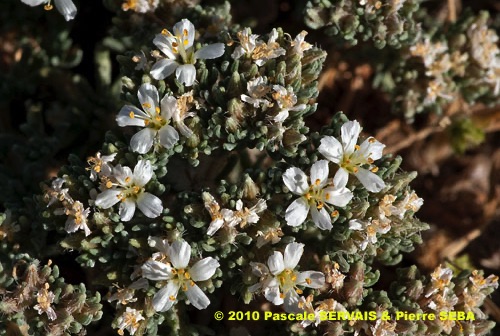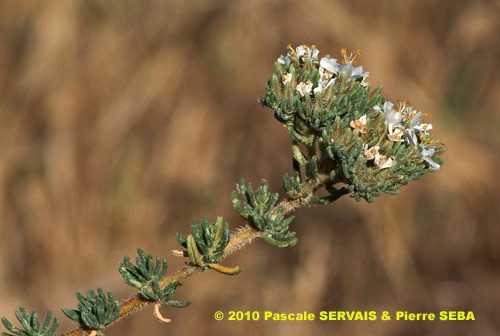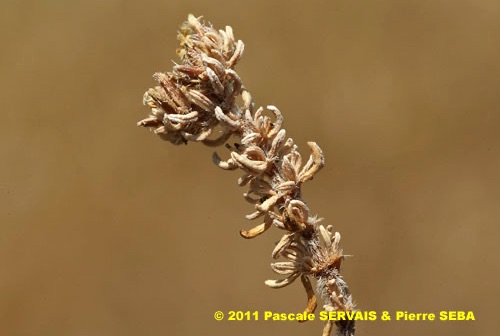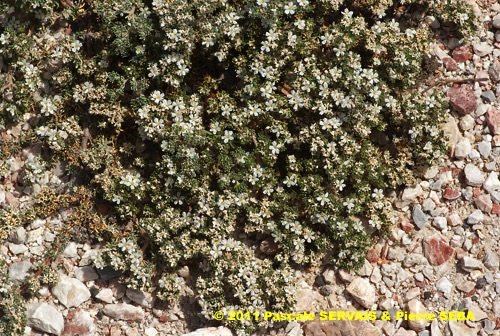 Étymologie / Etymology :
Frankenia : nom donné en l'honneur de Johann Franke (1590-1661),
professeur d'anatomie et de botanique à Uppsala, le premier auteur
à avoir étudié les plantes de Suède.
Hirsuta : emprunt du latin hirsutus, -a, -um (adj.) = hérissé,
rugueux, couvert de piquants.
Frankenia : name given in honour of Johann Franke (1590-1661),
professor of botany and anatomy at Uppsala, the first author who
treated of Swedish plants.
Hirsuta : borrowed from Latin hirsutus, -a, -um (adj) = shaggy,
rough, bristly.
Synonymes / Synonyms :
Frankenia intermedia DC.
Franca hispida Vis.
Franca revoluta Vis.
Franca thymifolia Vis.
Frankenia aucheri Jaub. & Spach
Frankenia bianorii Sennen & Pau
Frankenia hirsuta subsp. aucheri (Jaub. & Spach) Bornm.
Frankenia hirsuta subsp. intermedia (DC.) P.Fourn.
Frankenia hirsuta var. intermedia (DC.) Boiss.
Frankenia hispida DC.
Frankenia laevis subsp. intermedia (DC.) Maire
Frankenia laevis var. cineracens Moris
Frankenia narynensis Botsch.
Frankenia revoluta Forssk.
Noms vernaculaires / Common names :
Nom français / French name :
Frankénie hirsute.
Nom anglais / English name :
Hairy sea heath.
Noms allemands / German names :
Behaarte Frankenie — Rauhhaarige Frankenie —
Rauhhaarige Seeheide.
Nom italien / Italian name :
Erba franca pelosa.
Habitat :
Lieux saumâtres, bords de mer - Sols sableux.
Salty places, seaside - Sandy soils.
Île / Island :
Tilos.
Hauteur / Height range :
De 5 cm à 30 cm.
From 5 cm to 30 cm.
Floraison / Flowering time :
D'avril à septembre.
From April to September.
Groupe / Classification :
Dicotylédones.
Dicotyledons.
Pérennité / Lifespan :
Vivace.
Perennial.
Description :
Photo 1 :
Localisation / Location : Tilos, Aghios Andonis
Date : 11/05/2010
GPS : Lat. 36,45821° N / Long. 27,33289° E / Alt. 2 m
Type : Photographie numérique / Digital Photograph (10 mégapixels)
Photo 2 :
Localisation / Location : Tilos, Aghios Andonis
Date : 11/05/2010
GPS : Lat. 36,45821° N / Long. 27,33289° E / Alt. 2 m
Type : Photographie numérique / Digital Photograph (10 mégapixels)
Photo 3 :
Localisation / Location : Tilos, Aghios Andonis
Date : 11/05/2010
GPS : Lat. 36,45821° N / Long. 27,33289° E / Alt. 2 m
Type : Photographie numérique / Digital Photograph (10 mégapixels)
Photo 4 :
Localisation / Location : Tilos, Aghios Andonis
Date : 11/05/2010
GPS : Lat. 36,45821° N / Long. 27,33289° E / Alt. 2 m
Type : Photographie numérique / Digital Photograph (10 mégapixels)
Photo 5 :
Localisation / Location : Tilos, Aghios Andonis
Date : 27/05/2011
GPS : Lat. 36,45821° N / Long. 27,33289° E / Alt. 2 m
Type : Photographie numérique / Digital Photograph (10 mégapixels)
Photo 6 :
Localisation / Location : Tilos, Aghios Andonis
Date : 27/05/2011
GPS : Lat. 36,45821° N / Long. 27,33289° E / Alt. 2 m
Type : Photographie numérique / Digital Photograph (10 mégapixels)