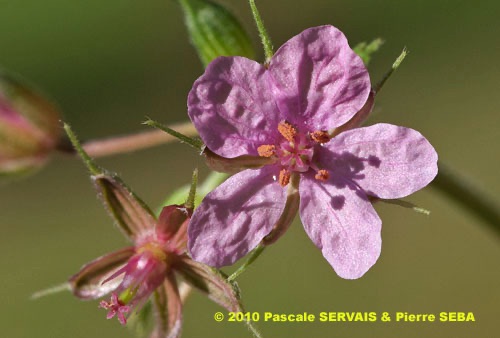 Erodium chium (L.) Willd.
© Pascale SERVAIS & Pierre SEBA, 2018. Tilo Botanica: Flore de Tilos et du Dodécanèse / Flora of Tilos and of the Dodecanese
English translation by Brenda Bradbury, Howard Bradbury and Stéphane Léonard
Plante herbacée, hermaphrodite, à tiges velues.
Feuilles alternes ou opposées, divisées palmatifides à palmatipartites, à dents arrondies. Limbe des feuilles moyennes à contour ovale, en cœur renversé ou comme coupé à la base.
Fleurs à symétrie radiaire, pourprées, de 10 à 18 mm de diamètre, réunies en ombelles par 2 à 8, à pédoncule généralement non glanduleux. Corolle à 5 pétales libres, entiers, à peine plus longs que les 5 sépales terminés par une petite pointe de 2 mm de long. 10 étamines, dont 5 sans anthère et à filet cilié. Ovaire supère.
Fruits, capsules à poils courts, à bec de 30 à 45 mm de long.
___________________________
Plant herbaceous, hermaphrodite, with very hairy stems.
Leaves alternate or opposite, dissected palmatifid to palmatipartite, with rounded teeth. Blade of the medium leaves with an ovate contour, in resupinate heart or like cut at the base.
Flowers radially symmetrical, purplish, from 10 to 18 mm in diameter, joined together in umbels by 2 to 8, with a peduncle generally nonglandulous. Corolla with 5 free, entire petals, scarcely longer than the 5 sepals finished by a small point of 2 mm long. 10 stamens, including 5 without an anther and with a ciliate filament. Ovary superior.
Fruits, capsules with short hairs, with a beak from 30 to 45 mm long.
Descripteurs / Identifying features: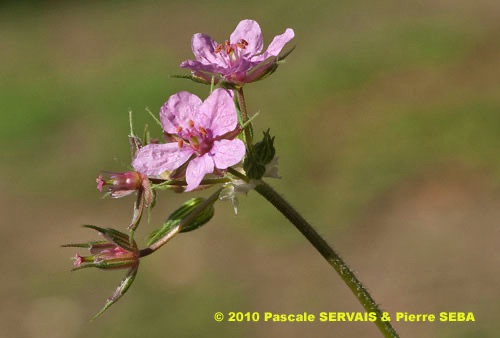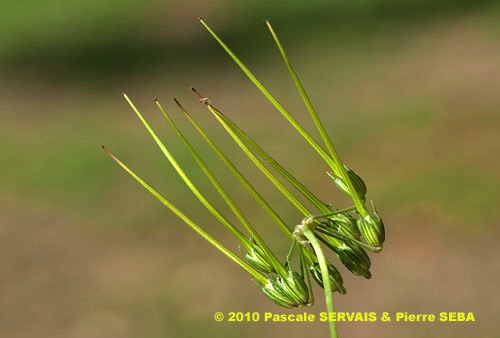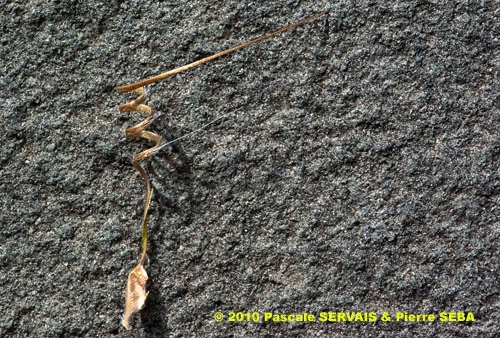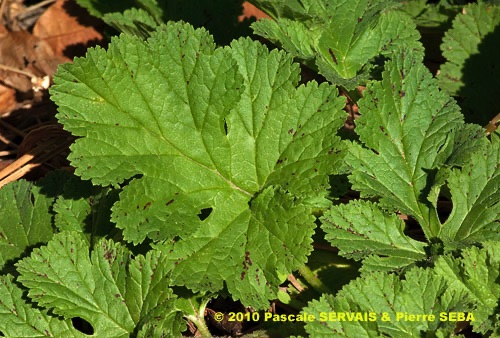 Étymologie / Etymology :
Erodium : emprunt du grec ancien ἐρῳδιός, -οῦ (nom) = le héron,
en référence au fruit surmonté d'un long bec.
Chium : emprunt du latin chius, -a, -um (adj.)
[ < Chios, -i, (nom propre) = Chios, île de la mer Égée ] = de Chios,
qui vient de Chios.
Erodium : borrowed from Classical Greek ἐρῳδιός, -οῦ (noun) = heron,
referring to the fruit surmounted by a long beak.
Chium : borrowed from Latin chius, -a, -um (adj)
[ < Chios, -i (proper noun) = Chios, island in the Aegean Sea ]
= of or from Chios, which comes from Chios.
Synonymes / Synonyms :
Erodium malacoides subsp. chium (L.) Bonnier & Layens
Geranium chium L.
Noms vernaculaires / Common names :
Noms français / French names :
Bec-de-grue de Chios — Érodium de Chios.
Nom anglais / English name :
Three lobed stork's bill.
Nom allemand / German name :
Dreilappiger Reiherschnabel.
Nom italien / Italian name :
Becco di grù di Chio.
Habitat :
Lieux pierreux - Lieux incultes - Chemins.
Stony places - Waste ground - Waysides.
Île / Island :
Tilos.
Hauteur / Height range :
De 10 cm à 50 cm.
From 10 cm to 50 cm.
Floraison / Flowering time :
De décembre à juin.
From December to June.
Groupe / Classification :
Dicotylédones.
Dicotyledons.
Pérennité / Lifespan :
Annuelle ou bisannuelle.
Annual or biennial.
Description :
Descripteurs distinctifs des 4 espèces / Distinctive identifying features of the 4 species
Photo 1 :
Localisation / Location : Tilos, Aghios Pandeleimonas
Date : 08/12/2010
GPS : Lat. 36,44785° N / Long. 27,30523° E / Alt. 249 m
Type : Photographie numérique / Digital Photograph (10 mégapixels)
Photo 2 :
Localisation / Location : Tilos, Aghios Pandeleimonas
Date : 08/12/2010
GPS : Lat. 36,44785° N / Long. 27,30523° E / Alt. 249 m
Type : Photographie numérique / Digital Photograph (10 mégapixels)
Photo 3 :
Localisation / Location : Tilos, Aghios Pandeleimonas
Date : 08/12/2010
GPS : Lat. 36,44785° N / Long. 27,30523° E / Alt. 249 m
Type : Photographie numérique / Digital Photograph (10 mégapixels)
Photo 4 :
Localisation / Location : Tilos, Aghios Pandeleimonas
Date : 08/12/2010
GPS : Lat. 36,44785° N / Long. 27,30523° E / Alt. 249 m
Type : Photographie numérique / Digital Photograph (10 mégapixels)
Photo 5 :
Localisation / Location : Tilos, Aghios Pandeleimonas
Date : 08/12/2010
GPS : Lat. 36,44785° N / Long. 27,30523° E / Alt. 249 m
Type : Photographie numérique / Digital Photograph (10 mégapixels)
Photo 6 :
Localisation / Location : Tilos, Aghios Pandeleimonas
Date : 08/12/2010
GPS : Lat. 36,44785° N / Long. 27,30523° E / Alt. 249 m
Type : Photographie numérique / Digital Photograph (10 mégapixels)