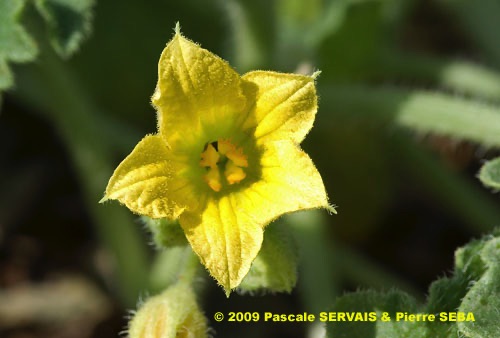 Ecballium elaterium (L.) A.Rich.
© Pascale SERVAIS & Pierre SEBA, 2018. Tilo Botanica: Flore de Tilos et du Dodécanèse / Flora of Tilos and of the Dodecanese
English translation by Brenda Bradbury, Howard Bradbury and Stéphane Léonard
Plante herbacée, monoïque, étalée, pourvue de soies, à rhizome tubéreux, sans vrilles.
Feuilles alternes, simples, cordiformes à triangulaires, rugueuses, à long pétiole, assez charnues et à surface ondulée.
Fleurs à symétrie radiaire, jaunes, de 16 à 20 mm de diamètre, mâles et femelles séparées mais sur le même pied. 3 styles terminés chacun par un stigmate profondément bifide. Ovaire infère.
Fruits, baies vertes, oblongues, hérissées de soies, recourbées à l'extrémité d'un long pédoncule vertical, explosant à maturité, les graines jaillissant d'un liquide pulpeux.
___________________________
Plant herbaceous, monoecious, spread out, with bristles, with a tuberous rhizome, without tendrils.
Leaves alternate, simple, heart-shaped to triangular, rough, with a long petiole, rather fleshy and with an undulate surface.
Flowers radially symmetrical, yellow, from 16 to 20 mm in diameter, male and female separated but on the same foot. 3 styles each one finished by a deeply bifid stigma. Ovary inferior.
Fruits, green and oblong berries, covered in bristles, curved at the tip of a long vertical peduncle, exploding at maturity, seeds spouting out a pulpy liquid.
Descripteurs / Identifying features: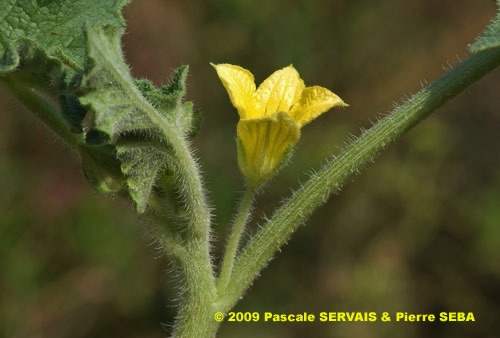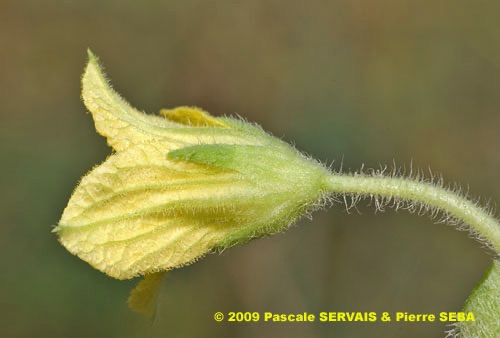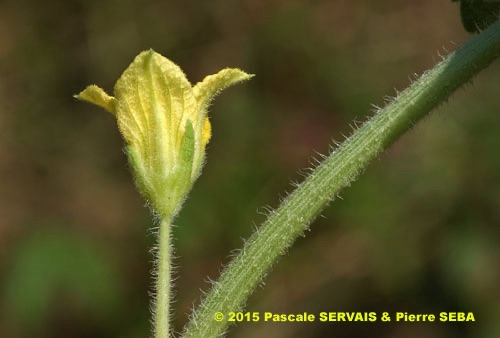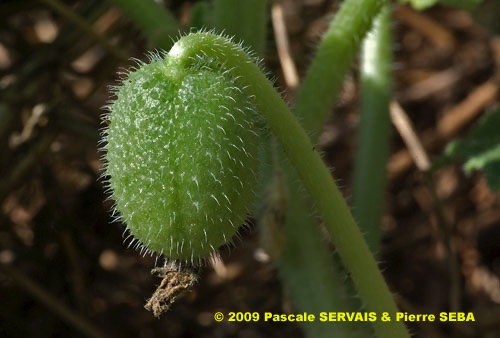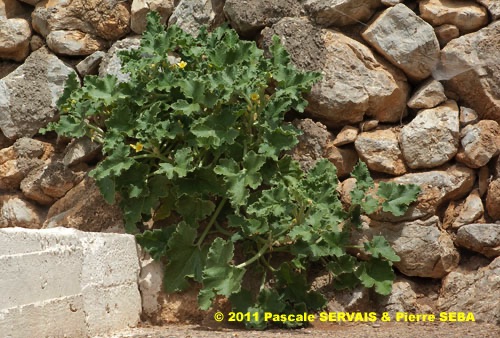 Étymologie / Etymology :
Ecballium : emprunt du grec ancien ἐκβάλλω (verbe) = jeter hors de,
expulser, en référence à l'expulsion violente des graines quand
le fruit est mûr.
Elaterium : emprunt du latin elaterium, -i (nom) = le purgatif fait avec le
suc des concombres sauvages, forme latinisée du grec ancien
ἐλατήριον, -ου (nom) [ < ἐλαύνω (verbe) = pousser, expulser) ]
= le purgatif, le concombre sauvage, en référence à l'expulsion
violente des graines quand le fruit est mûr.
Ecballium : borrowed from Classical Greek ἐκβάλλω (verb)
= to throw out, to eject, referring to the violent ejection of the seeds
when the fruit is ripe.
Elaterium : borrowed from Latin elaterium, -i (noun) = purgative made
from the juice of wild cucumbers, Latinized form of the Classical Greek
ἐλατήριον, -ου (noun) [ < ἐλαύνω (verb) = to push out, to eject) ]
= purgative, wild cucumber, referring to the violent ejection of the
seeds when the fruit is ripe.
Synonymes / Synonyms :
Ecballium agreste Rchb.
Ecballium officinarum Bubani
Elaterium cordifolium Moench
Momordica aspera Lam.
Momordica elastica Salisb.
Momordica elaterium L.
Noms vernaculaires / Common names :
Noms français / French names :
Concombre à ressort — Concombre d'âne — Concombre sauvage —
Cornichon d'âne — Ecbalie — Giclet — Momordique.
Noms grecs / Greek names :
Αγριοαγγουριά — Γαϊδαραγγουριά — Εκβάλλιο το ελατήριο —
Πετραγγουριά — Πικραγγουριά — Πικραγκουριά.
Noms anglais / English names :
Squirting cucumber — Wild cucumber.
Nom allemand / German name :
Spritzgurke.
Noms espagnols / Spanish names :
Cohombrillo amargo — Pepinillo del Diablo.
Nom italien / Italian name :
Cocomero asinino.
Habitat :
Lieux pierreux - Lieux incultes - Sols sableux - Chemins.
Stony places - Waste ground - Sandy soils - Waysides.
Île / Island :
Tilos.
Hauteur / Height range :
De 10 cm à 70 cm.
From 10 cm to 70 cm.
Floraison / Flowering time :
De février à novembre.
From February to November.
Groupe / Classification :
Dicotylédones.
Dicotyledons.
Pérennité / Lifespan :
Vivace.
Perennial.
Description :
Photo 1 :
Localisation / Location : Tilos, Megalochorio
Date : 18/10/2009
GPS : Lat. 36,45422° N / Long. 27,34437° E / Alt. 97 m
Type : Photographie numérique / Digital Photograph (10 mégapixels)
Photo 2 :
Localisation / Location : Tilos, Megalochorio
Date : 19/10/2009
GPS : Lat. 36,45422° N / Long. 27,34437° E / Alt. 97 m
Type : Photographie numérique / Digital Photograph (10 mégapixels)
Photo 3 :
Localisation / Location : Tilos, Megalochorio
Date : 19/10/2009
GPS : Lat. 36,45422° N / Long. 27,34437° E / Alt. 97 m
Type : Photographie numérique / Digital Photograph (10 mégapixels)
Photo 4 :
Localisation / Location : Tilos, Megalochorio
Date : 19/10/2009
GPS : Lat. 36,45422° N / Long. 27,34437° E / Alt. 97 m
Type : Photographie numérique / Digital Photograph (10 mégapixels)
Photo 5 :
Localisation / Location : Tilos, Megalochorio
Date : 18/10/2009
GPS : Lat. 36,45422° N / Long. 27,34437° E / Alt. 97 m
Type : Photographie numérique / Digital Photograph (10 mégapixels)
Photo 6 :
Localisation / Location : Tilos, Megalochorio
Date : 26/05/2011
GPS : Lat. 36,45422° N / Long. 27,34437° E / Alt. 97 m
Type : Photographie numérique / Digital Photograph (10 mégapixels)