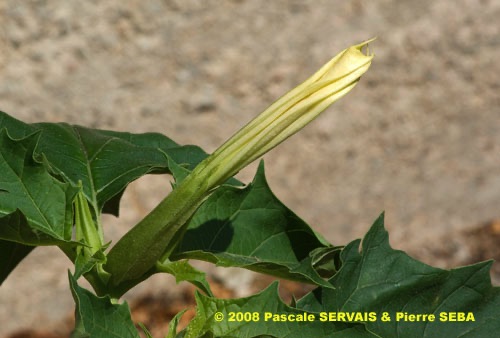 © Pascale SERVAIS & Pierre SEBA, 2018. Tilo Botanica: Flore de Tilos et du Dodécanèse / Flora of Tilos and of the Dodecanese
English translation by Brenda Bradbury, Howard Bradbury and Stéphane Léonard
Plante herbacée, hermaphrodite, érigée, très toxique, à odeur désagréable, à tiges glabres ou peu poilues.
Feuilles alternes, simples, ovales à elliptiques, pétiolées, de 5 à 18 cm de long, poilues sur la face supérieure et glabres sur la face inférieure, à limbe bordé de grandes dents aiguës.
Fleurs à symétrie radiaire, blanches ou pourpres, de 4 à 10 cm de diamètre, solitaires à l'aisselle des feuilles. Corolle fortement plissée, à tube très long, terminée par 5 lobes à peine séparés entre eux et portant chacun une pointe. Calice vert clair ou violacé, à 5 sépales poilus, longuement soudés entre eux, environ 2 fois plus courts que la corolle. 5 étamines à anthère étroite et allongée, enfermées dans le tube de la corolle. Ovaire supère.
Fruits, capsules dressées, glabres, ovoïdes, épineuses, de 10 à 50 mm de long.
___________________________
Plant herbaceous, hermaphrodite, erect, very toxic, with an unpleasant smell. Stems glabrous or not very pilose.
Leaves alternate, simple, ovate to elliptic, petiolate, from 5 to 18 cm long, pilose on the upper surface and glabrous on the lower surface, with the blade bordered by tall acute teeth.
Flowers radially symmetrical, white or purple, from 4 to 10 cm in diameter, solitary from leaf axils. Corolla strongly folded, with a very long tube, finished by 5 lobes scarcely separate from each other and each one carrying a point. Calyx light green or purplish, with 5 hairy sepals lengthily fused with each other, approximately 2 times shorter than the corolla. 5 stamens with a narrow and lengthened anther, enclosed in the tube of the corolla. Ovary superior.
Fruits, erect, glabrous, ovoid, spiny capsules from 10 to 50 mm long.
Descripteurs / Identifying features: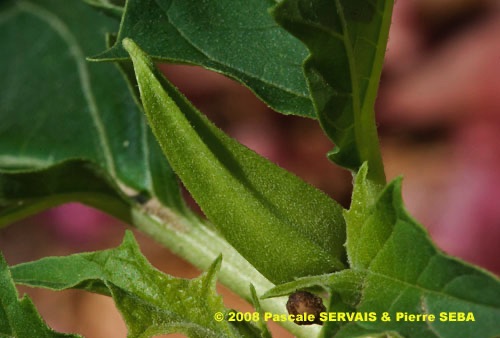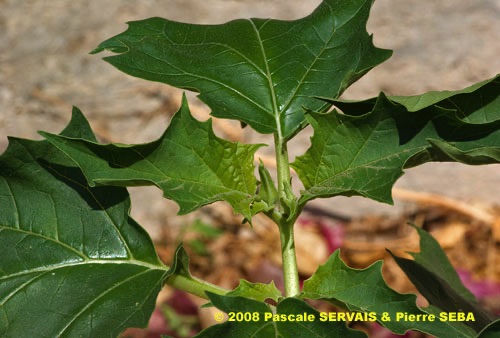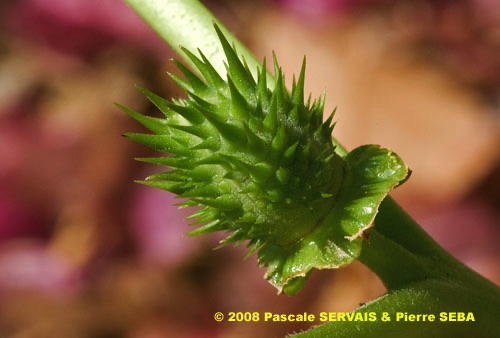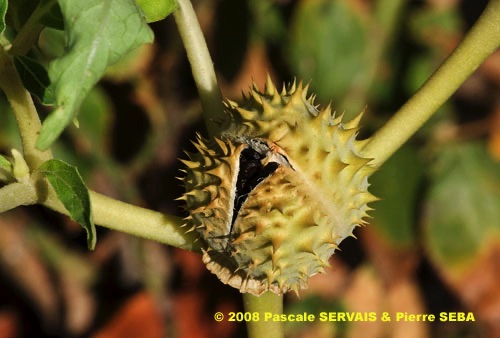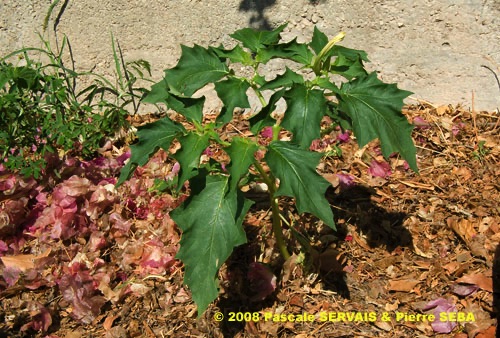 Étymologie / Etymology :
Datura : emprunt du sanscrit dhattūra par l'intermédiaire du
portugais datura.
Stramonium : emprunt du latin médiéval stramonia, nom donné à une
plante vénéneuse.
Datura : borrowed from Sanskrit dhattūra through Portuguese datura.
Stramonium : borrowed from medieval Latin stramonia, name of a
poisonous plant.
Synonyme / Synonym :
Datura stramonium subsp. stramonium
Noms vernaculaires / Common names :
Noms français / French names :
Datura officinal — Datura stramoine — Herbe à la taupe —
Herbe au Diable — Pomme épineuse — Stramoine —
Stramoine commune — Trompette de la mort — Trompette des anges.
Noms grecs / Greek names :
Αγριοκαρυά — Αγριομπάμια — Ακανθόμηλον — Βρωμόχορτο —
Δατούρα η στραμώνιος — Διαολόχορτο — Ζορνές — Μαγιόχορτο —
Ντάτουλα — Πορδόχορτο — Τάτλας — Τάτουλα — Τάτουλας —
Τατούρα.
Noms anglais / English names :
Angel's trumpet — Apple of Peru — Common thornapple —
Devil's trumpet — Green dragon — Jimson weed — Stink weed —
Stramonium — Thorn-apple.
Noms allemands / German names :
Asthmakraut — Gemeiner Stechapfel — Gewöhnlicher Stechapfel —
Stechapfel — Teufelsapfel — Weißer Stechapfel.
Noms espagnols / Spanish names :
Berenjena del Diablo — Estramonio — Figuera infernal borda —
Herba pudenta — Herba talpera — Orval.
Nom italien / Italian name :
Stramonio comune.
Habitat :
Cultures - Lieux pierreux - Lieux incultes - Chemins.
Cultivated places - Stony places - Waste ground - Waysides.
Île / Island :
Tilos.
Hauteur / Height range :
De 30 cm à 1,50 m.
From 30 cm to 1.50 m.
Floraison / Flowering time :
De juin à novembre.
From June to November.
Groupe / Classification :
Dicotylédones.
Dicotyledons.
Pérennité / Lifespan :
Annuelle.
Annual.
Description :
Photo 1 :
Localisation / Location : Tilos, Megalochorio
Date : 24/09/2008
GPS : Lat. 36,45444° N / Long. 27,34604° E / Alt. 71 m
Type : Photographie numérique / Digital Photograph (10 mégapixels)
Photo 2 :
Localisation / Location : Tilos, Megalochorio
Date : 24/09/2008
GPS : Lat. 36,45444° N / Long. 27,34604° E / Alt. 71 m
Type : Photographie numérique / Digital Photograph (10 mégapixels)
Photo 3 :
Localisation / Location : Tilos, Megalochorio
Date : 24/09/2008
GPS : Lat. 36,45444° N / Long. 27,34604° E / Alt. 71 m
Type : Photographie numérique / Digital Photograph (10 mégapixels)
Photo 4 :
Localisation / Location : Tilos, Megalochorio
Date : 24/09/2008
GPS : Lat. 36,45444° N / Long. 27,34604° E / Alt. 71 m
Type : Photographie numérique / Digital Photograph (10 mégapixels)
Photo 5 :
Localisation / Location : Tilos, Megalochorio
Date : 30/09/2008
GPS : Lat. 36,45444° N / Long. 27,34604° E / Alt. 71 m
Type : Photographie numérique / Digital Photograph (10 mégapixels)
Photo 6 :
Localisation / Location : Tilos, Megalochorio
Date : 24/09/2008
GPS : Lat. 36,45444° N / Long. 27,34604° E / Alt. 71 m
Type : Photographie numérique / Digital Photograph (10 mégapixels)