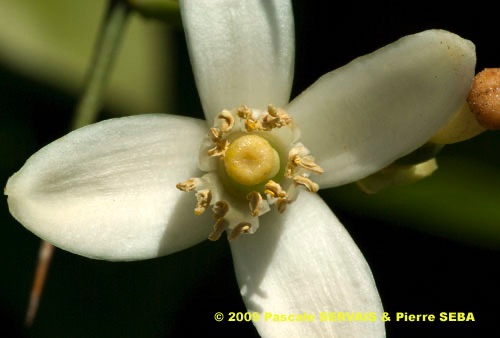 Citrus sinensis (L.) Osbeck
Arbre hermaphrodite, à jeunes rameaux glabres, anguleux, à épines fines.
Feuilles alternes, simples, lancéolées à elliptiques, glabres, entières, persistantes, à pétiole étroitement ailé.
Fleurs à symétrie radiaire, blanches ou roses, solitaires ou en grappes de 3 à 4 cm de long. Corolle de 25 à 40 mm, à 4 ou 5 pétales. Environ 20 étamines. Ovaire supère.
Fruits, baies presque globuleuses (oranges), de 7 à 12 cm de diamètre, orange vif à maturité.
___________________________
Tree hermaphrodite. Young branches glabrous, angular, with fine thorns.
Leaves alternate, simple, lanceolate to elliptic, glabrous, entire, persistent, with a narrowly winged petiole.
Flowers radially symmetrical, white or pink, solitary or in racemes from 3 to 4 cm long. Corolla from 25 to 40 mm in diameter, with 4 or 5 petals. Approximately 20 stamens. Ovary superior.
Fruits, almost globulous berries (oranges), from 7 to 12 cm in diameter, bright orange at maturity.
Descripteurs / Identifying features: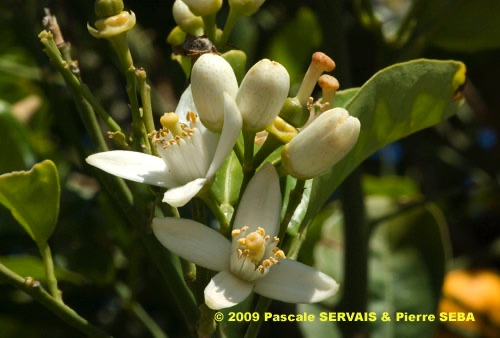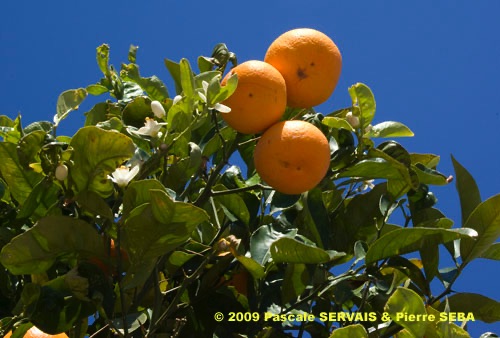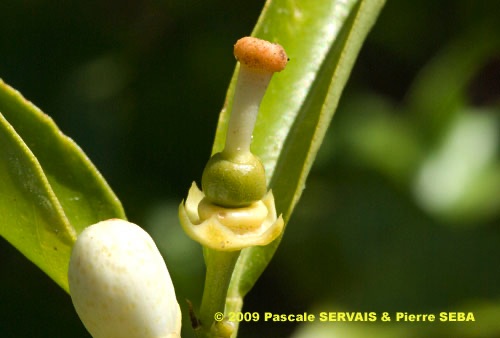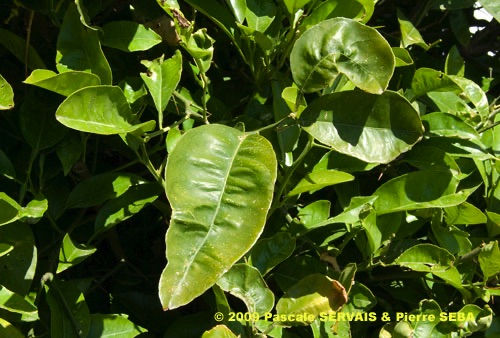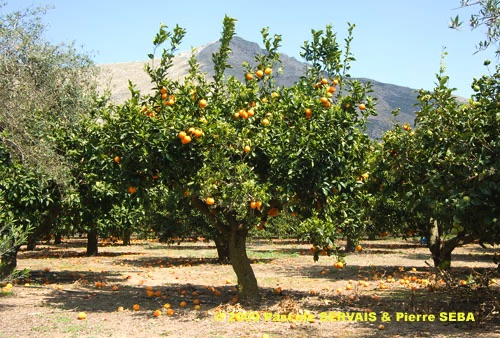 Étymologie / Etymology :
Citrus : emprunt du latin citrus, -i (nom) = le citronnier.
Sinensis : emprunt du latin sinensis, -is, -e (adj.) = de Chine,
qui provient de Chine.
Citrus : borrowed from Latin citrus, -i (noun) = lemon tree.
Sinensis : borrowed from Latin sinensis, -is, -e (adj) = of or from China.
Synonymes / Synonyms :
Aurantium sinense Mill.
Citrus aurantium subsp. sinensis (L.) P.Fourn.
Citrus aurantium var. sinensis L.
Citrus sinensis (Mill.) Pers.
Noms vernaculaires / Common names :
Nom français / French name :
Oranger.
Noms grecs / Greek names :
Εσπεριδοειδή — Πορτοκαλιά.
Nom anglais / English name :
Sweet orange.
Noms allemands / German names :
Apfelsinenbaum — Süßorangenbaum.
Noms espagnols / Spanish names :
Naranjo — Naranjo de la China — Naranjo dulce.
Nom italien / Italian name :
Arancio.
Habitat :
Cultures - Jardins.
Cultivated places - Gardens.
Île / Island :
Tilos.
Hauteur / Height range :
De 2,50 m à 10 m.
From 2.50 m to 10 m.
Floraison / Flowering time :
De février à juin.
From February to June.
Groupe / Classification :
Dicotylédones.
Dicotyledons.
Pérennité / Lifespan :
Vivace.
Perennial.
Description :
Photo 1 :
Localisation / Location : Tilos, Livadia
Date : 16/03/2009
GPS : Lat. 36,41549° N / Long. 27,38386° E / Alt. 23 m
Type : Photographie numérique / Digital Photograph (10 mégapixels)
Photo 2 :
Localisation / Location : Tilos, Livadia
Date : 16/03/2009
GPS : Lat. 36,41549° N / Long. 27,38386° E / Alt. 23 m
Type : Photographie numérique / Digital Photograph (10 mégapixels)
Photo 3 :
Localisation / Location : Tilos, Livadia
Date : 16/03/2009
GPS : Lat. 36,41549° N / Long. 27,38386° E / Alt. 23 m
Type : Photographie numérique / Digital Photograph (10 mégapixels)
Photo 4 :
Localisation / Location : Tilos, Livadia
Date : 16/03/2009
GPS : Lat. 36,41549° N / Long. 27,38386° E / Alt. 23 m
Type : Photographie numérique / Digital Photograph (10 mégapixels)
Photo 5 :
Localisation / Location : Tilos, Livadia
Date : 16/03/2009
GPS : Lat. 36,41549° N / Long. 27,38386° E / Alt. 23 m
Type : Photographie numérique / Digital Photograph (10 mégapixels)
Photo 6 :
Localisation / Location : Tilos, Plaine d'Erystos / Plain of Erystos
Date : 24/03/2009
GPS : Lat. 36,44096° N / Long. 27,34984° E / Alt. 28 m
Type : Photographie numérique / Digital Photograph (10 mégapixels)
© Pascale SERVAIS & Pierre SEBA, 2018. Tilo Botanica: Flore de Tilos et du Dodécanèse / Flora of Tilos and of the Dodecanese
English translation by Brenda Bradbury, Howard Bradbury and Stéphane Léonard
Descripteurs distinctifs des 4 espèces / Distinctive identifying features of the 4 species