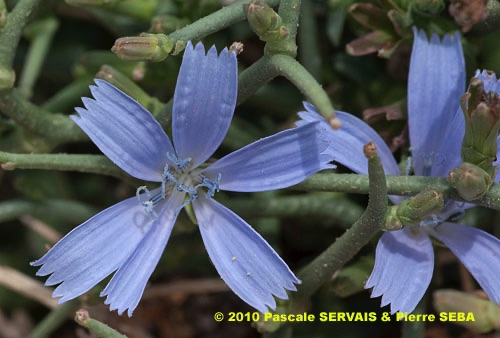 © Pascale SERVAIS & Pierre SEBA, 2018. Tilo Botanica: Flore de Tilos et du Dodécanèse / Flora of Tilos and of the Dodecanese
English translation by Brenda Bradbury, Howard Bradbury and Stéphane Léonard
Sous-arbrisseau hermaphrodite, à rameaux denses et entremêlés, formant un dôme. Tiges ramifiées dès la base, les supérieures épineuses.
Feuilles à la base et alternes, simples, elliptiques à obovales, dentées ou lobées, charnues, comestibles.
Fleurs bleues, réunies en capitules de 10 à 25 mm de diamètre, presque sessiles, solitaires ou en bouquets par 2 à 4, à fleurons tous ligulés et denticulés au sommet. Ovaire infère.
Fruits, akènes.
___________________________
Shrublet hermaphrodite, with dense and tangled up branches, forming a dome. Stems branched from the base, the higher ones spiny.
Leaves at the base and alternate, simple, elliptic to obovate, toothed or lobed, fleshy, edible.
Flowers blue, joined together in capitula from 10 to 25 mm in diameter, almost sessile, solitary or in clusters by 2 to 4, with only ray-florets denticulate at the top. Ovary inferior.
Fruits, achenes.
Descripteurs / Identifying features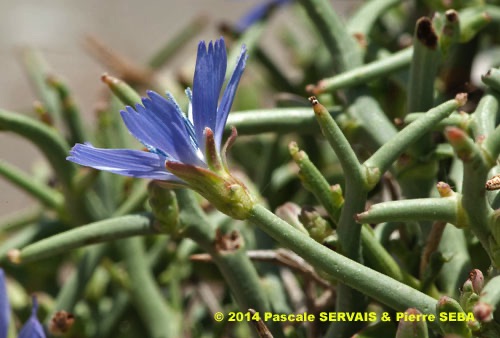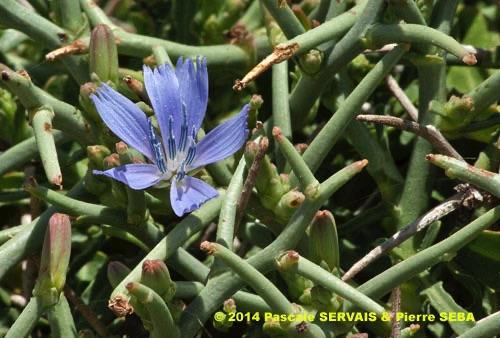 Étymologie / Etymology :
Cichorium : emprunt du latin cichorium, -i (nom) = la chicorée, nom
donné à la plante par Pline, naturaliste latin mort en 79 apr. J.-C.,
forme latinisée du grec ancien κιχόριον, -ου (nom), nom donné à la
plante par Théophraste, philosophe péripatéticien, disciple d'Aristote,
botaniste et naturaliste, mort vers 288 av. J.-C.
Spinosum : emprunt du latin spinosus, -a, -um (adj.) [ < spina, -ae
(nom) = l'épine ] = pointu, épineux, couvert d'épines, en référence aux
parties épineuses de la plante.
Cichorium : borrowed from Latin cichorium, -i (noun) = chicory,
name given to the plant by Plinius, Latin naturalist died in 79 AD,
Latinized form of the Classical Greek κιχόριον, -ου (noun), name
given to the plant by Theophrastus, peripatetic philosopher, disciple of
Aristotle, botanist and naturalist, died towards 288 BC.
Spinosum : borrowed from Latin spinosus, -a, -um (adj) [ < spina, -ae
(noun) = spine ] = sharp, spiny, covered in thorns, referring to the
spiny parts of the plant.
Synonyme / Synonym :
—
Noms vernaculaires / Common names :
Nom français / French name :
Chicorée épineuse.
Noms grecs / Greek names :
Αλίφορος — Αλιφός — Γιαλοράδικο — Κιχώριο το ακανθώδες —
Ραδικοστοιβιά — Σταμναγκάθι — Σταμνάγκαθο.
Nom anglais / English name :
Spiny chicory.
Nom allemand / German name :
Stachelige Zichorie.
Nom italien / Italian name :
Cicoria spinosa.
Habitat :
Lieux pierreux - Lieux incultes - Sols sableux.
Stony places - Waste ground - Sandy soils.
Île / Island :
Tilos.
Hauteur / Height range :
De 10 cm à 30 cm.
From 10 cm to 30 cm.
Floraison / Flowering time :
De mai à octobre.
From May to October.
Groupe / Classification :
Dicotylédones.
Dicotyledons.
Pérennité / Lifespan :
Vivace.
Perennial.
Description :
Clés dichotomiques et descripteurs distinctifs des 3 espèces / Dichotomous keys and distinctive identifying features of the 3 species
Photo 1 :
Localisation / Location : Tilos, Aghios Stephanos
Date : 16/05/2010
GPS : Lat. 36,41005° N / Long. 27,39948° E / Alt. 4 m
Type : Photographie numérique / Digital Photograph (10 mégapixels)
Photo 2 :
Localisation / Location : Tilos, Erystos
Date : 16/05/2014
GPS : Lat. 36,43324° N / Long. 27,34555° E / Alt. 3 m
Type : Photographie numérique / Digital Photograph (10 mégapixels)
Photo 3 :
Localisation / Location : Tilos, Erystos
Date : 16/05/2014
GPS : Lat. 36,43324° N / Long. 27,34555° E / Alt. 3 m
Type : Photographie numérique / Digital Photograph (10 mégapixels)
Photo 4 :
Localisation / Location : Tilos, Erystos
Date : 16/05/2014
GPS : Lat. 36,43324° N / Long. 27,34555° E / Alt. 3 m
Type : Photographie numérique / Digital Photograph (10 mégapixels)
Photo 5 :
Localisation / Location : Tilos, Aghios Stephanos
Date : 16/05/2010
GPS : Lat. 36,41005° N / Long. 27,39948° E / Alt. 4 m
Type : Photographie numérique / Digital Photograph (10 mégapixels)