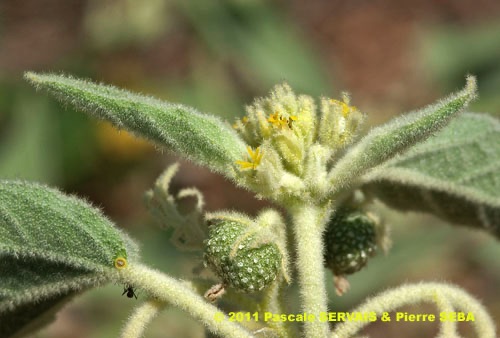 Chrozophora tinctoria (L.) A.Juss.
© Pascale SERVAIS & Pierre SEBA, 2018. Tilo Botanica: Flore de Tilos et du Dodécanèse / Flora of Tilos and of the Dodecanese
English translation by Brenda Bradbury, Howard Bradbury and Stéphane Léonard
Plante herbacée, monoïque, à tiges étalées à érigées, rameuses au sommet, sans latex laiteux, couvertes de petits poils étoilés grisâtres qui lui donnent un aspect cotonneux.
Feuilles alternes, simples, ovales à losangiques, velues, entières ou dentées, à contours sinueux, longuement pétiolées.
Fleurs à symétrie radiaire, vert jaunâtre, réunies en petites grappes dressées, les mâles avec 9 à 11 étamines, les femelles par 1 à 3 à la base de la grappe et portées par un long pédoncule qui se recourbe après la fécondation. Corolle à 5 pétales libres. Calice à 5 sépales libres. Ovaire surmonté de 3 styles libres terminés par un stigmate bifide. Ovaire supère.
Fruits, capsules trilobées, de 5 à 8 mm de diamètre, pourprées, couvertes de verrues écailleuses.
___________________________
Plant herbaceous, monoecious. Stems spread out to erect, branched at the top, without a milky latex, covered in small greyish stellate hairs which give him a cottony aspect.
Leaves alternate, simple, ovate to diamond-shaped, hairy, entire or toothed, with sinuous contours, lengthily petiolate.
Flowers radially symmetrical, yellowish green, joined together in small erect racemes, the male ones with 9 to 11 stamens, the female ones by 1 to 3 at the base of the raceme and carried by a long peduncle which bends after pollination. Corolla with 5 free petals. Calyx with 5 free sepals. Ovary surmounted by 3 free styles finished by a bifid stigma. Ovary superior.
Fruits, three-lobed capsules, from 5 to 8 mm in diameter, purple, covered in scaly warts.
Descripteurs / Identifying features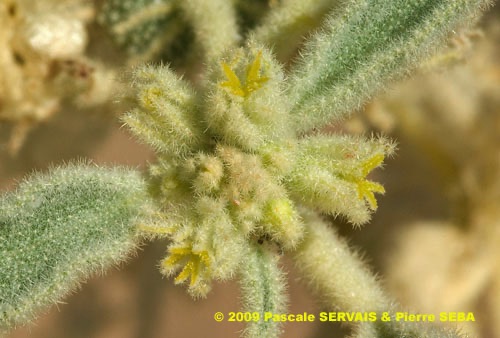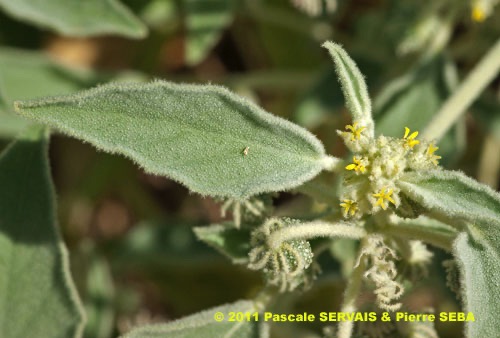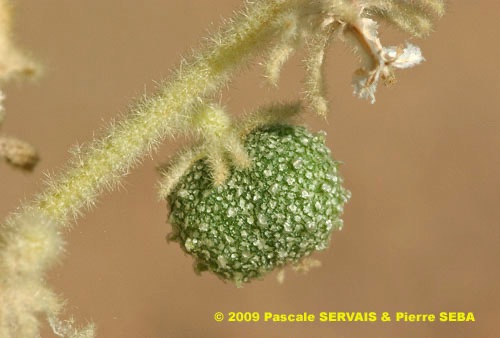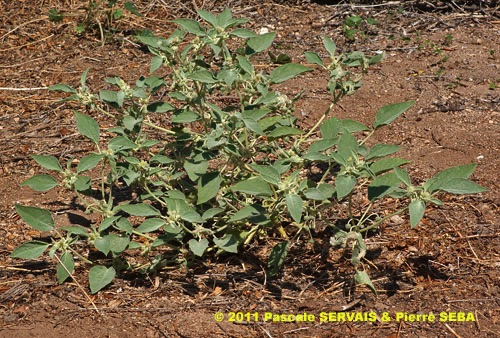 Étymologie / Etymology :
Chrozophora : emprunt du grec ancien χρῶσις, -εως (nom)
= la coloration, la teinture + φέρω (verbe) = porter, apporter,
en référence à ses propriétés tinctoriales.
Tinctoria : emprunt du latin tinctorius, -a, -um (adj.)
[ < tingo, -is, -ere (verbe) = mouiller, teindre ] = tinctorial, qui sert à
teindre, en référence à son emploi dans la teinture.
Chrozophora : borrowed from Classical Greek χρῶσις, -εως (noun)
= coloring, dyeing + φέρω (verb) = to carry, referring to its dyeing
properties.
Tinctoria : borrowed from Latin tinctorius, -a, - um (adj)
[ < tingo, -is, -ere (verb) = to wet, to dye ] = tinctorial, which is used
to dye, referring to its use in dyeing.
Synonymes / Synonyms :
Chrozophora hierosolymitana Spreng.
Chrozophora obliqua (Vahl) A.Juss.
Chrozophora verbascifolia (Willd.) Spreng.
Croton tinctorium L.
Croton verbascifolium Willd.
Morus dioica Crantz
Ricinoides tinctoria (L.) Moench
Tournesolia tinctoria (L.) Baill.
Noms vernaculaires / Common names :
Noms français / French names :
Herbe de Clytie — Maurelle — Tournesol —
Tournesol des teinturiers.
Noms grecs / Greek names :
Αγριοφασκιά — Χρωζοφόρα.
Noms anglais / English names :
Dyer's croton — Dyer's litmus — Turn sole — Turnasole.
Nom allemand / German name :
Lackmuskraut.
Noms espagnols / Spanish names :
Cencila — Cendía — Cenizo tornasol — Girasol — Tornasol.
Noms italiens / Italian names :
Girasole — Tornasole — Tornasole biancastro — Tornasole comune.
Habitat :
Cultures - Lieux pierreux - Lieux incultes - Sols sableux.
Cultivated places - Stony places - Waste ground - Sandy soils.
Île / Island :
Tilos.
Hauteur / Height range :
De 10 cm à 30 cm.
From 10 cm to 30 cm.
Floraison / Flowering time :
De mai à octobre.
From May to October.
Groupe / Classification :
Dicotylédones.
Dicotyledons.
Pérennité / Lifespan :
Annuelle.
Annual.
Description :
Photo 1 :
Localisation / Location : Tilos, Plaine d'Erystos / Plain of Erystos
Date : 06/10/2011
GPS : Lat. 36,43918° N / Long. 27,34878° E / Alt. 12 m
Type : Photographie numérique / Digital Photograph (10 mégapixels)
Photo 2 :
Localisation / Location : Tilos, Erystos
Date : 11/10/2009
GPS : Lat. 36,43376° N / Long. 27,34906° E / Alt. 3 m
Type : Photographie numérique / Digital Photograph (10 mégapixels)
Photo 3 :
Localisation / Location : Tilos, Plaine d'Erystos / Plain of Erystos
Date : 06/10/2011
GPS : Lat. 36,43918° N / Long. 27,34878° E / Alt. 12 m
Type : Photographie numérique / Digital Photograph (10 mégapixels)
Photo 4 :
Localisation / Location : Tilos, Erystos
Date : 17/09/2008
GPS : Lat. 36,43376° N / Long. 27,34906° E / Alt. 3 m
Type : Photographie numérique / Digital Photograph (10 mégapixels)
Photo 5 :
Localisation / Location : Tilos, Erystos
Date : 11/10/2009
GPS : Lat. 36,43376° N / Long. 27,34906° E / Alt. 3 m
Type : Photographie numérique / Digital Photograph (10 mégapixels)
Photo 6 :
Localisation / Location : Tilos, Plaine d'Erystos / Plain of Erystos
Date : 06/10/2011
GPS : Lat. 36,43918° N / Long. 27,34878° E / Alt. 12 m
Type : Photographie numérique / Digital Photograph (10 mégapixels)