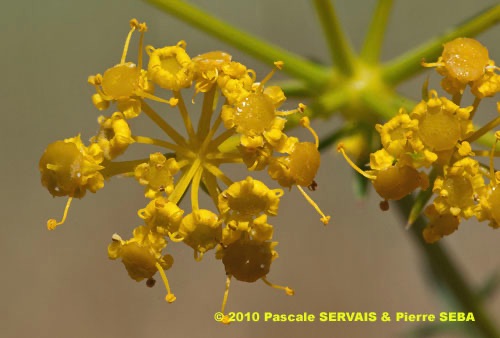 © Pascale SERVAIS & Pierre SEBA, 2018. Tilo Botanica: Flore de Tilos et du Dodécanèse / Flora of Tilos and of the Dodecanese
English translation by Brenda Bradbury, Howard Bradbury and Stéphane Léonard
Plante herbacée, hermaphrodite, à tiges dressées, glabres, anguleuses, à ramifications opposées ou verticillées.
Feuilles alternes à la base, puis opposées et enfin verticillées au sommet de la tige, composées tripennées, à segments raides, étroits, linéaires, pointus, trilobés à l'extrémité.
Fleurs à symétrie radiaire, jaunes, de 3 à 3,5 mm de diamètre, réunies en larges ombelles composées, de 3 à 10 cm de diamètre, à 6 à 12 rayons principaux. Bractées linéaires, petites. Corolle à 5 pétales enroulés vers l'extérieur. 5 étamines saillantes. 2 styles. Ovaire infère.
Fruits, diakènes de 7 à 10 mm de long.
___________________________
Plant herbaceous, hermaphrodite. Stems erect, glabrous, angular, with opposite or whorled ramifications.
Leaves alternate at the base, then opposite and finally whorled at the top of the stem, compound tripinnately, with stiff, narrow, linear, pointed segments, three-lobed at the tip.
Flowers radially symmetrical, yellow, from 3 to 3.5 mm in diameter, joined together in broad compound umbels, from 3 to 10 cm in diameter, with 6 to 12 main rays. Bracts linear, small. Corolla with 5 petals coiled towards the outside. 5 protruding stamens. 2 styles. Ovary inferior.
Fruits, diachenes from 7 to 10 mm long.
Descripteurs / Identifying features: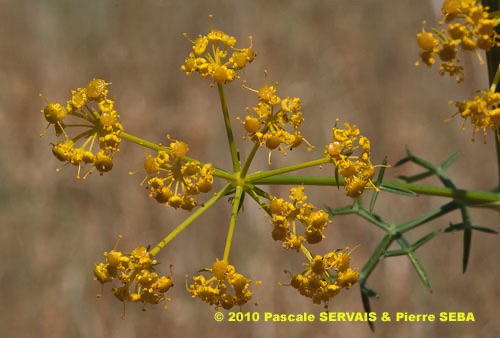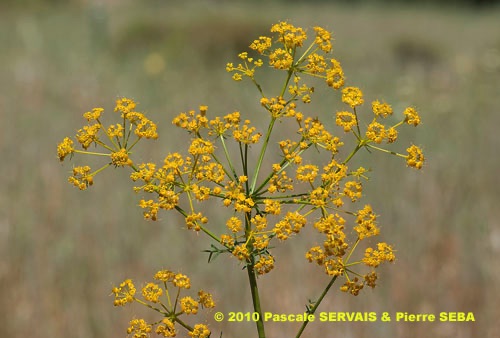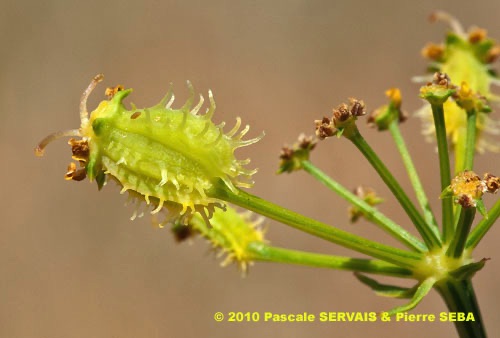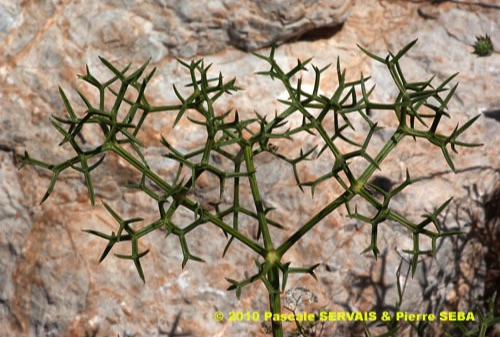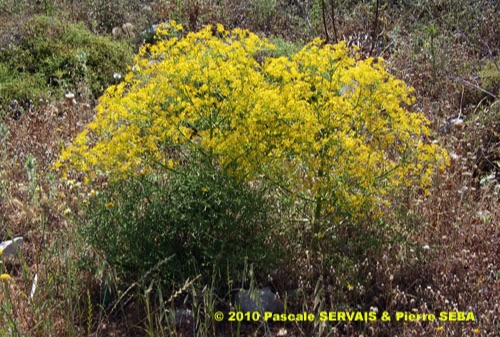 Étymologie / Etymology :
Cachrys : emprunt du latin cachrys, -yos (nom), nom donné à la
graine du romarin par Pline, naturaliste latin mort en 79 apr. J.-C.,
forme latinisée du grec ancien κάχρυς, -υος (nom), nom donné aux
graines sèches de certaines plantes par Théophraste et par
Dioscoride, en référence à son odeur rappelant celle du romarin.
Cristata : emprunt du latin cristatus, -a, -um (adj.)
[ < crista, -ae (nom) = la crête d'un oiseau, l'aigrette ]
= qui a une crête, qui a une aigrette.
Cachrys : borrowed from Latin cachrys, -yos (noun), name given
to the seed of rosemary by Plinius, Latin naturalist died in 79 AD,
Latinized form of the Classical Greek κάχρυς, -υος (noun), name
given to dry seeds of some plants by Theophrastus and by
Dioscorides, referring to its odour reminding rosemary.
Cristata : borrowed from Latin cristatus, -a, -um (adj)
[ < crista, -ae (noun) = crest or topknot of a bird ]
= which has a crest, crested.
Synonymes / Synonyms :
Hippomarathrum cristatum (Boiss.) Ball
Hippomarathrum libanotis var. cristatum (Boiss.) Maire
Noms vernaculaires / Common names :
Noms français / French names :
Amarinthe à crête — Cachrys à crête.
Nom anglais / English name :
Spiny basil.
Nom allemand / German name :
Steckenkraut.
Nom italien / Italian name :
Basilisco spinoso.
Habitat :
Cultures - Lieux pierreux - Lieux incultes.
Cultivated places - Stony places - Waste ground.
Île / Island :
Tilos.
Hauteur / Height range :
De 50 cm à 1 m.
From 50 cm to 1 m.
Floraison / Flowering time :
D'avril à mai.
From April to May.
Groupe / Classification :
Dicotylédones.
Dicotyledons.
Pérennité / Lifespan :
Vivace.
Perennial.
Description :
Photo 1 :
Localisation / Location : Tilos, Aghios Stephanos
Date : 07/05/2010
GPS : Lat. 36,40835° N / Long. 27,39668° E / Alt. 15 m
Type : Photographie numérique / Digital Photograph (10 mégapixels)
Photo 2 :
Localisation / Location : Tilos, Aghios Stephanos
Date : 07/05/2010
GPS : Lat. 36,40835° N / Long. 27,39668° E / Alt. 15 m
Type : Photographie numérique / Digital Photograph (10 mégapixels)
Photo 3 :
Localisation / Location : Tilos, Aghios Stephanos
Date : 07/05/2010
GPS : Lat. 36,40835° N / Long. 27,39668° E / Alt. 15 m
Type : Photographie numérique / Digital Photograph (10 mégapixels)
Photo 4 :
Localisation / Location : Tilos, Aghios Stephanos
Date : 07/05/2010
GPS : Lat. 36,40835° N / Long. 27,39668° E / Alt. 15 m
Type : Photographie numérique / Digital Photograph (10 mégapixels)
Photo 5 :
Localisation / Location : Tilos, Aghios Stephanos
Date : 07/05/2010
GPS : Lat. 36,40835° N / Long. 27,39668° E / Alt. 15 m
Type : Photographie numérique / Digital Photograph (10 mégapixels)
Photo 6 :
Localisation / Location : Tilos, Aghios Stephanos
Date : 07/05/2010
GPS : Lat. 36,40835° N / Long. 27,39668° E / Alt. 15 m
Type : Photographie numérique / Digital Photograph (10 mégapixels)