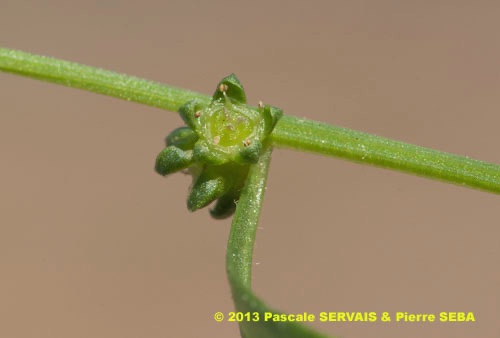 Beta vulgaris subsp. maritima (L.) Arcang.
© Pascale SERVAIS & Pierre SEBA, 2018. Tilo Botanica: Flore de Tilos et du Dodécanèse / Flora of Tilos and of the Dodecanese
English translation by Brenda Bradbury, Howard Bradbury and Stéphane Léonard
Plante herbacée, hermaphrodite, à tiges étalées à rampantes, glabres, rameuses dès la base, vertes, côtelées, rougeâtres.
Feuilles alternes, simples, lancéolées à ovales ou spatulées, parfois cordiformes à la base, glabres, coriaces, entières. Feuilles de la base très grandes, à limbe atténué en long pétiole, à nervure principale charnue, parfois rougeâtre.
Fleurs à symétrie radiaire, vertes à pourprées, réunies en longs épis feuillés. Périanthe à 5 tépales libres. 5 étamines opposées aux tépales. Ovaire semi-infère.
Fruits, pyxides brun rougeâtre de 3,5 mm de diamètre, surmontées par les tépales persistants qui sont rapprochés les uns des autres.
___________________________
Plant herbaceous, hermaphrodite. Stems spread out to trailing, glabrous, branched from the base, green, ribbed, reddish.
Leaves alternate, simple, lanceolate to ovate or spatulate, sometimes heart-shaped at the base, glabrous, tough, entire. Basal leaves very large, with the blade attenuated in a long petiole, with the principal vein fleshy, sometimes reddish.
Flowers radially symmetrical, green to purple, joined together in long leafy spikes. Perianth with 5 free tepals. 5 stamens opposite the tepals. Ovary half-inferior.
Fruits, brown reddish pyxis of 3.5 mm in diameter, surmounted by the persistent tepals which are brought closer from each other.
Descripteurs / Identifying features: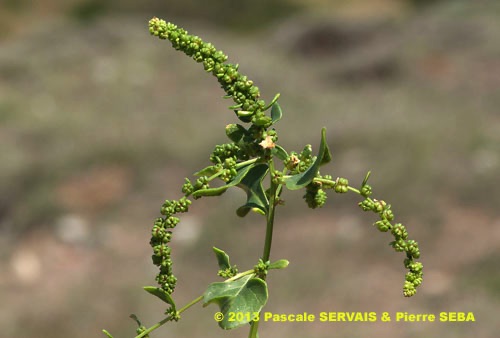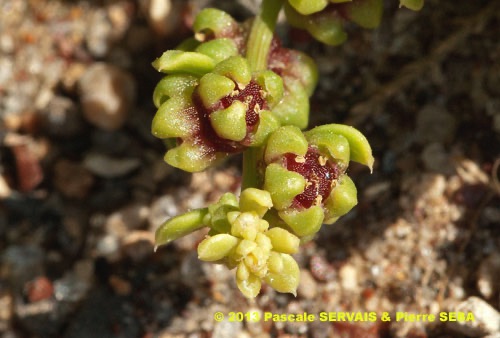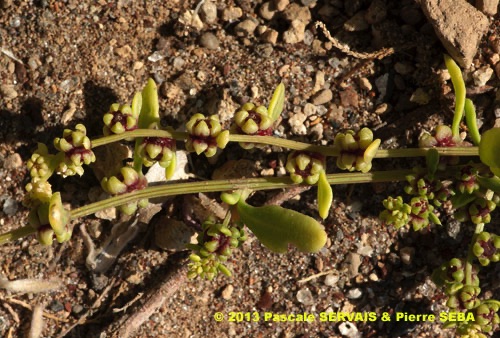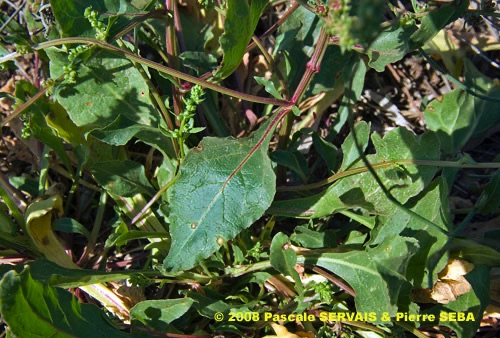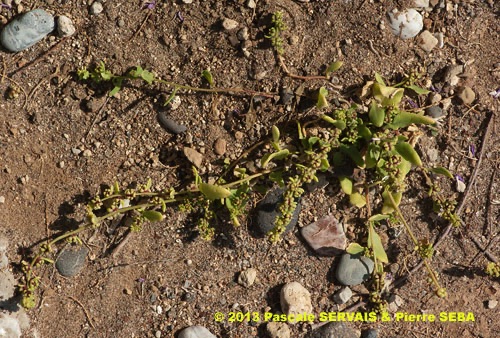 Étymologie / Etymology :
Beta : emprunt du latin beta, -ae (nom), nom donné à la plante
par Pline, naturaliste latin mort en 79 apr. J.-C.
Vulgaris : emprunt du latin vulgaris, -is, -e (adj.)
[ < vulgus, -i (nom) = la foule, la multitude ] = ordinaire, commun,
banal.
Maritima : emprunt du latin maritimus, -a, -um (adj.)
[ < mare, -is (nom) = la mer ] = maritime, qui provient de la mer
ou des régions en bord de mer.
Beta : borrowed from Latin beta, -ae (noun), name given to the
plant by Plinius, Latin naturalist died in 79 AD.
Vulgaris : borrowed from Latin vulgaris, -is, -e (adj)
[ < vulgus, -i (noun) = crowd, multitude ] = ordinary, common,
commonplace.
Maritima : borrowed from Latin maritimus, -a, -um (adj)
[ < mare, -is (noun) = sea ] = maritime, which comes from the sea
or from the sea-coasts.
Synonymes / Synonyms :
Beta maritima L.
Beta atriplicifolia Rouy
Beta decumbens Moench
Beta marina Crantz
Beta perennis (L.) Halácsy
Beta vulgaris subsp. perennis (L.) Aellen
Beta vulgaris var. marcosii O.Bolòs & Vigo
Beta vulgaris var. perennis L.
Noms vernaculaires / Common names :
Noms français / French names :
Bette maritime — Betterave maritime — Betterave sauvage — Poirée.
Noms anglais / English names :
Sea beet — Volunteer beet — Weed beet.
Noms allemands / German names :
Gemeine Rübe — See Mangold — Wilde Runkelrübe.
Noms espagnols / Spanish names :
Acelga marítima — Acelga silvestre.
Nom italien / Italian name :
Bietola comune.
Habitat :
Cultures - Lieux pierreux - Lieux saumâtres, bords de mer -
Murs, rochers.
Cultivated places - Stony places - Salty places, seaside - Walls, rocks.
Île / Island :
Tilos.
Hauteur / Height range :
De 10 cm à 1 m.
From 10 cm to 1 m.
Floraison / Flowering time :
De février à mai.
From February to May.
Groupe / Classification :
Dicotylédones.
Dicotyledons.
Pérennité / Lifespan :
Annuelle ou vivace.
Annual or perennial.
Description :
Photo 1 :
Localisation / Location : Tilos, Erystos
Date : 01/05/2013
GPS : Lat. 36,43270° N / Long. 27,35237° E / Alt. 3 m
Type : Photographie numérique / Digital Photograph (10 mégapixels)
Photo 2 :
Localisation / Location : Tilos, Erystos
Date : 01/05/2013
GPS : Lat. 36,43270° N / Long. 27,35237° E / Alt. 3 m
Type : Photographie numérique / Digital Photograph (10 mégapixels)
Photo 3 :
Localisation / Location : Tilos, Erystos
Date : 01/05/2013
GPS : Lat. 36,43270° N / Long. 27,35237° E / Alt. 3 m
Type : Photographie numérique / Digital Photograph (10 mégapixels)
Photo 4 :
Localisation / Location : Tilos, Erystos
Date : 01/05/2013
GPS : Lat. 36,43270° N / Long. 27,35237° E / Alt. 3 m
Type : Photographie numérique / Digital Photograph (10 mégapixels)
Photo 5 :
Localisation / Location : Tilos, Aghios Andonis
Date : 26/04/2008
GPS : —
Type : Photographie numérique / Digital Photograph (10 mégapixels)
Photo 6 :
Localisation / Location : Tilos, Erystos
Date : 01/05/2013
GPS : Lat. 36,43270° N / Long. 27,35237° E / Alt. 3 m
Type : Photographie numérique / Digital Photograph (10 mégapixels)