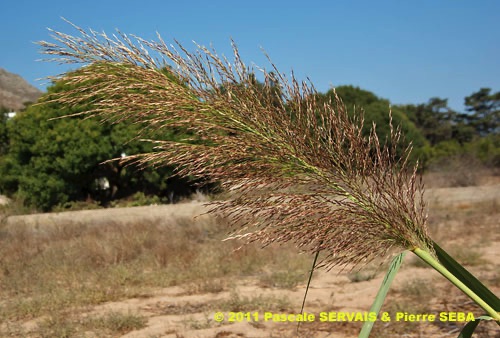 © Pascale SERVAIS & Pierre SEBA, 2018. Tilo Botanica: Flore de Tilos et du Dodécanèse / Flora of Tilos and of the Dodecanese
English translation by Brenda Bradbury, Howard Bradbury and Stéphane Léonard
Plante hermaphrodite, robuste, rhizomateuse, tapissante, à souche ligneuse, à tiges feuillées, non ramifiées, glabres, rappelant le bambou.
Feuilles alternes paraissant parfois opposées, simples, linéaires, glabres, de 2 à 6 cm de largeur et de 60 cm de long au plus, se rétrécissant régulièrement de la base au sommet très aigu. Elles montrent à la base du limbe 2 longues oreillettes et une languette bordée de petits cils.
Fleurs apparaissant sur les pousses de 2 ans, en épillets de 12 à 18 mm de long, groupés en inflorescences de 30 cm à 60 cm, d'abord pourpre verdâtre, puis jaunes à maturité. Glumelles soyeuses donnant à l'inflorescence des reflets argentés. Ovaire supère.
Fruits, caryopses à graines soudées à la paroi interne.
___________________________
Plant hermaphrodite, robust, rhizomatous, covering, with a woody stock. Stems leafy, not branched, glabrous, looking like bamboo.
Leaves alternate, sometimes appearing opposite, simple, linear, glabrous, from 2 to 6 cm across and 60 cm long at most, regularly narrowing from the base to the very acute top. Base of the blade with 2 long auricles and a strip bordered by small fine hairs.
Flowers appearing on the two-year-old-shoots, made of spikelets from 12 to 18 mm long, grouped in inflorescences from 30 cm to 60 cm, initially greenish purple, then yellow at maturity. Glumellas silky giving the inflorescence silver reflections. Ovary superior.
Fruits, caryopsis with seeds fused with the internal wall.
Descripteurs / Identifying features: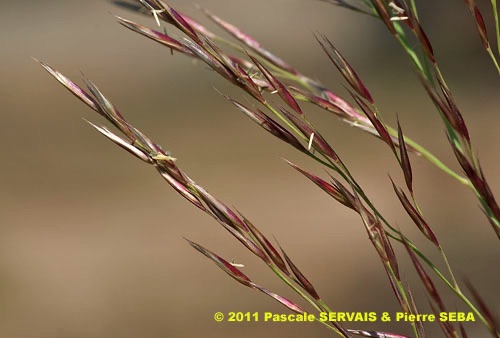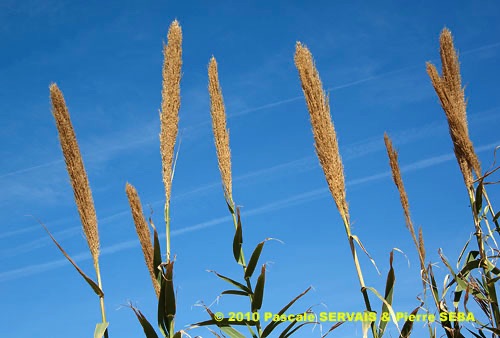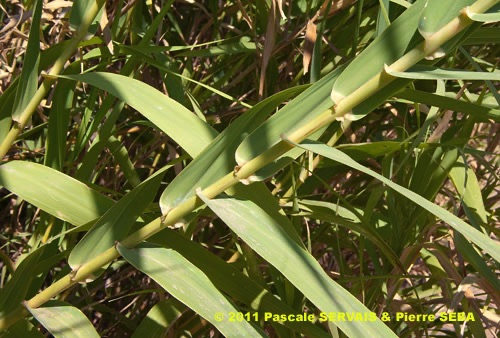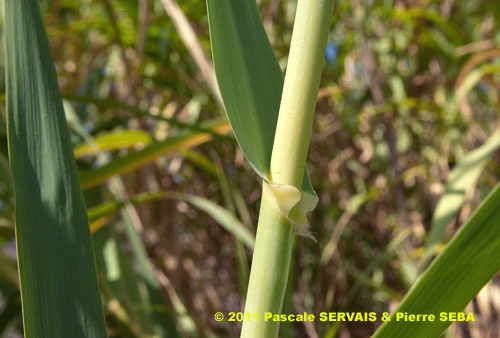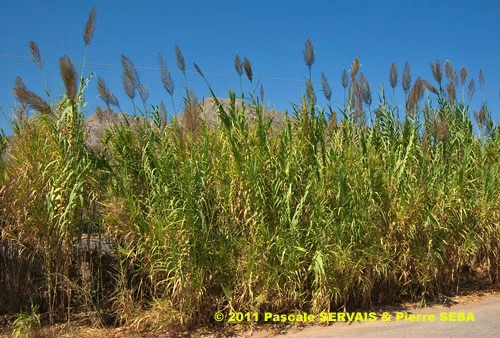 Étymologie / Etymology :
Arundo : emprunt du latin arundo, -inis (nom) = le roseau, la canne.
Donax : emprunt du latin donax, -acis (nom), nom donné à
certains roseaux par Pline, naturaliste latin mort en 79 apr. J.-C.,
forme latinisée du grec ancien δόναξ, -ακος (nom)
= le roseau (qui pousse dans des endroits secs ou humides).
Arundo : borrowed from Latin arundo, -inis (noun) = reed.
Donax : borrowed from Latin donax, -acis (noun), name given
to some reeds by Plinius, Latin naturalist died in 79 AD, Latinized form
of the Classical Greek δόναξ, -ακος (noun)
= reed (which grows in dry or wet places).
Synonymes / Synonyms :
Amphidonax bengalensis (Retz.) Nees
Arundo benghalensis Retz.
Arundo bifaria Retz.
Arundo donax var. angustifolia Döll
Arundo donax var. variegata Vilm.
Arundo donax var. variegata Endl.
Arundo donax var. versicolor (Mill.) Aiton
Arundo glauca Bubani
Arundo latifolia Salisb.
Arundo sativa Lam.
Arundo versicolor Mill.
Cynodon donax (L.) Raspail
Donax arundinaceus P.Beauv.
Donax sativus C.Presl
Donax versicolor P.Beauv.
Scolochloa arundinacea (P.Beauv.) Mert. & W.D.J.Koch
Scolochloa donax (L.) Gaudin
Noms vernaculaires / Common names :
Noms français / French names :
Canne de Provence — Roseau à quenouilles.
Noms grecs / Greek names :
Καλάμι — Καλαμιά.
Noms anglais / English names :
Arundo — Cane — Giant cane — Giant reed.
Noms allemands / German names :
Breitblättriges Pfahlrohr — Riesen-Pfahlrohr — Riesenschilf —
Spanisches Rohr.
Noms espagnols / Spanish names :
Caña común — Cañavera — Canya — Canya comuna.
Nom italien / Italian name :
Canna domestica.
Habitat :
Lieux incultes - Lieux humides, mares.
Waste ground - Damp places, ponds.
Île / Island :
Tilos.
Hauteur / Height range :
De 1,50 m à 5 m.
From 1.50 m to 5 m.
Floraison / Flowering time :
D'août à décembre.
From August to December.
Groupe / Classification :
Monocotylédones.
Monocotyledons.
Pérennité / Lifespan :
Vivace.
Perennial.
Description :
Photo 1 :
Localisation / Location : Tilos, Erystos
Date : 29/09/2011
GPS : Lat. 36,43374° N / Long. 27,34766° E / Alt. 3 m
Type : Photographie numérique / Digital Photograph (10 mégapixels)
Photo 2 :
Localisation / Location : Tilos, Erystos
Date : 29/09/2011
GPS : Lat. 36,43374° N / Long. 27,34766° E / Alt. 3 m
Type : Photographie numérique / Digital Photograph (10 mégapixels)
Photo 3 :
Localisation / Location : Tilos, Erystos
Date : 22/11/2010
GPS : Lat. 36,43459° N / Long. 27,34810° E / Alt. 11 m
Type : Photographie numérique / Digital Photograph (10 mégapixels)
Photo 4 :
Localisation / Location : Tilos, Erystos
Date : 29/09/2011
GPS : Lat. 36,43374° N / Long. 27,34766° E / Alt. 3 m
Type : Photographie numérique / Digital Photograph (10 mégapixels)
Photo 5 :
Localisation / Location : Tilos, Erystos
Date : 29/09/2011
GPS : Lat. 36,43374° N / Long. 27,34766° E / Alt. 3 m
Type : Photographie numérique / Digital Photograph (10 mégapixels)
Photo 6 :
Localisation / Location : Tilos, Erystos
Date : 29/09/2011
GPS : Lat. 36,43374° N / Long. 27,34766° E / Alt. 3 m
Type : Photographie numérique / Digital Photograph (10 mégapixels)