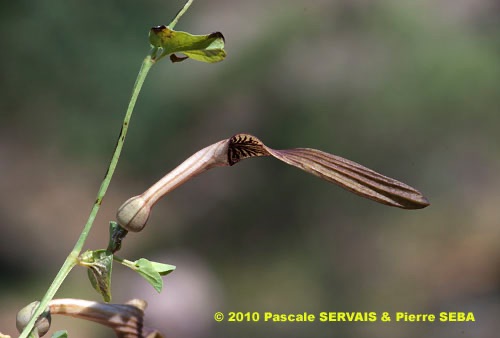 Aristolochia parvifolia Sm.
© Pascale SERVAIS & Pierre SEBA, 2018. Tilo Botanica: Flore de Tilos et du Dodécanèse / Flora of Tilos and of the Dodecanese
English translation by Brenda Bradbury, Howard Bradbury and Stéphane Léonard
Plante herbacée, hermaphrodite, poilue quand elle est jeune, à tiges étalées à dressées, pas ou peu ramifiées, à racine tubéreuse sphérique.
Feuilles alternes, simples, ovales à cordiformes, de 15 à 30 mm de long et de 10 à 25 mm de large, glabres, à pétiole court, à limbe embrassant la tige et à nervures saillantes dessous.
Fleurs à symétrie bilatérale, à grand périanthe coloré, non persistant, en forme de cornet renflé au-dessus de l'ovaire. Tube droit, jaune brun, de 12 mm de long environ, avec des stries brun foncé à l'intérieur. Langue de 25 à 30 mm de long, linéaire, vert brun, veinée de brun foncé, dans le prolongement du tube ou repliée presque à angle droit. Ovaire infère.
Fruits, capsules sphériques, vertes puis brunes, de 10 à 12 mm de diamètre, pendant à l'extrémité du pédoncule recourbé et s'ouvrant en 6 parties à maturité.
___________________________
Plant herbaceous, hermaphrodite, generally hairy when young, with a spherical tuberose root. Stems spread out to erect, little or not branched.
Leaves alternate, simple, ovate to cordate, from 15 to 30 mm long and from 10 to 25 mm across, glabrous, with a short petiole, with the blade clasping the stem and protruding veins on the lower part.
Flowers bilaterally symmetrical, with a large coloured perianth, nonpersistent, in the shape of a horn swollen above the ovary. Tube straight, brown yellow, approximately 12 mm long, with dark brown ridges inside. Tongue from 25 to 30 mm long, linear, brown green, with dark brown veins, in line with the tube or almost bent at right angles. Ovary inferior.
Fruits, spherical capsules, green then brown, from 10 to 12 mm in diameter, hanging at the end of the bent stalk and opening in 6 parts at maturity.
Descripteurs / Identifying features: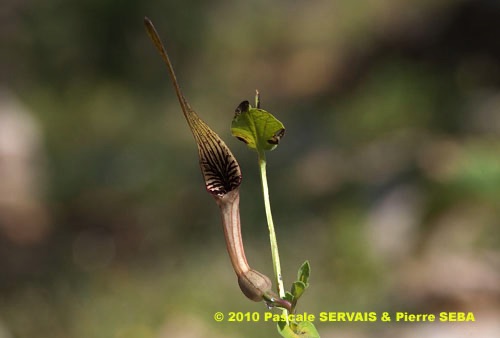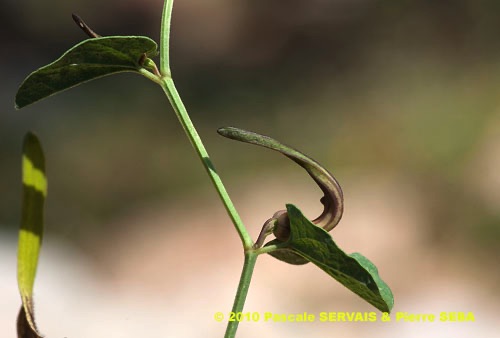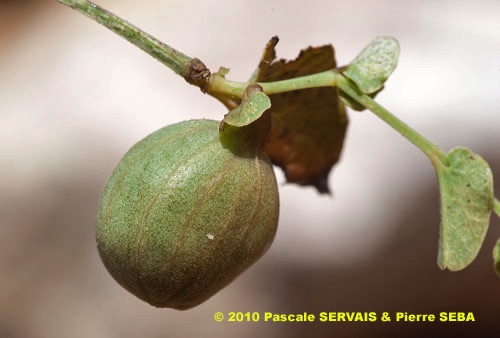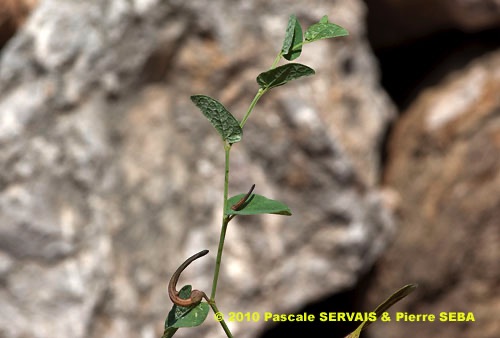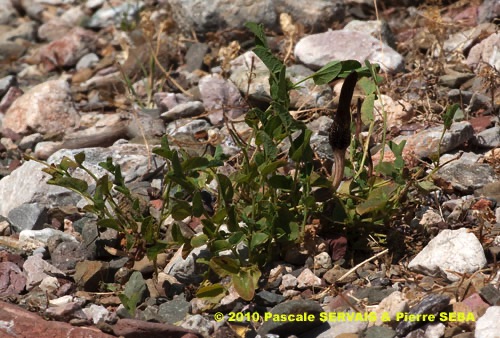 Étymologie / Etymology :
Aristolochia : emprunt du latin aristolochia, -ae (nom), nom donné
à la plante par Pline, naturaliste latin mort en 79 apr. J.-C., forme
latinisée du grec ancien ἀριστολοχία, -ας  (nom) [ < ἄριστος, -η, -ον
(superl.) = excellent, meilleur + λοχεία, -ας (nom) = l'accouchement ]
= excellent pour les accouchements, nom donné à la plante par
Théophraste, philosophe péripatéticien, disciple d'Aristote, botaniste
et naturaliste, mort vers 288 av. J.-C., en référence à sa renommée
pour faciliter les accouchements.
Parvifolia : emprunt du latin parvifolius, -a, -um (adj.)
[ < parvus, -a, -um (adj.) = petit + folium, -i (nom) = la feuille ]
= qui a de petites feuilles.
Aristolochia : borrowed from Latin aristolochia, -ae (noun), name
given to the plant by Plinius, Latin naturalist died in 79 AD, Latinized
form of the Classical Greek ἀριστολοχία, -ας  (noun)
[ < ἄριστος, -η, -ον (superl) = excellent, best + λοχεία, -ας (noun)
= delivery ] = excellent for deliveries, name given to the plant by
Theophrastus, peripatetic philosopher, disciple of Aristotle, botanist
and naturalist, died towards 288 BC, referring to its reputation in
helping childbirth.
Parvifolia : borrowed from Latin parvifolius, -a, -um (adj)
[ < parvus, -a, -um (adj) = small, little + folium, -i (noun) = leaf ]
= which has small leaves, small-leaved.
Synonyme / Synonym :
Aristolochia tournefortii Jaub. & Spach
Noms vernaculaires / Common names :
Nom français / French name :
Aristoloche à petites feuilles.
Nom grec / Greek name :
Αριστολοχία.
Noms anglais / English names :
Small-flowered dutchman's pipe — Small-leaved birthwort.
Noms allemands / German names :
Kleinblättrige Osterluzei — Kleinblütige Osterluzei —
Osterluzei — Pfeifenblume.
Habitat :
Lieux pierreux - Murs, rochers.
Stony places - Walls, rocks.
Île / Island :
Tilos.
Hauteur / Height range :
De 10 cm à 50 cm.
From 10 cm to 50 cm.
Floraison / Flowering time :
De janvier à juin.
From January to June.
Groupe / Classification :
Dicotylédones.
Dicotyledons.
Pérennité / Lifespan :
Vivace.
Perennial.
Description :
Descripteurs distinctifs des 2 espèces / Distinctive identifying features of the 2 species
Photo 1 :
Localisation / Location : Tilos, Livadia (environs / surroundings)
Date : 29/04/2010
GPS : Lat. 36,41759° N / Long. 27,37980° E / Alt. 80 m
Type : Photographie numérique / Digital Photograph (10 mégapixels)
Photo 2 :
Localisation / Location : Tilos, Livadia (environs / surroundings)
Date : 29/04/2010
GPS : Lat. 36,41759° N / Long. 27,37980° E / Alt. 80 m
Type : Photographie numérique / Digital Photograph (10 mégapixels)
Photo 3 :
Localisation / Location : Tilos, Livadia (environs / surroundings)
Date : 29/04/2010
GPS : Lat. 36,41759° N / Long. 27,37980° E / Alt. 80 m
Type : Photographie numérique / Digital Photograph (10 mégapixels)
Photo 4 :
Localisation / Location : Tilos, Livadia (environs / surroundings)
Date : 29/04/2010
GPS : Lat. 36,41759° N / Long. 27,37980° E / Alt. 80 m
Type : Photographie numérique / Digital Photograph (10 mégapixels)
Photo 5 :
Localisation / Location : Tilos, Livadia (environs / surroundings)
Date : 29/04/2010
GPS : Lat. 36,41759° N / Long. 27,37980° E / Alt. 80 m
Type : Photographie numérique / Digital Photograph (10 mégapixels)
Photo 6 :
Localisation / Location : Tilos, Lethra
Date : 01/05/2010
GPS : Lat. 36,43777° N / Long. 27,38764° E / Alt. 2 m
Type : Photographie numérique / Digital Photograph (10 mégapixels)