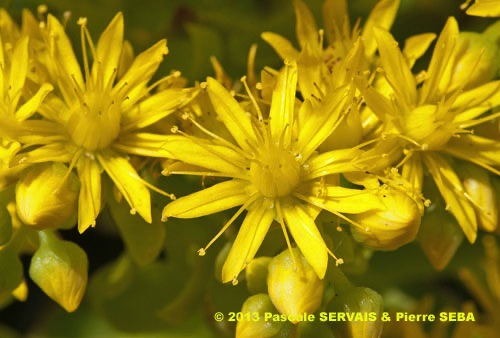 Aeonium arboreum (L.) Webb & Berthel.
© Pascale SERVAIS & Pierre SEBA, 2018. Tilo Botanica: Flore de Tilos et du Dodécanèse / Flora of Tilos and of the Dodecanese
English translation by Brenda Bradbury, Howard Bradbury and Stéphane Léonard
Sous-arbrisseau hermaphrodite, à tiges ligneuses, dressées, épaisses et ramifiées.
Feuilles en rosettes aplaties au sommet des tiges, charnues, simples, spatulées, vert brillant, parfois pourpre rougeâtre.
Fleurs à symétrie radiaire, jaune vif, de 12 à 14 mm de diamètre, réunies en grandes panicules. Corolle à 9 à 11 pétales libres.
Fruits, follicules constitués par des carpelles libres entre eux qui s'ouvrent par une fente à maturité.
___________________________
Shrublet hermaphrodite. Stems woody, erect, thick and branched.
Leaves in rosettes flattened at the top of the stems, fleshy, simple, spatulate, bright green, sometimes reddish purple.
Flowers radially symmetrical, bright yellow, from 12 to 14 mm in diameter, joined together in large panicles. Corolla with 9 to 11 free petals.
Fruits, follicles made up of carpels free between them which open by a slit at maturity.
Descripteurs / Identifying features: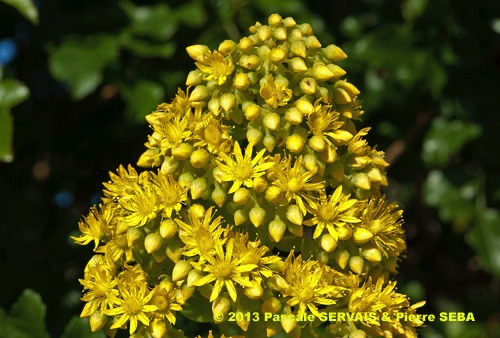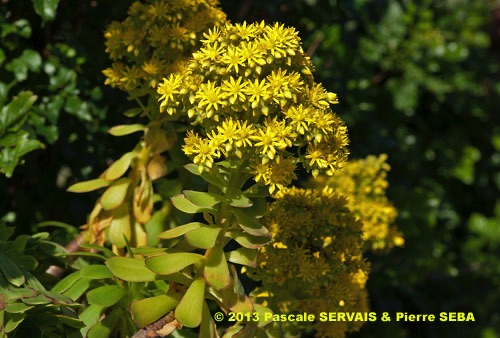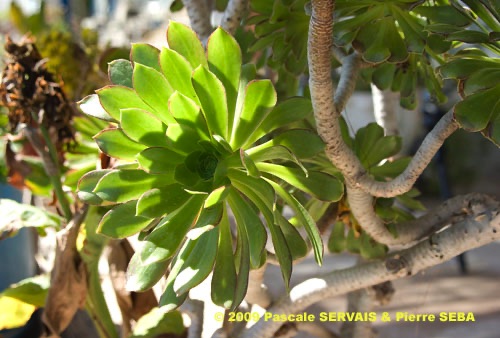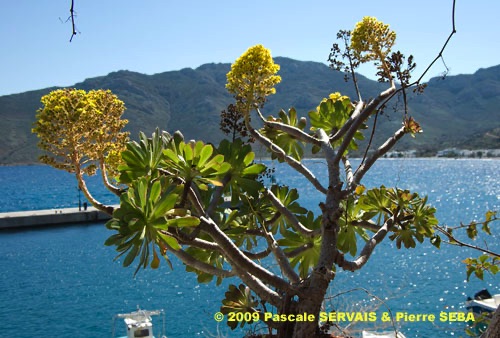 Étymologie / Etymology :
Aeonium : forme latinisée du grec ancien αἰώνιος, -ος, -ον (adj.)
[ < αἰών, -ῶνος (nom) = la durée de vie, l'éternité ] = éternel,
en référence à la résistance de la plante à la sécheresse.
Arboreum : emprunt du latin arboreus, -a, -um (adj.)
[ < arbor, -oris (nom) = l'arbre ] = qui a la forme ou l'aspect d'un arbre.
Aeonium : Latinized form of the Classical Greek αἰώνιος, -ος, -ον
(adj) [ < αἰών, -ῶνος (noun) = lifespan, eternity ] = eternal,
referring to the resistance of the plant to the dryness.
Arboreum : borrowed from Latin arboreus, -a, -um (adj)
[ < arbor, -oris (noun) = tree ] = which has the shape or the
appearance of a tree.
Synonymes / Synonyms :
Aeonium korneliuslemsii J.H.Liu
Sempervivum arboreum L.
Noms vernaculaires / Common names :
Noms anglais / English names :
Tree aenium — Tree aeonium — Tree houseleek.
Noms espagnols / Spanish names :
Aeonio — Bejeque — Planta del aire — Rosa verde — Sanjora —
Siempreviva arbórea.
Nom italien / Italian name :
Semprevivo arborescente.
Habitat :
Cultures - Lieux pierreux - Lieux incultes.
Cultivated places - Stony places - Waste ground.
Îles / Islands :
Patmos - Tilos.
Hauteur / Height range :
De 20 cm à 50 cm.
From 20 cm to 50 cm.
Floraison / Flowering time :
De janvier à mars.
From January to March.
Groupe / Classification :
Dicotylédones.
Dicotyledons.
Pérennité / Lifespan :
Vivace.
Perennial.
Description :
Photo 1 :
Localisation / Location : Tilos, Megalochorio (environs / surroundings)
Date : 10/01/2013
GPS : Lat. 36,45026° N / Long. 27,34621° E / Alt. 38 m
Type : Photographie numérique / Digital Photograph (10 mégapixels)
Photo 2 :
Localisation / Location : Tilos, Megalochorio (environs / surroundings)
Date : 10/01/2013
GPS : Lat. 36,45026° N / Long. 27,34621° E / Alt. 38 m
Type : Photographie numérique / Digital Photograph (10 mégapixels)
Photo 3 :
Localisation / Location : Tilos, Megalochorio (environs / surroundings)
Date : 10/01/2013
GPS : Lat. 36,45026° N / Long. 27,34621° E / Alt. 38 m
Type : Photographie numérique / Digital Photograph (10 mégapixels)
Photo 4 :
Localisation / Location : Tilos, Livadia
Date : 15/03/2009
GPS : Lat. 36,41725° N / Long. 27,38555° E / Alt. 4 m
Type : Photographie numérique / Digital Photograph (10 mégapixels)
Photo 5 :
Localisation / Location : Tilos, Livadia
Date : 15/03/2009
GPS : Lat. 36,41725° N / Long. 27,38555° E / Alt. 4 m
Type : Photographie numérique / Digital Photograph (10 mégapixels)
Photo 6 :
Localisation / Location : Tilos, Livadia
Date : 15/03/2009
GPS : Lat. 36,41725° N / Long. 27,38555° E / Alt. 4 m
Type : Photographie numérique / Digital Photograph (10 mégapixels)