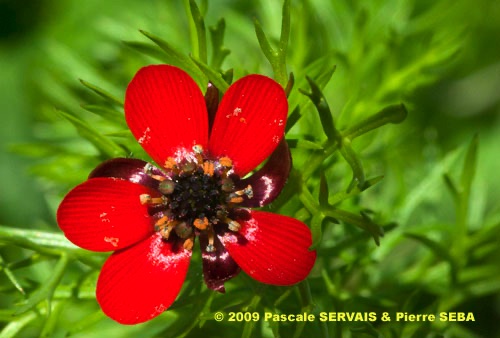 © Pascale SERVAIS & Pierre SEBA, 2018. Tilo Botanica: Flore de Tilos et du Dodécanèse / Flora of Tilos and of the Dodecanese
English translation by Brenda Bradbury, Howard Bradbury and Stéphane Léonard
Plante herbacée, hermaphrodite, à tiges dressées, ramifiées, glabres.
Feuilles alternes, divisées bi- ou tri-pennées, vert pâle, glabres, les inférieures pétiolées, les supérieures sessiles.
Fleurs à symétrie radiaire, en coupe, rouge vif à centre noir, de 10 à 25 mm de diamètre, à 5 à 10 pétales libres, oblongs, dressés. 5 sépales libres, vite caducs, rouge brun, glabres mais ciliés, étalés. Ovaire supère.
Fruits ovoïdes constitués d'un groupe de maximum 30 akènes à bec court, à bord supérieur sans dent.
___________________________
Plant herbaceous, hermaphrodite. Stems erect, branched, glabrous.
Leaves alternate, bi- or tripinnate, pale green, glabrous, the lower ones petiolate, the higher ones sessile.
Flowers radially symmetrical, cup-shaped, bright red with a black centre, from 10 to 25 mm in diameter, with 5 to 10 free petals, oblong, erect. 5 free, quickly deciduous sepals, brown red, glabrous but ciliate, spread out. Ovary superior.
Fruits ovoid made up of a group of maximum 30 achenes with a short beak and with a superior edge toothless.
Descripteurs / Identifying features: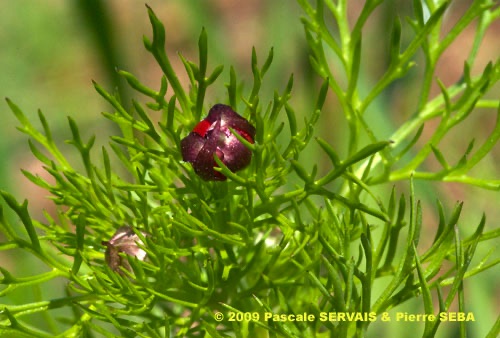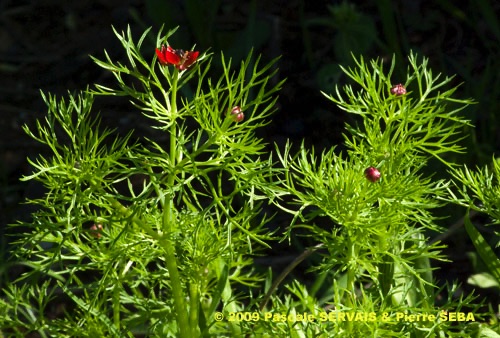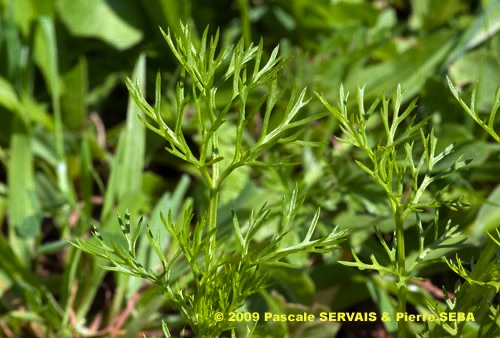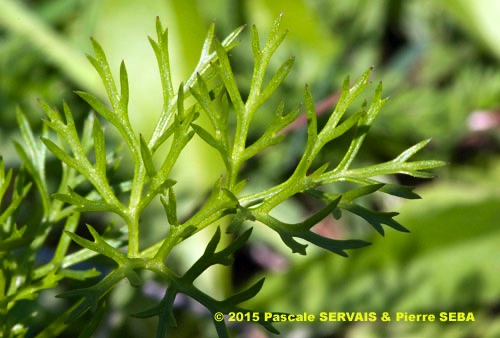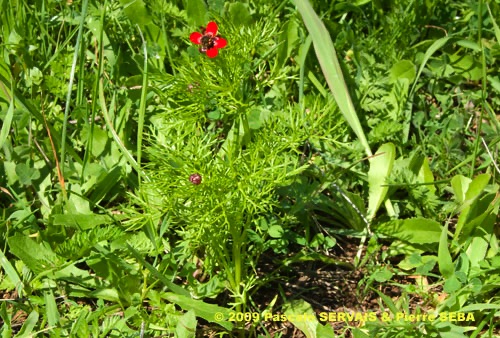 Étymologie / Etymology :
Adonis : emprunt du latin Adonis, -idis (nom propre) = Adonis,
jeune prince chypriote, célèbre par sa beauté, amant d'Aphrodite, la
déesse grecque de l'amour. Blessé mortellement par un sanglier, une
goutte de son sang tomba sur le sol et donna naissance à l'éphémère
anémone.
Annua : emprunt du latin annuus, -a, -um (adj.)
[ < annus, -i (nom) = l'année ] = qui dure un an, qui revient chaque
année.
Adonis : borrowed from Latin Adonis, -idis (proper noun) = Adonis,
young Cypriot prince, celebrated for his beauty, lover of Aphrodite,
the Greek goddess of love. Mortally wounded by a wild boar, a drop
of his blood fell to the ground and gave birth to the short-lived
anemone.
Annua : borrowed from Latin annuus, -a, -um (adj)
[ < annus, -i (noun) = year ] = that lasts a year, that recurs every year.
Synonymes / Synonyms :
Adonis autumnalis L.
Adonis annua subsp. autumnalis Maire & Weiller
Adonis annua subsp. baetica (Coss.) Nyman
Adonis annua var. atrorubens L.
Adonis annua var. phoenicea L.
Adonis atrorubens (L.) Dalla Torre & Sarnth.
Adonis autumnalis subsp. baetica (Coss.) Nyman
Adonis autumnalis var. micrantha (DC.) Rouy & Foucaud
Adonis autumnalis var. pygmaea Rouy & Foucaud
Adonis baetica Coss.
Adonis cullellii Sennen & Gonzalo
Adonis micrantha DC.
Adonis perramosa Schur
Adonis poetarum Bubani
Cosmarium autumnale (L.) Dulac
Noms vernaculaires / Common names :
Noms français / French names :
Adonis annuelle — Adonis d'automne — Adonis goutte-de-sang —
Œil-de-faisan.
Noms grecs / Greek names :
Αγριοπαπαρούνα — Άδωνις ο ετήσιος.
Noms anglais / English names :
Blooddrop — Pheasant's-eye — Red chamomile — Rose-a-rubie.
Noms allemands / German names :
Herbst-Adonisröschen — Herbst-Blutströpfchen.
Noms espagnols / Spanish names :
Adonis de otoño — Gota de sangre.
Nom italien / Italian name :
Adonide annua.
Habitat :
Cultures - Prairies - Lieux incultes.
Cultivated places - Meadows - Waste ground.
Île / Island :
Tilos.
Hauteur / Height range :
De 10 cm à 50 cm.
From 10 cm to 50 cm.
Floraison / Flowering time :
De février à juillet.
From February to July.
Groupe / Classification :
Dicotylédones.
Dicotyledons.
Pérennité / Lifespan :
Annuelle ou bisannuelle.
Annual or biennial.
Description :
Photo 1 :
Localisation / Location : Tilos, Livadia
Date : 17/03/2009
GPS : Lat. 36,41236° N / Long. 27,38731° E / Alt. 4 m
Type : Photographie numérique / Digital Photograph (10 mégapixels)
Photo 2 :
Localisation / Location : Tilos, Livadia
Date : 17/03/2009
GPS : Lat. 36,41236° N / Long. 27,38731° E / Alt. 4 m
Type : Photographie numérique / Digital Photograph (10 mégapixels)
Photo 3 :
Localisation / Location : Tilos, Livadia
Date : 14/03/2009
GPS : Lat. 36,41236° N / Long. 27,38731° E / Alt. 4 m
Type : Photographie numérique / Digital Photograph (10 mégapixels)
Photo 4 :
Localisation / Location : Tilos, Livadia
Date : 17/03/2009
GPS : Lat. 36,41236° N / Long. 27,38731° E / Alt. 4 m
Type : Photographie numérique / Digital Photograph (10 mégapixels)
Photo 5 :
Localisation / Location : Tilos, Livadia
Date : 17/03/2009
GPS : Lat. 36,41236° N / Long. 27,38731° E / Alt. 4 m
Type : Photographie numérique / Digital Photograph (10 mégapixels)
Photo 6 :
Localisation / Location : Tilos, Livadia
Date : 17/03/2009
GPS : Lat. 36,41236° N / Long. 27,38731° E / Alt. 4 m
Type : Photographie numérique / Digital Photograph (10 mégapixels)