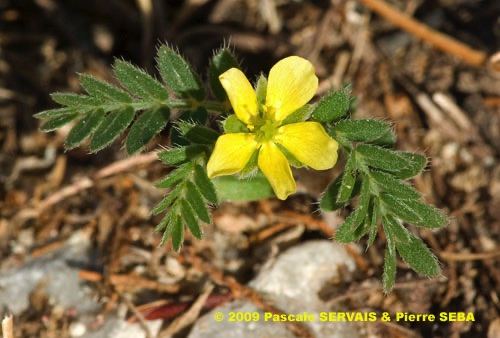 © Pascale SERVAIS & Pierre SEBA, 2018. Tilo Botanica: Flore de Tilos et du Dodécanèse / Flora of Tilos and of the Dodecanese
English translation by Brenda Bradbury, Howard Bradbury and Stéphane Léonard
Plante herbacée, hermaphrodite, très ramifiée, étalée, à tiges généralement couvertes de poils blancs.
Feuilles opposées, composées paripennées, à 10 à 16 folioles oblongues à elliptiques, disposées sur 2 rangées, à droite et à gauche du rachis.
Fleurs à symétrie radiaire, jaunes, de 8 à 10 mm de diamètre, solitaires à l'aisselle des feuilles. Corolle à 5 pétales libres et à 10 étamines. Calice à 5 sépales vite caducs. Ovaire supère.
Fruits, capsules sèches, à 5 coques épineuses, dures, ligneuses, de 8 à 10 mm de long, disposées en étoile, s'accrochant de façon tenace aux chaussures.
___________________________
Plant herbaceous, hermaphrodite, very branched, spread out. Stems generally covered in white hairs.
Leaves opposite, compound paripinnate, with 10 to 16 oblong to elliptic leaflets, laid out on 2 rows, to the right and to the left of the midrib.
Flowers radially symmetrical, yellow, from 8 to 10 mm in diameter, solitary at the axil of the leaves. Corolla with 5 free petals and 10 stamens. Calyx with 5 quickly deciduous sepals. Ovary superior.
Fruits, dry capsules, with 5 spiny, tough, woody shells, from 8 to 10 mm long, laid out like a star, clinging firmly to the shoes.
Descripteurs / Identifying features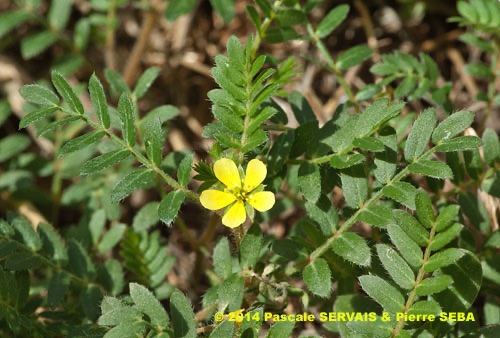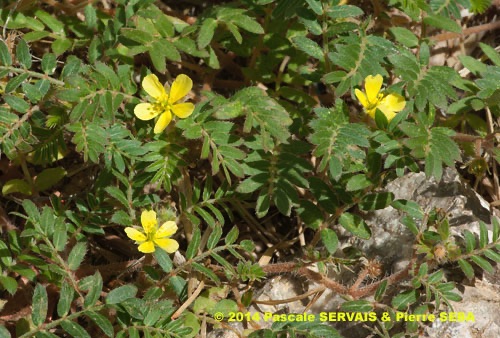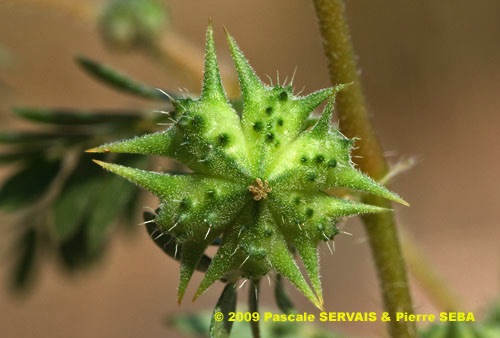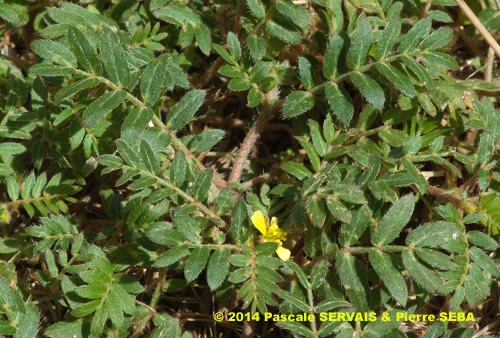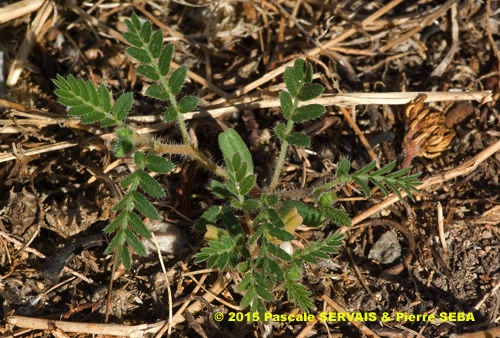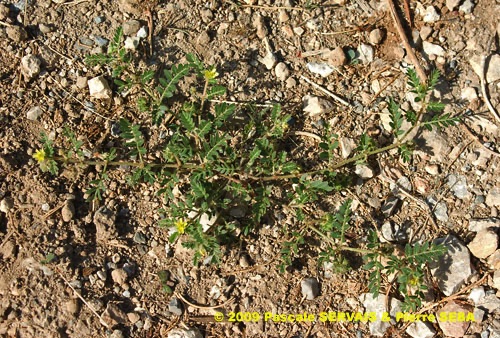 Étymologie / Etymology :
Tribulus : emprunt du latin tribulus, -i (nom) = le chausse-trape (piège à
pointes destiné à arrêter la cavalerie), le tribule, nom donné à la plante
par Pline, naturaliste latin mort en 79 apr. J.-C., forme latinisée du grec
ancien τρίβολος, -ου (nom) = le chausse-trape, nom donné à une
plante aquatique épineuse par Théophraste, philosophe péripatéticien,
disciple d'Aristote, botaniste et naturaliste, mort vers 288 av. J.-C.,
en référence aux fruits à épines disposées en étoile.
Terrestris : emprunt du latin terrestris, -is, -e (adj.) [ < terra, -ae (nom)
= la Terre ] = terrestre, qui vit sur la surface solide de la Terre.
Tribulus : borrowed from Latin tribulus, -i (noun) = trap with points used
to stop the cavalry, caltrops, name given to the plant by Plinius, Latin
naturalist died in 79 AD, Latinized form of the Classical Greek
τρίβολος, -ου (noun) = trap with points used to stop the cavalry, name
given to a thorny aquatic plant by Theophrastus, peripatetic
philosopher, disciple of Aristotle, botanist and naturalist, died
towards 288 BC, referring to the fruits with thorns laid out like a star.
Terrestris : borrowed from Latin terrestris, -is, -e (adj)
[ < terra, -ae (noun) = Earth ] = terrestrial, which lives on the solid
surface of the Earth.
Synonymes / Synonyms :
Tribulus bimucronatus Kralik
Tribulus bispinulosus Kralik
Tribulus hispidus C.Presl
Tribulus intermedius Kralik
Tribulus kotschyanus Boiss.
Tribulus micans Welw.
Tribulus muricatus Stokes
Tribulus orientalis A.Kern.
Tribulus parvispinus C.Presl
Tribulus robustus Boiss. & Noë
Tribulus saharae A.Chev.
Noms vernaculaires / Common names :
Noms français / French names :
Croix-de-Malte — Escarbot — Tribule terrestre.
Noms grecs / Greek names :
Κολιτσίδα — Τριβόλη — Τριβόλι — Τρίβολος.
Noms anglais / English names :
Puncturevine — Small caltrops.
Noms allemands / German names :
Burzeldorn — Erd-Bürzeldorn — Felddorn — Landbürzel.
Noms espagnols / Spanish names :
Abrojo — Abrojo terrestre — Espigón — Mormajas — Tríbulo.
Nom italien / Italian name :
Tribolo comune.
Habitat :
Cultures - Lieux pierreux - Lieux incultes - Sols sableux - Chemins.
Cultivated places - Stony places - Waste ground - Sandy soils -
Waysides.
Île / Island :
Tilos.
Hauteur / Height range :
De 10 cm à 70 cm.
From 10 cm to 70 cm.
Floraison / Flowering time :
De mai à novembre.
From May to November.
Groupe / Classification :
Dicotylédones.
Dicotyledons.
Pérennité / Lifespan :
Annuelle.
Annual.
Description :
Photo 1 :
Localisation / Location : Tilos, Aghios Andonis
Date : 10/10/2009
GPS : —
Type : Photographie numérique / Digital Photograph (10 mégapixels)
Photo 2 :
Localisation / Location : Tilos, Livadia
Date : 20/05/2014
GPS : Lat. 36,41695° N / Long. 27,38520° E / Alt. 21 m
Type : Photographie numérique / Digital Photograph (10 mégapixels)
Photo 3 :
Localisation / Location : Tilos, Livadia
Date : 20/05/2014
GPS : Lat. 36,41695° N / Long. 27,38520° E / Alt. 21 m
Type : Photographie numérique / Digital Photograph (10 mégapixels)
Photo 4 :
Localisation / Location : Tilos, Megalochorio
Date : 18/10/2009
GPS : Lat. 36,45305° N / Long. 27,34729° E / Alt. 54 m
Type : Photographie numérique / Digital Photograph (10 mégapixels)
Photo 5 :
Localisation / Location : Tilos, Livadia
Date : 20/05/2014
GPS : Lat. 36,41695° N / Long. 27,38520° E / Alt. 21 m
Type : Photographie numérique / Digital Photograph (10 mégapixels)
Photo 6 :
Localisation / Location : Tilos, Aghios Andonis
Date : 10/10/2009
GPS : —
Type : Photographie numérique / Digital Photograph (10 mégapixels)
Photo 7 :
Localisation / Location : Tilos, Megalochorio
Date : 18/10/2009
GPS : Lat. 36,45305° N / Long. 27,34729° E / Alt. 54 m
Type : Photographie numérique / Digital Photograph (10 mégapixels)