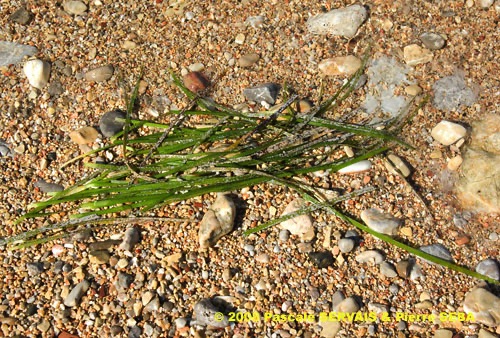 Posidonia oceanica (L.) Delile
© Pascale SERVAIS & Pierre SEBA, 2018. Tilo Botanica: Flore de Tilos et du Dodécanèse / Flora of Tilos and of the Dodecanese
English translation by Brenda Bradbury, Howard Bradbury and Stéphane Léonard
Plante herbacée, hermaphrodite, glabre, à grosse souche écailleuse, hérissée de fibres roussâtres, restes des anciennes feuilles, poussant sur des fonds marins de sable par 3 à 40 m de profondeur.
Feuilles alternes, simples, linéaires, larges de 6 à 10 mm et longues de 60 cm au plus, entières, glabres, à gaine basale, à 13 à 17 nervures parallèles.
Fleurs verdâtres, pollinisées sous l'eau, sans calice ni corolle, réunies par 3 à 5 en petits épis sur un long pédoncule ramifié en fourches successives, à l'aisselle de bractées foliacées. 3 étamines.
Fruits, grosses baies charnues, ovoïdes, terminées par une courte pointe au sommet.
___________________________
Plant herbaceous, hermaphrodite, glabrous, with a large, scaly stock, covered in reddish fibers, rests of the old leaves, growing on sandy sea-beds at 3 to 40 m deep.
Leaves alternate, simple, linear, from 6 to 10 mm across and 60 cm long at most, entire, glabrous, with a basal sheath, with 13 to 17 parallel veins.
Flowers greenish, pollinated under water, without a calyx or a corolla, joined together by 3 to 5 in small spikes on a long peduncle branched in successive forks, at the axil of foliaceous bracts. 3 stamens.
Fruits, large, fleshy, ovoid berries, finished by a short point at the top.
Descripteurs / Identifying features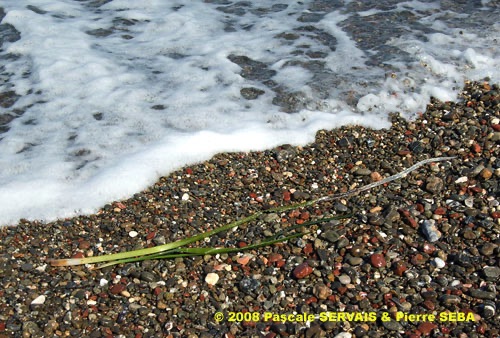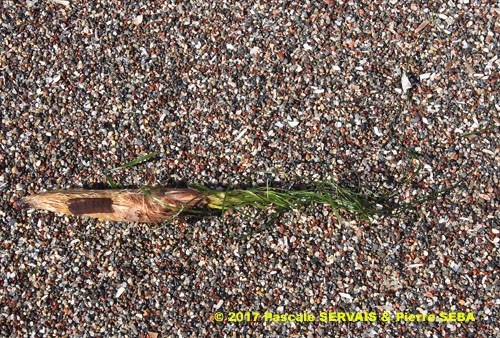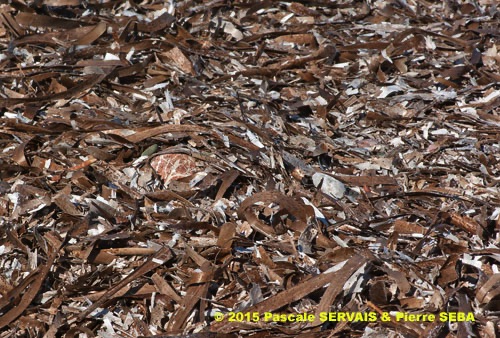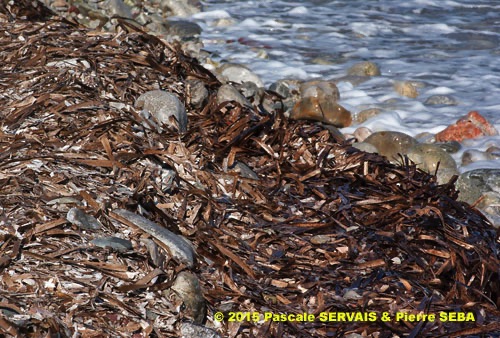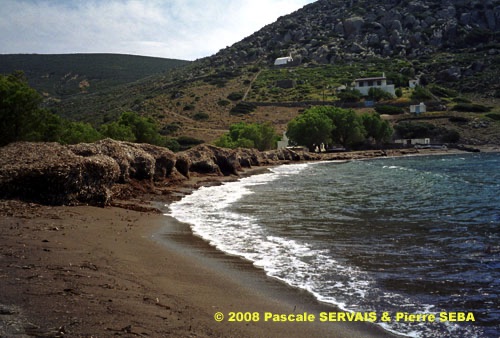 Étymologie / Etymology :
Posidonia : emprunt du grec ancien Ποσειδώνιος, -α, -ον (adj.)
[ < Ποσειδῶν, -ῶνος (nom propre) = Poseidon, le dieu de la mer dans
la mythologie grecque ] = de Poseidon, de la mer, en référence à
l'habitat de la plante.
Oceanica : adjectif créé par les botanistes [ < Ὠκεανός, -οῦ (nom propre)
= Océanos, le dieu Océan ]. L'adjectif oceanicus, -a, -um signifie :
de l'océan, qui vient de l'océan, en référence à l'habitat de la plante.
Posidonia : borrowed from Classical Greek Ποσειδώνιος, -α, -ον (adj)
[ < Ποσειδῶν, -ῶνος (proper noun) = Poseidon, the god of the sea in
Greek mythology ] = of Poseidon, from the sea, referring to the habitat
of the plant.
Oceanica : adjective created by botanists
[ < Ὠκεανός, -οῦ (proper noun) = Oceanus, the god Ocean ]. The
adjective oceanicus, -a, -um means : of or from Ocean, which comes
from Ocean, referring to the habitat of the plant.
Synonymes / Synonyms :
Caulinia oceanica (L.) R.Br. ex DC.
Kernera oceanica (L.) Willd.
Posidonia caulini K.D.Koenig
Taenidium oceanicum (L.) O.Targ.Tozz.
Zostera oceanica L.
Noms vernaculaires / Common names :
Noms français / French names :
Chiendent marin — Paille-de-mer — Pelote-de-mer — Posidonie.
Noms anglais / English names :
Mediterranean tapeweed — Neptune grass — Neptunegrass —
Posidonia.
Noms allemands / German names :
Neptunsgras — Posidonie — Seegras.
Nom espagnol / Spanish name :
Alga de vidrieros.
Nom italien / Italian name :
Posidonia.
Habitat :
Lieux humides, mares - Lieux saumâtres, bords de mer.
Damp places, ponds - Salty places, seaside.
Îles / Islands :
Patmos - Tilos.
Hauteur / Height range :
De 20 cm à 50 cm.
From 20 cm to 50 cm.
Floraison / Flowering time :
D'octobre à juin.
From October to June.
Groupe / Classification :
Monocotylédones.
Monocotyledons.
Pérennité / Lifespan :
Vivace.
Perennial.
Description :
Photo 1 :
Localisation / Location : Tilos, Livadia, Aghios Stephanos
Date : 24/09/2008
GPS : Lat. 36,41143° N / Long. 27,40147° E / Alt. 0 m
Type : Photographie numérique / Digital Photograph (10 mégapixels)
Photo 2 :
Localisation / Location : Tilos, Livadia, Aghios Stephanos
Date : 19/09/2008
GPS : Lat. 36,41143° N / Long. 27,40147° E / Alt. 0 m
Type : Photographie numérique / Digital Photograph (10 mégapixels)
Photo 3 :
Localisation / Location : Tilos, Megalochorio, Erystos
Date : 18/01/2017
GPS : Lat. 36,43256° N / Long. 27,35167° E / Alt. 0 m
Type : Photographie numérique / Digital Photograph (24 mégapixels)
Photo 4 :
Localisation / Location : Tilos, Livadia, Village
Date : 24/11/2014
GPS : Lat. 36,41484° N / Long. 27,38664° E / Alt. 0 m
Type : Photographie numérique / Digital Photograph (10 mégapixels)
Photo 5 :
Localisation / Location : Tilos, Livadia, Village
Date : 24/11/2014
GPS : Lat. 36,41484° N / Long. 27,38664° E / Alt. 0 m
Type : Photographie numérique / Digital Photograph (10 mégapixels)
Photo 6 :
Localisation / Location : Patmos, Kambos, Lefkes
Date : 07/05/2002
GPS : Lat. 37,35552° N / Long. 26,54051° E / Alt. 0 m
Type : Kodak Gold 200 ASA