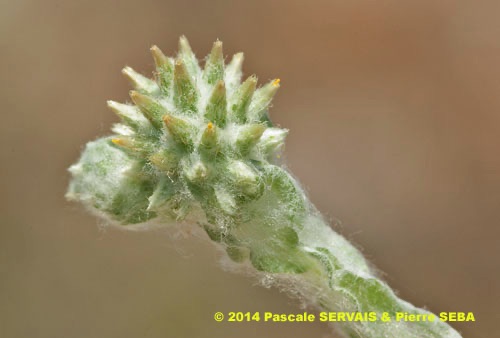 © Pascale SERVAIS & Pierre SEBA, 2018. Tilo Botanica: Flore de Tilos et du Dodécanèse / Flora of Tilos and of the Dodecanese
English translation by Brenda Bradbury, Howard Bradbury and Stéphane Léonard
Plante herbacée, hermaphrodite, blanc grisâtre, cotonneuse, ne se ramifiant souvent qu'au sommet, à tiges dressées à étalées.
Feuilles alternes, oblongues à lancéolées, de 8 à 24 mm de long, plus ou moins ondulées sur les bords.
Fleurs jaunâtres, réunies en capitules de 3 à 4 mm de long, eux-mêmes réunis par 30 à 50 en denses bouquets oblongs, non dépassés par les feuilles sous-jacentes. Bractées de l'involucre de 3 mm de long, velues, à longue pointe. Involucre entouré d'abondants poils cotonneux. Ovaire infère.
Fruits, akènes à aigrette, bruns, sans poils, couverts de petites glandes très fines.
___________________________
Plant herbaceous, hermaphrodite, greyish white, downy, often only branched at the top. Stems erect to spread out.
Leaves alternate, oblong to lanceolate, from 8 to 24 mm long, more or less undulate on the edges.
Flowers yellowish, joined together in 3 to 4 mm long capitula grouped together by 30 to 50 in dense oblong clusters, not exceeded by the underlying leaves. Bracts of the involucre 3 mm long, very hairy, with a long point. Involucre surrounded by many downy hairs. Ovary inferior.
Fruits, achenes with a pappus, brown, without hairs, covered in very thin small glands.
Descripteurs / Identifying features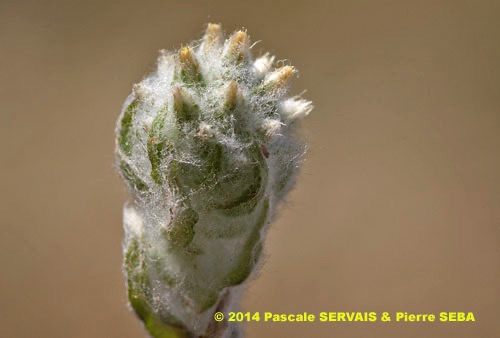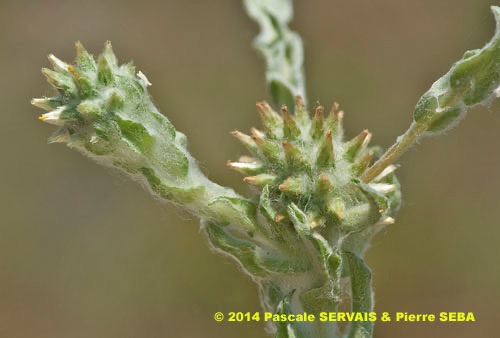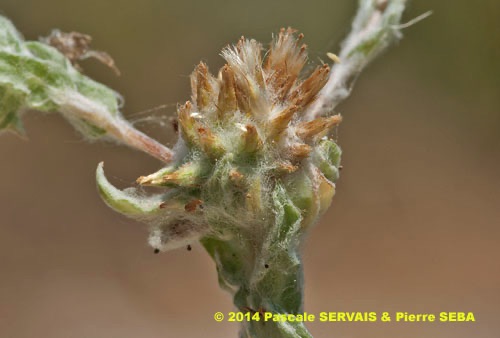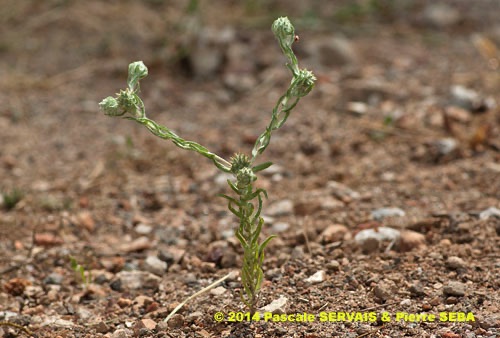 Étymologie / Etymology :
Filago : emprunt du latin filum, -i (nom) = le fil, en référence aux
nombreux poils filiformes qui recouvrent toute la plante.
Eriocephala : adjectif créé par les botanistes [ < ἔριον, -ου (nom)
= la laine + κεφαλή, -ῆς (nom) = la tête ] = à tête laineuse, en
référence aux capitules couverts de poils laineux.
Filago : borrowed from Latin filum, -i (noun) = thread, referring to the
numerous thread-like hairs which cover all the plant.
Eriocephala : adjective created by botanists [ < ἔριον, -ου (noun)
= wool + κεφαλή, -ῆς (noun) = head ] = with wooly head, referring to
the capitula covered in wooly hairs.
Synonymes / Synonyms :
Filago germanica [var.] eriocephala (Guss.) P.Fourn.
Filago germanica proles eriocephala (Guss.) Rouy
Filago germanica subsp. eriocephala (Guss.) Arcang.
Filago germanica var. lanuginosa (Duby) DC.
Filago pyramidata subsp. eriocephala (Guss.) O.Bolòs & Vigo
Gnaphalium germanicum subsp. eriocephalum Bonnier & Layens
Gnaphalium germanicum var. lanuginosum Duby
Noms vernaculaires / Common names :
Nom français / French name :
Cotonnière à têtes laineuses.
Nom anglais / English name :
Woollyhead cudweed.
Nom allemand / German name :
Wollköpfiges Filzkraut.
Noms italiens / Italian names :
Bambagia con capolini arrossati — Bambagia meridionale.
Habitat :
Cultures - Lieux pierreux - Lieux incultes - Chemins.
Cultivated places - Stony places - Waste ground - Waysides.
Île / Island :
Tilos.
Hauteur / Height range :
De 5 cm à 30 cm.
From 5 cm to 30 cm.
Floraison / Flowering time :
D'avril à juillet.
From April to July.
Groupe / Classification :
Dicotylédones.
Dicotyledons.
Pérennité / Lifespan :
Annuelle.
Annual.
Description :
Clés dichotomiques et descripteurs distinctifs des 2 espèces / Dichotomous keys and distinctive identifying features of the 2 species
Photo 1 :
Localisation / Location : Tilos, Megalochorio, Chemin de Skafi
Date : 24/05/2014
GPS : Lat. 36,45892° N / Long. 27,34960° E / Alt. 77 m
Type : Photographie numérique / Digital Photograph (10 mégapixels)
Photo 2 :
Localisation / Location : Tilos, Megalochorio, Plaine d'Erystos
Date : 22/05/2014
GPS : Lat. 36,44585° N / Long. 27,34528° E / Alt. 31 m
Type : Photographie numérique / Digital Photograph (10 mégapixels)
Photo 3 :
Localisation / Location : Tilos, Megalochorio, Chemin de Skafi
Date : 24/05/2014
GPS : Lat. 36,45892° N / Long. 27,34960° E / Alt. 77 m
Type : Photographie numérique / Digital Photograph (10 mégapixels)
Photo 4 :
Localisation / Location : Tilos, Megalochorio, Chemin de Skafi
Date : 24/05/2014
GPS : Lat. 36,45892° N / Long. 27,34960° E / Alt. 77 m
Type : Photographie numérique / Digital Photograph (10 mégapixels)
Photo 5 :
Localisation / Location : Tilos, Megalochorio, Chemin de Skafi
Date : 24/05/2014
GPS : Lat. 36,45892° N / Long. 27,34960° E / Alt. 77 m
Type : Photographie numérique / Digital Photograph (10 mégapixels)
Photo 6 :
Localisation / Location : Tilos, Megalochorio, Chemin de Skafi
Date : 24/05/2014
GPS : Lat. 36,45600° N / Long. 27,34976° E / Alt. 64 m
Type : Photographie numérique / Digital Photograph (10 mégapixels)